Chatham starts final stretch against looming Brewster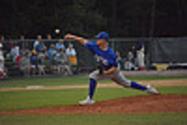 After a two-day break for the All-Star game and a league-wide off day, Chatham (16-21-1) opens the home stretch against Brewster (13-24-1) at Stony Brook Field at 5 p.m. on Tuesday. The Whitecaps are just six points behind the Anglers — who currently sit in fourth place and hold the East Divison's final playoff spot — and this will be the last time that the two teams meet. Cody Ponce, the hard-throwing All-Star, will start for Brewster, and Chatham's started has not yet been announced.
With Yarmouth-Dennis, Harwich and Orleans fighting for the top spot and all essentially etched into the playoff picture, the Whitecaps and Anglers have been left to round it out. Tuesday, at the least, will give a good idea of which team plays past August 2.
Broadcast information
Broadcast coverage of the Anglers and Whitecaps begins at 4:40 p.m. with the Anglers Extra Pregame Show. Watch and listen on TRZ Teamline or listen by phone 1-800-846-4700, code 3481. Visit Broadcast Central for more information.