All-Star game information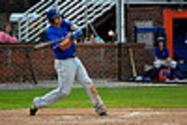 If you're planning on heading to the Cape Cod League All-Star game at Doran Park at 6 p.m., here's all you need to know. Gates will open to the public at 2 p.m. and batting practice — for all All-Stars and Home Run Derby participants — will start at the same time. All those players will also be available for autographs at 3:40 before the Home Run Derby, which Chatham's Chris Shaw (Boston College) will be in, starts at 5. And the game will follow at the aforementioned 6 p.m. A.J. Murray (Georgia Tech) and Jordan Hillyer (Kennesaw State) will start for the East Division, Ty Moore (UCLA), Nick Collins (Georgetown) and reliever Kyle Davis (Southern California) will be availabe off the bench, and the Anglers' John Schiffner will manage the team.
Tickets are $5 and there will be limited seating on bleachers and picnic tables at the park, so fans are encouraged to bring their own lawn chairs. Satellite parking will be availabe at Gallo Ice Rink and Bourne Middle School and shuttle buses will be available from 2-10 p.m.
Related content