Announcement: Chatham Athletic Association to host 'Field of Dreams' screening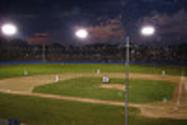 The Chatham Athletic Association will be sponsoring a showing of the great baseball movie classic "Field of Dreams" on the morning of Saturday June 28 at the newly restored Chatham Orpheum Theater on Main Street. The event is open to the public, with a suggested admission donation of $20 per adult and $10 per child under 12, with all proceeds benefiting the Chatham Anglers organization. Anglers players will be there before the movie to take photos, sign autographs and answer questions about what it is like to play baseball in the Cape League. So bring your friends and meet up at the Chatham Orpheum for the event.
Other details: Doors open at 8:45 and there will be Anglers' merchandise for sale. Seating is general general admission and attendance is limited to 145. The concessions stands will be open as well.