Anglers End Home Schedule with a Loss to Orleans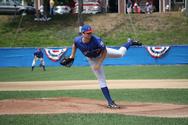 Despite a strong outing from Chatham's starting pitcher Tim Cooney (Wake Forest), the Anglers fell to Orleans 6-2 in the last home game of the 2011 season.

Cooney worked six innings, allowing only three hits and one run, striking out six and walking none. The Firebirds jumped all over the Anglers' bullpen, benefiting from home runs in the eighth and ninth innings.

The other storyline looming large at Veterans Field on Wednesday afternoon was the the league batting race between Chatham's Dane Phillips (OK State) and Orleans' Matt Duffy (Long Beach State). Entering the contest, the Anglers' slugger led Duffy by one point, .355 to .354. After an 0-3 performance by Duffy, which included two Ks and a RBI sac fly, his batting average fell to .346. Phillips went 0-2 with a walk and an RBI sac fly, bringing his season average to .350, good for the league lead.

The title will be decided tonight in Orleans during the nightcap of the season-ending doubleheader between the Anglers and Firebirds. First pitch is at 7 p.m. ET.