Koch and Phillips Follow Shaffer's All Star Game Success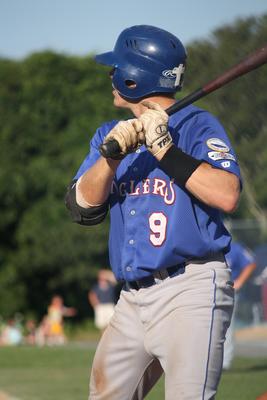 Richie Shaffer (Clemson) set the tone for Chatham's All Star Game participants with six homers to capture the derby crown.

Enter Dane Phillips.

The Oklahoma State sophomore started at catcher for the East. Phillips' six-game hit streak was snapped just before the All Star Game and he went hitless in two at-bats at Fenway, but caught the first four innings on Friday.

Phillips has bloomed late in his second season on the Cape. Aside from accolades such as being named CCBL Player of the Week in week six, a .319 average and 4-1 record as a catcher in July anchor his r''sum''.

Nine pitchers for the East each threw one complete inning. Matt Koch (Louisville) was the second hurler to throw for his side, notching a scoreless inning and facing the minimum with a strikeout.

Koch adapted from his normal role as Chatham's closer in order to throw a scoreless second inning. With his clean inning on Friday, Koch has gone one month and one day since he last allowed an earned run.

The All Star Game also dropped Koch's ERA under one (0.93). In his last 12 appearances, the Iowa native has issued just one free pass.

The Anglers (14-25-1) restart on Saturday with a home game against Wareham (19-21).

Chatham will have just one more home matchup after facing off with Wareham. Action starts at 7 p.m. ET.