Anglers Finish Homestand on High Note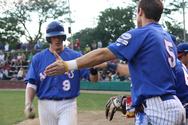 On a night where ominous clouds hung over Veterans Field but never produced any rain, Chatham improved to 14-24-1 with a 3-2 win Tuesday against the Falmouth Commodores (17-21-0).

Anglers' lefty Tim Cooney (Wake Forest) submitted another victory-worthy performance. Unlike his last outing, a well-pitched loss at Wareham, the Demon Deacon was rewarded with the win. He went seven strong innings, allowing only one earned run (two total).

Cooney added six strikeouts to his season total and walked just one batter in the Anglers' come-from-behind win. Manager John Schiffner praised the sophomore's effort after the win.

"He threw great, Cooney was outstanding&it's what we expected from him," Schiffner said.

After giving up two runs in the first inning, the Anglers kept Falmouth off the board. Chatham's bats did just enough. The last of the second saw the Anglers score a run on a Kris Bryant (San Diego) double.

But the hit which put the Anglers ahead came off the bat of John Gianis (NC State). Gianis entered play Tuesday with only two hits in 32 at-bats. But in the last of the fourth inning, a Gianis double with the bases full netted the go ahead run for the Anglers.

Schiffner recognized Gianis after the win.

"We got the big clutch hit from Gianis and he really needed one, but he's also been swinging well for the last three games," Schiffner said.

The Commodores' Andrew Heaney (OK State) was handed the loss, giving up all three runs. Heaney falls to 4-3, with two of his losses coming against Chatham.

Matt Koch (Louisville) picked up his fifth save in a scoreless ninth. Koch has not allowed a run in his last 10 appearances and has recorded a save in his last five. He will likely next pitch on Friday night in Fenway Park for CCBL All-Star Game.

The win snapped a three-game skid for the Anglers, but they needed a Y-D loss to stay in playoff contention. The Red Sox did not comply, which means Chatham will miss the 2011 postseason.

Somehow, the atmosphere after the Anglers' chalked up a one-run win on Tuesday did not convey their elimination.

"Right now we're just trying to play the ball game and we can count it all up in the end," Schiffner said.

The Anglers next face Brewster on Wednesday. First pitch from Stony Brook Field is scheduled for 5 p.m. ET.