Game Time in Bourne Moved Up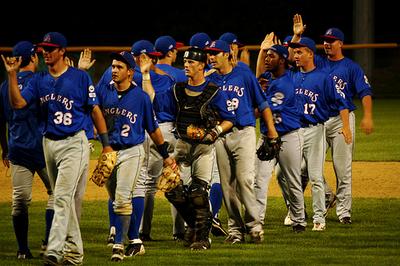 The start time for Friday's face off with Bourne has been moved up to 5 p.m.

From Doran Park in Bourne, the Braves (19-13-2) will try to stave off the Anglers' momentum. But Bourne carries momentum as well. The second place Braves won 12 of 14 during an earlier July stretch and are now just two points back of Hyannis in the Western Division.

The Anglers (12-21-1) have five wins in their last seven, but still have a climb ahead in order to make the playoffs.

Travis Jankowski leads the Bourne offense. The sophomore out of Stony Brook holds a .343 average which includes seven triples and stands currently as second-best in the CCBL.

The probable starter for Bourne is Josh Conway (Coastal Carolina). Conway's 0.82 ERA over four starts is third among active pitchers in the CCBL.

Buck Farmer (Georgia Tech) is the likely arm for Chatham. Farmer is coming off his first win, in which he tossed six complete frames and surrendered just two earned runs.

With ten games to go, the Anglers trail Y-D by three games in the East.

First pitch from Doran Park has been moved up an hour and is now at 5 p.m. ET.

Tune into the broadcast beginning with the Anglers Extra Pregame Show at 6:40 p.m. at www.chathamanglers.com, or dial in and listen on your home or mobile telephone on the TRZ Teamline by calling 1-800-846-4700, and entering the team code 3841 when prompted.