Angling for Third Win in Four Games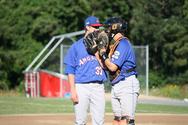 On Sunday, the Anglers will seek back-to-back wins for just the second time this season, and the first time since a doubleheader in Falmouth on June 13th.

The Anglers (9-20-1) also have a chance to notch three wins over a four-game stretch for the first time this season. Enter the opponent.

The Brewster Whitecaps (17-10-4) lead the Eastern Division by half a game over Harwich. Winners of five straight before a 7-7 split last night that lasted 15 frames, Brewster's .271 team batting average paces the league.

The Whitecaps will throw Scott Griggs (UCLA). The Bruin righty was 1-1 over the collegiate season through nine appearances. On Cape, Griggs has managed a 2.00 ERA and a 1-1 record. Chris Munnelly is the probable for Chatham. The UNC product comes off his first start in which he went five complete and surrendered three runs to the Harwich Mariners on July 10th. Munnelly held a 6-5 record across 20 appearances for the Tar Heels in 2011.

Sunday action begins at 5 p.m. ET from Stony Brook Field in Brewster.

Tune into the broadcast beginning with the Anglers Extra Pregame Show at 6:40 p.m. at www.chathamanglers.com, or dial in and listen on your home or mobile telephone on the TRZ Teamline by calling 1-800-846-4700, and entering the team code 3841 when prompted.