Fifth of Six with Y-D to be Played Saturday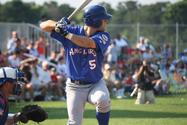 Manager John Schiffner didn't categorize Saturday's game as a must-win.

However, the Anglers already have three wins against Saturday's opponent, the Y-D Red Sox. Another victory this weekend would count as redemption for a 3-2 loss Y-D handed Chatham in a rain-shortened game earlier in the week.

The Anglers (8-20-1) are 10 points behind the Red Sox (12-15-3), the fourth place team in the East. With the recently amended playoff format, four teams from each division make the postseason, so Chatham's goal with 14 games left to play is to make up that 10 point difference between fourth and fifth.

Probable for Chatham will be Keith Bilodeau (Maine). The junior who spent his last two summers with the Wareham Gatemen holds a 1.78 ERA over four starts with Chatham. Bilodeau has struck out 27 batters in 25 innings of work.

A.J. Vanegas (Stanford) gets the nod for Y-D. The former seventh rounder by the Padres has no record in four appearances for the Red Sox. Vanegas made 23 appearances for the Cardinal last spring. He notched a 3.35 ERA over 40 innings of work in Palo Alto, CA.

The Anglers are 3-1 this season against Y-D, with all games having been decided by a single run. Saturday will mark the fifth of six meetings between the two clubs. First pitch from Veterans Field is slated for 7 p.m. ET.

Tune into the broadcast beginning with the Anglers Extra Pregame Show at 6:40 p.m. at www.chathamanglers.com, or dial in and listen on your home or mobile telephone on the TRZ Teamline by calling 1-800-846-4700, and entering the team code 3841 when prompted.