Back on the Road Thursday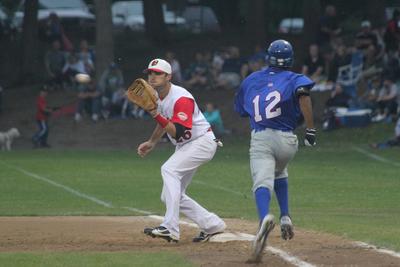 After Y-D came from behind to steal a rain-shortened game away from the Anglers on Wednesday, Chatham (7-19-1) will attempt to erase the memory against rival Orleans (12-12-3) on Thursday.

Buck Farmer (Georgia Tech) is charged with the task of righting the ship. Thursday's probable for the Anglers will be making his third start of the CCBL season. Farmer has worked four complete frames in each of his outings this season. Eight punch outs against just one free pass issued anchors Farmer's r''sum''.

Opposite Farmer, Jason Wheeler (Loyola Marymount) will start for the Firebirds. Wheeler turned heads after being named Pitcher of the Year in the Northwoods League last summer. Wheeler began his CCBL campaign with an 0-3 record but picked up a win against Harwich in his last outing. Despite the record, Wheeler's ERA stands at 2.41. The LMU junior was an eighth round selection in the 2011 Major League Baseball draft by the Minnesota Twins.

7 p.m. is the start time from Eldredge Park.