Whitecaps on Deck as Anglers Hit the Road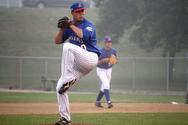 Coming off a 3-2 win over Y-D on Tuesday, the Anglers (6-14-1) will make the short trip to Brewster on Wednesday.

The Whitecaps (10-8-2) will tab Max Garner (Baylor) for his first start. Garner carries an 0-1 record with a 4.50 ERA across a pair of relief appearances. The righty came aboard as a temporary player on June 22nd but was signed to a full contract on July 3rd.

After two weeks without an appearance, Buck Farmer (Georgia Tech) will likely get the nod from John Schiffner. Farmer's 2011 CCBL resume includes just one appearance, a start in which he went four innings at Y-D on June 21st. Farmer looks to make it back-to-back wins for the Anglers in his second start.

Chatham's last three victories were all one-run contests against the Red Sox. The club is 0-2 against the Whitecaps this season.

First pitch from Stony Brook Field is scheduled for 5 p.m. ET.