Brewster Pitching Cuts Down Anglers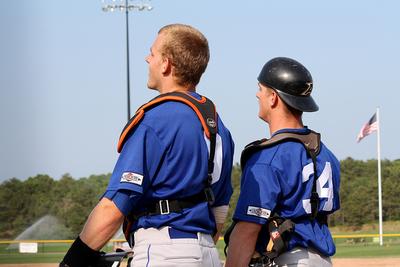 Warm weather and clear skies greeted the Brewster Whitecaps and Anglers on Monday at Veterans Field. It was in stark contrast to the downpour which forced the game to be postponed five days prior.

Sunday night's walk-off heroics against Y-D hardly translated to the Monday matchup. Chatham gave itself a chance to repeat Sunday's performance but came up just short. The Anglers amassed just four hits across nine innings and left eight men on base in the 2-1 loss.

On three days of rest since pitching two frames against Bourne, Dominic Leone (Clemson) got the nod for Chatham. After he surrendered a solo bomb to Preston Beck (Texas-Arlington) in the first, Leone escaped five more innings without allowing another run. The sophomore gave up eight hits across six complete innings and fanned four. Leone's longest outing with the Anglers also resulted in his first loss. The Connecticut native is now 0-1.

Luke Bard (Georgia Tech) dominated in his six innings of work. After he faced five Anglers in the top of the first, Bard locked down the Chatham offense. Bard issued five free passes, but struck out eight and gave up just a pair of hits to even his record at 1-1 this season.

The run Brewster added in its half of the eight proved pivotal. Off Louisville righty Matt Koch, Beck pounded a double into left and scored Andrew Toles (Tennessee) from first. At that point, it was a 2-0 game as Chatham primed for its last chance at the plate.

When Kris Bryant (San Diego) golfed a knee-high fastball over the centerfield wall at Veterans Field, that extra Brewster run from the eight became relevant. Despite Alex Calbick (Maine) following up Bryant's second homer of the year with a base knock, the Anglers stalled and failed to draw even with the Whitecaps.

Two-way San Jose State standout Zach Jones tossed a clean top of the ninth for Chatham in a non-save situation. Baylor junior Max Garner, who was signed as a temporary player less than a week before the contest, earned a save in his CCBL debut. Across two innings, Garner struck out four of the eight batters he faced and escaped with a Whitecaps victory.

Brewster bats were hitting at a .280 clip as play opened Monday. Even in losing, the Anglers successfully staved off the hot-hitting Whitecaps with the help of stellar defense. Hard to believe considering Chatham had 32 errors in 14 games prior to Monday, but Chatham rolled a pair of double plays while the outfield contributed a series of diving grabs.

UCLA's everyday CF Beau Amaral flashed the leather in a run-saving spot, but the Anglers never capitalized with the bats. The Anglers also continue to play long ball and lead the CCBL with 11 home runs. However, the pop in Bryant's bat Monday night accounted for Chatham's only extra base hit.

The Anglers fell to 5-9-1 and Brewster improved to 7-6-1. The two teams match up again Tuesday at Veterans Field. 7 p.m. is the scheduled first pitch. Buck Farmer (Georgia Tech) is the likely hurler for Chatham, with Daniel Langfield (Memphis) the probable arm for the Whitecaps.