Future Anglers in the CWS Finals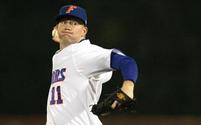 Both South Carolina and Florida ran the table up to this point in the CWS and will face each other in the finale. The SEC rivals each went 22-8 in conference play and the Gamecocks hold a 2-1 edge in the season series.

Three future Anglers and one former Angler will play in the finals. A trio of Anglers pitchers are on the Gators' roster and a prominent future Chatham outfielder resides in the USC lineup card.

Enter Hudson Randall.

Monday's probable starter for the Gators owns a 2.24 ERA an 11-3 record. In 116 innings, Randall has fanned 67 and walked only a dozen. The sophomore got off to a rocky start in Florida's opener against Texas. The ace allowed three early runs, only one of which was earned. Florida trailed, but erased the deficit en route to an 8-4 victory, which gave Randall his 11th win. The righty tossed 6.2 innings in his only CWS appearance so far.

Future Angler Steven Rodriguez paces the staff with a 1.75 ERA. The lefty has seen action in three CWS contests so far as the Gators' most prominent reliever.

Evan Marzilli will make his 58th start of the season for South Carolina on Monday. Marzilli ignited the Gamecocks in their dominant run last year. The sophomore hit .370 and registered an OBP over .500 in the 2010 CWS. Marzilli bounced around the outfield in the early season and proved that he can play all three spots.

Both squads enter play with 53 wins. For Florida, it's a single-season record. The Gamecocks notched 54 victories last season, but will need to eclipse that number in order to repeat.

The Gamecocks edged Florida in the season series for the first time in nine years. South Carolina made a comeback on Sunday to earn a win in the rubber match in Gainesville. In the series, Randall earned his fourth win after pitching a complete game with just five hits.

In the series, Marzilli logged only one official at-bat coming in as a pinch hitter. The South Carolina Gamecock only became a staple in the starting lineup midway through the year, but appears to be an everyday player in the CWS so far.

Look out for these three as well as former Angler Greg Larson (Florida). Larson has seen limited time in the CWS but holds a 2.15 ERA across 31 appearances in 2011.

Game one from TD Ameritrade Park in Omaha is set for Monday at 8 p.m. ET.