Anglers Fall in Home Opener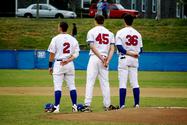 Two runs in the first, second and ninth were enough to secure the first victory of the season for the Wareham Gatemen, besting the Anglers by a score of 6-3. Michigan lefty
Bobby Brosnahan
(1-0) earned the victory, tossing six scoreless innings with nine strikeouts and just four hits.
Pat Light
(0-1) takes the loss allowing four runs (two earned) over four innings on eight hits.
The Anglers finished the night with seven hits and five walks, but could only muster three runs of offense, and now carry a record of 0-1-1 to start the 2011 campaign. Check back with us at www.chathamanglers.com for a full recap and news about Sunday's doubleheader at Falmouth.
FULL RECAP