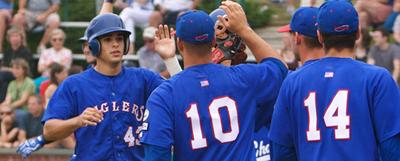 Chatham opens from Veterans Field tonight and the rain appears as if it will let up. That said, Chatham's iconic fog isn't quite as predictable.

The Anglers welcome Wareham (0-1), a team that went ten innings last night but came up shy against Hyannis in their home opener, 4-3. Manager Cooper Farris expects up to seven Gatemen to return when rosters have filled out with all the regular players. Farris will likely give the ball to Bobby Brosnahan and let the redshirt sophomore from Michigan make his second start this summer.

Brosnahan started the first of two warmup contests for the Gateman in preparation for the CCBL season. Brosnahan last tossed on Tuesday against Newport (NECBL) in a contest which Wareham dropped 4-2. Scouts read the lefty as a crafty hurler who can throw three pitches effectively for strikes. Struggles abounded in the southpaw's second season at the University of Michigan. Brosnahan comes off a season with dismal numbers: a 1-9 record and an ERA just under eight.

Chatham's go-to thrower should be Pat Light, a 6'6 righty who went 4-5 in 13 starts at Monmouth last spring. Like last night's starter for Chatham, Light boasts a good strikeout number with minimal walks during his 2011 collegiate campaign. Light struck out 61 and walked only 17 across 75 innings with the Big Red.

Sophomore William Carmona's first season on the Cape started off with a bang for the Gatemen. The highly touted Stony Brook product punched three hits last night including a solo homer in the first inning. Much like the Anglers' Zack Jones, Carmona also sees time on the slab. The lefty notched four saves in his collegiate season as the go-to closer.

The Gatemen are still waiting on Jon Walsh, who adds a solid glove behind the dish. Despite being 6'5, the Texas product was timed as having one of the faster popup times out of the crouch in college baseball.

Chatham's big bat last night was Matt Fleishman. Fleishman hit a grand slam as part of a five-run effort in top half of the third at Cotuit. Chatham came out with bats blazing but ran out of gas in the later innings en route to a 7-7 split with the Kettleers. Tim Cooney opened strong, going 5 and 2/3rds and handing off a sizeable lead to the relievers, only to have Cotuit successfully chip away at the deficit.

Game time tonight is 7pm at Veterans Field

One storyline to follow for those who can't make it to the ballpark tonight...

Matt Barnes is scheduled to start tonight for UConn. Why pay attention' Barnes sits at 241 strikeouts in his career on the mound at UConn, 111 of which came this year. Barnes is two strikeouts behind Ed Baird (UConn '68), the Huskies' all-time leader in K's and former Chatham A's pitcher in the 1960s. Barnes was with Team USA last summer but threw for the Gatemen in the summer of '09.Baird still holds the Chatham record for lowest ERA. He set the high water mark at 0.45 during the summer of 1965.