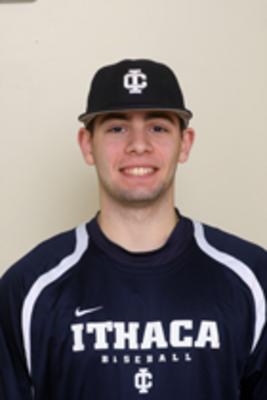 When a player is chosen to join a Cape League roster, it's pretty much assumed that his bat or his arm can be considered among the best -- if not THE best -- on his school's roster. So it's no surprise that the Anglers 2011 roster boasts ten players who, at the moment, lead their teams in a collective 29 categories at the plate and on the mound.

The most impressive' Well, how much time do you have'

First let's take a look at Tucker Healy, a right-handed pitcher out of Ithaca College. The reliever has seen the usual number of appearances and innings for a bullpen arm, logging 14.2 innings of work through eight appearances (one start); but in those innings he's struck out 25 batters. That's an average of nearly 16 K's per nine innings. And the most astounding fact' Those 25 punchouts are the most among the Bombers' entire staff, including the starters. The next highest number belongs to right-handed starter Pat Lemmo, who has set down 23 batters via the K in his team-leading 35.2 innings of work.

And if strikeouts are your thing, Wake Forest's Tim Cooney has racked up 67 of them, 22 more than the next closest Demon Deacon. In fact, Cooney is, by far, the staff's leading starter, with top statistics in six categories. Need your starter to go deep into a game to preserve the bullpen' Cooney is your guy. He's logged a team-leading 70 innings of work through -- his team-leading -- ten starts, with one complete game. All while maintaining a 2.70 ERA.

But if you're not a big fan of swing and miss guys, let's talk walks; and yes, we're still talking about pitchers here. Turn your attention to Hudson Randall, a right-handed starter out of the University of Florida. Randall can also go deep into ballgames, leading the Gators staff with 79 innings through 12 starts. But look at his stats a little closer, and you'll find that the 6'3 sophomore has walked just four batters.

...did you catch that'

FOUR batters. In 79 innings. You can pick your jaw up off the floor anytime.

But enough about the pitchers. Let's talk bats for a minute; because this team has a few good ones. One of which belongs to a familiar face, and leads the San Jose State Trojans in two offensive categories. Zack Jones is set to start his second season on the Cape this summer, and after posting good numbers in 2010 as a reliever and middle infielder, he's taken the Western Athletic Conference by storm. Not only has he laced a team-leading three triples on the way to a .482 slugging percentage, but he's also posted nine saves and has opposing batters hitting at a paltry .156 clip.

And speaking of slugging, the 2011 infield corners can do just that. San Diego's 3B/1B Kris Bryant has blasted seven home runs in 41 games. The 6'5 freshman leads the Toreros with that number, as well as slugging percentage and on-base percentage.

On the opposite side of the diamond is Clemson's Richie Shaffer, who has hit five home runs of his own, sharing the team lead with two other batters. Shaffer also holds a share of the team lead in RBI with 32.

Another familiar face with some pop and patience at the plate is UCLA's Beau Amaral, who is set to begin his second season in the Chatham outfield this summer. Amaral, through 39 starts, has hit 11 doubles, and carries a team-leading .441 slugging percentage, and .428 on-base percentage. Amaral also shows off his range and speed in center field with a team-leading 1.000 fielding percentage with zero errors.

So overall, it seems safe to say that Anglers fans have much to anticipate in the final weeks leading up to the 2011 season. And if the performances of these young men during the NCAA regular season are any indication, they'll have much to cheer as the summer progresses.

Stick with us at www.chathamanglers.com as we count down the final weeks to another summer season on the Cape!