2011 Roster Set to Impress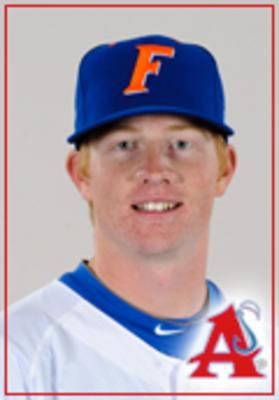 In what has long been considered a pitcher's league, teams on the Cape that boast the most competitive arms tend to fare well in their efforts to obtain a League Championship. If the performances of some of the arms set to take the field in Chatham this summer are any indication, the Anglers should find themselves sitting in good position to make a legitimate run at the title when the postseason rolls around.

Four projected starters have held their ERA under 3.00 over five starts to kick off the 2011 NCAA season, with some flashing outstanding strikeout numbers, while others possess an ERA that would require a microscope to be seen.

Leading the way for these collegiate hurlers is Florida sophomore Hudson Randall. The right-handed Atlanta native passed up a chance to pitch professionally after the Kansas City Royals selected him in the 46th round of the 2009 Major League draft, and proceeded to post an 8-4 record with a 3.24 ERA and 69 strikeouts over 97 innings as a freshman.

What better way to follow up such an impressive performance than to dwarf that success with a 3-0 record and a 0.85 ERA over five starts this season, averaging 6.1 innings per start, and holding opposing batters to a paltry .212 batting average.

Another right hander who passed up the professional ranks to try his hand at college ball, and is also the front runner for "Best Name" on the upcoming roster is Buck Farmer, a 6'3 sophomore out of Georgia Tech. George Runie Farmer, or "Buck" to you and I, boasts a 3-1 record with a 2.43 ERA over five starts with 33 strikeouts over 29 innings of work. The former 45th round selection of the Atlanta Braves was rated the #2 prospect in the Coastal Plains League by Baseball America in 2010.

A familiar face to Anglers faithful continues to destroy the competition both at the plate and on the mound, and will bring those talents back to the Cape this summer to work from the bullpen and also provide depth in the middle infield. Zack Jones, after posting a 2.33 ERA in 11 appearances and a .267 batting average last summer for the Anglers, has parlayed that success into a Herculean effort for the San Jose State Spartans. In seven appearances out of the bullpen, Jones has recorded two saves and a 2.65 ERA with 23 strikeouts over 17 innings of relief, holding opposing batters to an infinitesimal .172 batting average.

However, those numbers pale in comparison to his efforts at the plate. In fourteen starts, Jones has collected 22 hits in 61 at-bats (.361) with seven extra-base hits and a 1.009 OPS (On-base percentage + Slugging percentage).

Another hot bat headed for the lineup this summer belongs to San Diego third baseman Kris Bryant. The freshman was drafted in the 18th round of the 2010 Major League draft by the Toronto Blue Jays after hitting .489 with 22 home runs and 51 RBI as a senior in Las Vegas, Nevada, and has already blasted six home runs in 19 games for the Toreros.

Occupying the other corner infield position is another efficient batter in Wake Forest's Matt Conway. The 6'7 sophomore has driven in 23 runs in just 21 games, while batting .297 (22-74) with four home runs.

Considering the efforts and prowess of just a few of the members of the 2011 roster, Anglers fans have plenty to look forward to as we continue to prepare for another outstanding summer on the Cape. Stick with us at www.chathamanglers.com all offseason long as we count down the days to the upcoming season!