2010 Roster Continues to Impress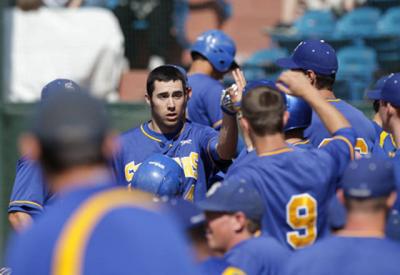 It's no secret that the Cape League lures in and showcases the best talent that the NCAA has to offer. It's also no secret that some members of the 2010 Chatham Anglers roster are laying waste to their competition in the early weeks of the 2011 collegiate season. Several heavy-hitters are batting above the .300 mark, and certain right-handed relievers are making other teams' best bats look like Little Leaguers.

Louisville's Derek Self currently enjoys a 0.71 ERA with five strikeouts and a .167 opposing batting average over 12.1 innings of relief. However, his impressive numbers are only second-best among last year's crop of hurlers. LSU's Kevin Berry has yet to allow a hit or a walk in his six innings of relief for the Tigers.

On the offensive side, first baseman Aaron Westlake (Vanderbilt) is batting an impressive .434 (23-53) with an even more Herculean 1.161 OPS (On-base percentage + Slugging percentage) in 15 starts for the Commodores with two home runs and 10 RBI. His two homers are second-most among last year's hitters, behind Dan Paolini (Siena), who blasted the second-most round trippers in the NCAA last season with 26, and has three so far this season.

As for the 2011 returning class, outfielder Beau Amaral (UCLA) is batting .289 (11-38) with four doubles and a home run, and has already stolen four bases in four attempts, while shortstop Stephen Perez (Miami) enjoys a solid .280 batting average, and is showing good speed (3-3 on stolen base attempts), offensive pop (five extra base hits with a .400 slugging percentage), and plate discipline (.362 on-base percentage).

Right-handed reliever and middle infielder Zack Jones (San Jose St.) has been impressive both on the mound and at the plate, batting .364 (16-44) with two home runs, ten RBI and a 1.108 OPS, and posting a 2.81 ERA with 22 strikeouts over 16 relief innings. Fellow right-hander Chris Munnelly (UNC) has posted a 4.08 ERA with 18 strikeouts over 16 innings in four appearances (three starts).

Check back with us all offseason long as we keep you abreast of these great performances and so much more as we continue the countdown to another spectacular season on the Cape!