Anglers Shine on Opening Weekend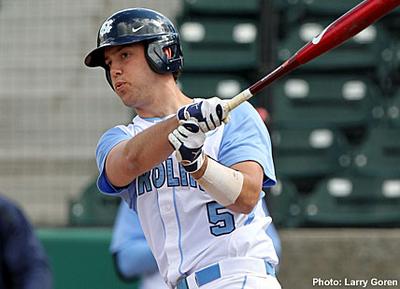 For most college baseball programs, this past weekend marked the beginning of the 2011 NCAA season; and what a weekend it was for some familiar faces. Six batters from the 2010 Anglers roster notched at least four hits over the weekend, and one right handed hurler fanned eight batters in his Friday night start.

North Carolina catcher Jacob Stallings led the way with seven hits in 17 at-bats, driving in five runs as the Tarheels started the season 4-0, thanks also to an outstanding season-opening outing by right hander Chris Munnelly. The 2011 returner allowed just one run on four hits with eight strikeouts over 6.1 innings of work.

His wasn''t the only solid outing from the 2010 pitching staff, right hander Greg Larson (Florida) struck out two batters and allowed just one hit in 1.2 innings of relief, while Derek Self (Louisville) only allowed one hit over three relief innings with three strikeouts.

Other performances of note included Joe DePinto's (USC) 6-11 showing with two RBI. Mark Ginther (Oklahoma St) drove in two runs on four hits. Rick Oropesa (USC) notched four hits in 12 at-bats, driving in four runs with a stolen base, while Dan Paolini (Siena) and Aaron Westlake (Vanderbilt) each collected five hits with three RBI apiece.

Stick with us at www.chathamanglers.com as we keep you up to date all offseason long and continue to prepare for another summer on the Cape!