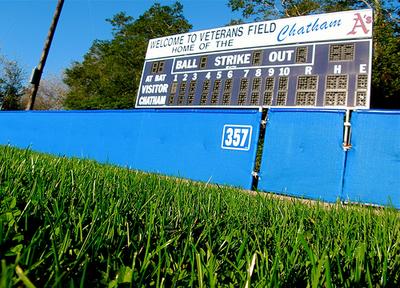 The 2011 schedule has been announced by the Cape Cod Baseball League, and Anglers fans have plenty to look forward to in the coming season, including two scheduled doubleheaders, and the traditional home and home series with the Orleans Firebirds on July 3rd and 4th.

The Boys in Blue will kick off the 2011 campaign on the road, traveling to Cotuit on Friday June 10th to square off against the defending champion Kettleers at Elizabeth Lowell Park in a 5pm start. The first home game of the season will be the following night, as the Anglers host the Wareham Gatemen at Veteran's Field in a 7pm start.

The following afternoon will feature the first of two league-wide scheduled doubleheaders, with Chatham traveling to Falmouth to play a pair with the Commodores in a 4pm start. The following Sunday will feature the second scheduled doubleheader, with the Anglers hosting the Hyannis Mets in a 4pm start.

The annual July 4th home and home series with Orleans will mark the first meetings between the Anglers and Firebirds of 2011 campaign, with the Independence Day game being held this season at Veteran's Field in a 7pm start. It's the first of three home and home series this season, with Chatham and Harwich playing back to back contests on June 10th and 11th, and another home and home with the Firebirds to end the regular season on August 2nd and 3rd.

As usual, all 44 games will be streamed live online and on your home or mobile telephone vie the TRZ Teamline.

You can view the full league schedule at www.capecodbaseball.org, and be sure to stick with us at www.chathamanglers.com all offseason long as we ramp up for another summer on the Cape!