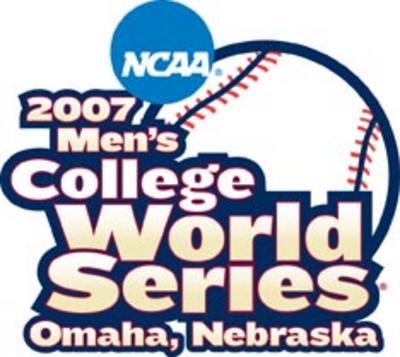 The 2007 Chatham A's roster yielded 10 players in the Super Regionals, however, only Tim Federowicz, Alex White, and Kyle Seager of the UNC Tar Heels have advanced to the College World Series in Omaha. Double elimination bracket play begins Friday, June 15 at Rosenblatt Stadium.

The eight teams advancing to the CWS have been split into two brackets and the winner of each will face-off in a best-of-three College World Series Final. In Bracket 1, Rice plays Louisville and North Carolina battles Mississippi St., with each loser facing elimination on Sunday, June 17. Bracket 2 play begins June 16, bringing Arizona St. and UC Irvine together, and Cal. St. Fullerton takes on Oregon St. with the loser of each game playing Monday, June 18.

In the Chapel Hill Super Regional, North Carolina (53-13) defeated South Carolina (45-18) two games to one. The Tar Heels rallied from a six run deficit in Game 1, scoring all of their nine runs with two out rallies in the 6th and 7th innings, winning 9-6. While the Heels dropped Game 2, 8-6, they again relied on a comeback effort to capture the deciding game, 9-4. The series win marked the first time in UNC history the Tar Heels had advanced to the CWS while hosting a Regional and Super Regional. Federowicz registered two hits and scored a run in Game 3, and had three hits in Game 2.

On South Carolina's end, future A Andrew Crisp started all three games in the outfield, and had one of his Game 2 diving catches featured on SportsCenter's Top 10. Crisp was 0-12 in the series with a walk. Zach Putnam's Michigan Wolverines (42-17) ran into a road block in the form of the Oregon St. Beavers (42-18), and were swept two games to none. Putnam shined brilliantly in Game 1, tossing a no-hitter through 8 2/3 innings while striking out eight Beavers. A leadoff walk, followed by a sac bunt, led to a two out RBI single by Joey Wong, giving the Beavers a 1-0 win. Michigan was bounced from the Super Regional in Game 2 with an 8-2 loss.

UCLA (33-26), which features three Chatham players, dropped two straight games to Cal. St. Fullerton (36-22) by scores of 12-2 and 2-1. Jermaine Curtis batted a sluggish 1-5 with a run scored. Meanwhile, Gavin Brooks recorded a career-high 12 strikeouts in Game 2, but gave up both Titan runs in the loss. Pitcher Charles Brewer did not see playing time for the Bruins.

In another two game sweep, Mississippi St. (36-20) took care of Clemson (41-21) and A's Ryan Hinson and Addison Johnson. The Tigers bowed out of their Super Regional 8-6 and 8-5. Hinson pitched 2 2/3 innings in Game 2, surrendering two runs on two hits, striking-out one and walking two batters. Johnson showed some spark by going 3-5, but it wasn't enough to push Clemson onward.

While Federowicz, Seager, and White forge ahead to the CWS and won't arrive in Chatham until at least July, Coach John Schiffner expects the remaining A's to arrive in the following weeks.