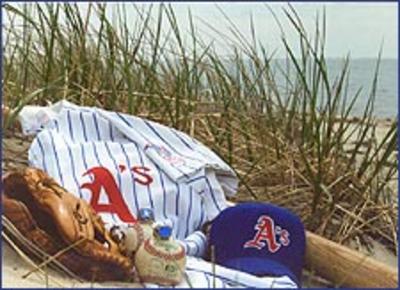 The A's finished 2006 in fourth place in the Cape Cod Baseball League's Eastern Division, seven points out of a playoff spot. Their 21-22-1 record included four unbeaten streaks of three games or more, but, more significantly, thirteen one-run defeats. Despite a roster stricken with personnel losses before and during the summer, the A's produced four all-stars and several players among the league-leaders in many categories.

The Cape League suffered through 32 weather related cancellations in 2006 with eight supervening on the A's schedule. The unprecedented conditions necessitated three double-headers and mitigated free time to just three off-days all summer. Chatham played its first 21 games without a day off, losing the last seven of eight games in that stretch. On the brink of dropping to six games under .500, Robert Woodard (UNC) stifled the losing streak, hurling a 1-0 complete-game shutout over Hyannis.

Woodard's sparkling mound performance was indicative of the A's entire staff in '06. For the second consecutive summer, Tyler Kincaid's pitchers surrendered a league fewest in hits, 285 and 311 respectively. Woody finished with a 2.35 ERA, Elliot Cribby (Washington) a 1.61 and all-star Ricky Hargrove (Houston) a 1.03, second best in the league. Paul Koss (USC), the scouts' pick to appear in the all-star game, did not give up a run in 11 appearances as setup-man and closer.

Often hoodwinked by the quality of opposing arms, Chatham's hitters managed only a .227 average, third worst in the CCBL. Despite the team inefficiency, the season was not without individual achievements. Danny Espinosa (Long Beach) started the summer with a thirteen game hitting streak, batted over .300 for the first three weeks of the season, and amassed a team-high 41 hits by summer's end. Allan Dykstra (Wake Forest) piled up a league-best 29 RBIs and paced the club with seven home runs, Reid Fronk (UNC) was the A's best hitter for average at .284, while Chris Carrara's (Winthrop) on-base percentage, enhanced by 17stolen bases, was in the league's top five all season. Both Fronk and Carrara started in the all-star game and Matt Rizzotti represented Chatham in the home run derby,

Manager John Schiffner continued to cement his legend in Chatham, surpassing the 300-win mark on July 10th, becoming only the third Cape League manager to accomplish that feat. Sitting at 313 career victories entering his 15th season as manager, Schiffner needs only 21 wins to equal the all-time record held by Don Reed. Schiff will be without his long time assistant coach Matt Fincher for the first time in 10 years, though. Fincher, who had his number 23 retired after last summer, will devote his summer upgrading the baseball program at USC-Upstate. Rule changes and an expanded roster have made for an especially talented group in 2007. Schiffner's contacts with schools like UCLA, Baylor, and Clemson have been renewed along with perennial gold-mine UNC. Dykstra and Espinosa are expected back along with Nathan Moreau (Georgia), Vance Worley (Long Beach State), Matt Giannini (Rutgers), and Richie Tri (Central Conn. State). Team USA kept Tim Federowicz (UNC) from Chatham last summer and Zach Putnam (Michigan) was sidelined with an injury, but both have committed to Chatham for 2007.

The A's averaged nearly 2300 fans per game at Veterans Field last season where all games begin at 7pm. Chatham fans can experience A's baseball through live broadcasts for home and away games. More information is available at the newly redesigned ChathamAs.com.