Lowell Wins World Series MVP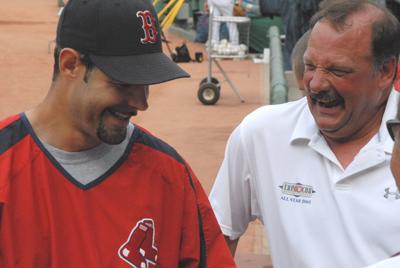 Boston Red Sox third baseman and former Chatham A's infielder Mike Lowell has earned the 2007 World Series Most Valuable Player Award, as Boston swept the Series from Colorado. Lowell is the first Chatham alum to win the World Series MVP.

In the championship clinching victory, Lowell was 2 for 4 with a solo homer and two runs scored. He hit .400 in the four game series with a team high six runs scored plus three walks and four RBIs.

Lowell played in Chatham for the 1994 summer, the second season John Schiffner was Chatham's field manager. Then a second baseman, Lowell was a Cape League All-Star, hitting .307 with one homer and 10 RBIs over the course of 42 games. After going back to Florida International University for his junior year, Mike was a 20th round selection of the New York Yankees in the 1995 amateur player draft.