Trio of A's Named All-League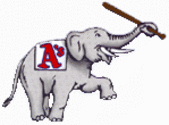 Three men who anchored the A's second-half surge now have some hardware to show for it. The CCBL 2007 All-League Team was announced Saturday and three A's made the cut.

On the heels of being named the League's Most Outstanding Pitcher, Tom Milone (USC) grabbed one of the five starting pitching slots. The crafty lefty with a devastating changeup finished the season 6-1 with a 2.92 ERA in 52 1/3 innings pitched.

The A's two all-star infielders also garnered the honor. Two-year starter Alan Dykstra (Wake Forest) slugged his way to a .308 average, 5 home runs and 31 RBIs in 2007 and is one of two designated hitters on the squad. Energetic third baseman Jermaine Curtis (UCLA) joins him as the utility infielder after a fine season in which he hit .295 with 3 home runs and 24 RBIs.

All three men returned to school for their junior years and will be draft eligible in 2008.