Schiff Breaks Record in 10-1 Win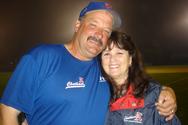 John Schiffner is now the winningest manager in the history of the Cape Cod Baseball League.

After five days off, Chatham did not miss a beat and finally got Schiff his elusive 335th career victory, topping the first place Bourne Braves 10-1 at Veteran's Field.

Schiffner had been tied with Don Reed since last Friday's 5-4 win over Orleans. He passed his mentor Eddie Lyons earlier that week.

The A's broke the game open in the fourth. Leading 2-1, Chatham pushed across four more runs on five consecutive hits, most of the damage done off Bourne starter T.J. Hose (East Carolina). Back-to-back RBI doubles from Jeremy Synan (N.C. State) and Tim Federowicz (UNC) plated the first two runs, but Chatham was not done yet. Scott Lyons (Arkansas) followed with a triple to plate Federowicz and chase Hose. Drew Crisp (South Carolina) then capped the rally with a RBI double off reliever Matt Karl (UCONN) to give Chatham a 6-1 lead.

Ryan Hinson (Clemson) turned in his second straight solid outing on the mound. The Tiger scattered five hits over six innings, allowing one run while walking one and striking out five.

Karl's struggles with the Chatham offense continued in the fifth. The first four A's reached against Karl on three walks and one hit, a Zach Putnam (Michigan) RBI single. In came John Falino (UCONN) to try to limit the damage, but another run came home on a Federowicz sacrifice fly and Chatham led 8-1 after five. The UNC catcher finished the day 3 for 3 with five RBI.

Trailing 1-0, Federowicz got the A's going with a two-run bomb in the second, his first of the summer. The home run plated Synan, who had picked up a two-out single.

Trey Watten (Abilene Christian) relieved Hinson in the seventh and sent the Braves down 1-2-3. Rob Wooten (UNC) threw a scoreless eighth and Jeff Lorick (Virginia) closed it out.

Chatham hits the road Friday for a 4:30pm clash with Cotuit. Tom Milone (USC) looks for his sixth win of the summer against J.B. Shuck (Ohio St.).

Listen to the final call from Dan D'Uva, the postgame ceremony with Charlie Thoms, Schiffner addressing the crowd and Kyle Whitehead's interview with Schiff.