In Depth with Ed Lyons as Win 335 Looms for Schiffner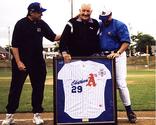 Eddie Lyons managed the Chatham A's from 1976 through the championship season of 1982. His CCBL coaching career produced 331 victories with four different franchises in the '70s and '80s. At the time of his retirement Lyons owned the record for managerial wins, but was passed in 1999 by Don Reed with 334 wins. The current A's skipper, John Schiffner won his 334th game July 27, 2007 at Orleans, tying the record.
In 1978, Lyons found a young man to be his assistant coach; a former Harwich Mariner player and assistant coach. It was the beginning of a relationship between Schiffner and the A's that has spanned four decades. Schiffner took over as manager during the '93 season and has been at the helm for 15 years and counting. In the five years he coached alongside Lyons from '78 to '82, Schiff acquired the knowledge that transformed him from a batting practice pitcher into the most prodigious manager in the history of the CCBL.
On the precipice of the record setting win, Ed Lyons has been sure to attend each contest at Veterans Field in the past several days. Before Monday's fogout game, Dan D'Uva spoke with the CCBL Hall of Famer about changes to the League over the last 25 years and the chase for 335. Lyons talks about mentoring Schiffner and how the understudy became the manager of today.
Anglers Extra Audio
More Interviews at: