Schiff Goes for History Monday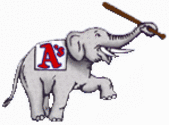 With his next victory, manager John Schiffner will become the winningest manager in the history of the Cape Cod Baseball League.

Chatham's win over Orleans Friday was the 334th victory of Schiffner's illustrious career, tying him for first on the all-time list with Don Reed, long-time manager of the Y-D Red Sox and the Wareham Gatemen.

The A's will get their first shot to cement Schiffner in the record books Monday night at 7pm at Veteran's Field against the West Division leading Bourne Braves.

Tom Milone (USC) got the win in career victory number 334 Friday at Eldredge Park. Milone scattered three hits, allowing two runs while walking one and striking out five in the 5-4 win. Jermaine Curtis (UCLA) finished 2 for 5 with a homer and 3 RBIs.

The victory pushed Milone's record against Orleans to a perfect 3-0 and the A's 2007 record against their rivals to 5-0. Chatham will go for the season sweep in the final game of the regular season at 7pm on August 8 at Veteran's Field.