Chatham Anglers Announce 2013 Broadcasting Team
The Chatham Athletic Association has announced the Anglers broadcast team for the 2013 season. Brandon Liebhaber, a Los Angeles native, returns to the booth for his second season in Chatham joined by newcomer Keith Zubrow of Fort Washington, Pa. Liebhaber is a junior at Northwestern University, while Zubrow is a sophomore at Syracuse University. They will call all 44 regular season games and playoffs for the Anglers this summer on the Cape Cod Baseball Network.

"We're delighted to pair student broadcasters from two of the top broadcast schools in the country," said Dan D'Uva, the CAA's Media & Broadcast Advisor. "Brandon and Keith are going to be an entertaining and professional duo, and I'm eager to hear them paint the word picture of Chatham games this summer. Fans are going to enjoy listening and following along."
Marking 11 seasons of live play-by-play broadcasting, the Chatham Anglers offer streaming audio and toll-free telephone broadcasts for all games, plus video streaming for home games. In conjunction with long-time service provider
TRZ Teamline
, fans can enjoy all Chatham games free of charge. The
Broadcast Archives
will feature highlights, interviews and entire game broadcasts on-demand. More information about the Cape Cod Baseball Network is available at
Broadcast Central
.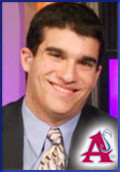 Brandon Liebhaber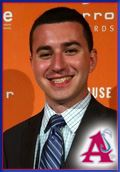 Keith Zubrow
Brandon Liebhaber
Brandon Liebhaber returns to Chatham for his second summer as broadcaster. Currently in his junior year at Northwestern University in Evanston, Illinois, the Los Angeles native is studying broadcast journalism and history. He has served as sports director for the Northwestern News Network, the on-campus television network that produces a weekly show called SportsNight. For the show, Brandon has been an anchor, reporter, and producer. He is also a staff member for WNUR Sports, the sports division of Northwestern's student radio station. For WNUR, Brandon has called games for a variety of sports including baseball and basketball. He has hosted the SportsVoice, the only talk show dedicated to Northwestern athletics, in addition to pregame and halftime shows. Additionally, Brandon is a StudentU broadcaster for the Big Ten Network, which streams Big Ten events online and sometimes rebroadcasts them on television.
Keith Zubrow
Born and raised in the suburbs of Philadelphia (Fort Washington, Pa.), Keith Zubrow grew up a devout baseball fan. Currently a sophomore at Syracuse University, Keith is dually studying broadcast & digital journalism at the S.I. Newhouse School of Public Communications and marketing management at the Whitman School of Management. Outside the classroom, Keith works at student radio stations WJPZ and WAER as a member of the sports staffs. He is also the Internship Director at WBCB in Levittown, Pa. where he previously served as a reporter and announcer. Last summer Keith announced games for the Camden Riversharks of the Atlantic League while interning at KYW Newsradio in Philadelphia.
All-Time Chatham Broadcaster List
Guy Benson (Northwestern) 2003-2006
Dan D'Uva (Syracuse, Fordham) 2003-2008
Kyle Whitehead (Northwestern) 2007
Mike Toper (Syracuse) 2007
Brian Clark (Fordham) 2008, 2009
Scott Braun (Miami) 2009, 2010
Aaron Canada (George Mason) 2010, 2011
Chris Fitzgerald (Oregon) 2011, 2012
Brandon Liebhaber (Northwestern) 2012, 2013
Keith Zubrow (Syracuse) 2013
Contact
Contact Brandon Liebhaber and Keith Zubrow with questions or comments at
ChathamBroadcast@gmail.com
.