Online Auction: Patriots tix & Anglers gear to benefit CAA
Chatham, Mass. -- A generous Chatham Anglers fan has donated a pair of New England Patriots tickets for the purpose of an online auction to benefit the Chatham Athletic Association.
The online auction, hosted by eBay, features two tickets to the October 27 Patriots game against the Cleveland Browns at Gillette Stadium in Foxboro, Mass., and an assortment of Chatham Anglers merchandise.
The package of Anglers apparel (pictured below) includes two mini bats, an A's beach towel, two shirts, two hats and an official baseball.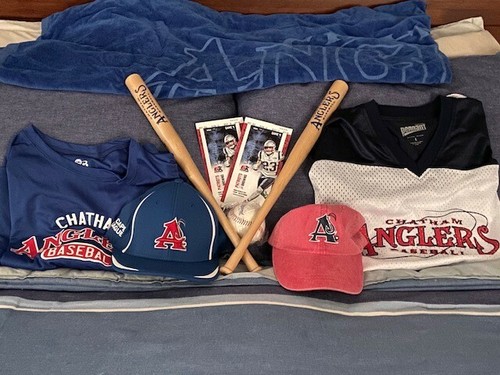 The eBay auction is live until October 10.
The winning bidder can choose to have the items shipped or pick them up in Chatham.
The Chatham Athletic Association, created in 1963, is the volunteer group that operates the Chatham Anglers baseball team.
The CAA is a 501(c)(3) nonprofit organization, as defined by section 170 of the IRS Tax Code. Your donation is tax-deductible to the extent allowed by law.
The CAA will furnish a tax deductible receipt for the auction winner's records.
More information about the CAA is available here.
The Anglers' 2020 season will begin in June. The full Cape Cod Baseball League schedule will be released later this fall.