Behind the voice: Public address announcer Peter Burns and the jokes that fill Veterans Field
His voice reaches from the Cumberland Farms parking lot behind home plate to Depot Road in the outfield. It's serious, then joyous. He smiles and laughs as he announces the names of the kids singing "Take Me Out to the Ball Game." But you can hear his pauses in between pinch hitters, trying to make sure their names, colleges and positions are correct.
It's like an orchestra that repeats the same notes but its set is constantly changing. Peter Burns is its conductor. Lineup announcements here, new merchandise sales there. When do dollar dogs begin at the snack stand? He'll let you know.
It sounds like a good time, or at least a good sell of a good time.
Burns is a political analyst turned energetic political science professor at Soka University of America for nine months each year. In the summer, he's a kid again, in his fifth year as the Chatham Anglers public address announcer.
"But I have to tell people I'm the PA guy," Burns says, "No celebrity to that."
Midway through the season, Burns arrived three hours before first pitch with a brown paper bag in hand. He said he gets nervous right when he pulls in, but can't pinpoint why. He went to the A's dugout.
One assistant gets handed a Coke Zero, the other a regular Coke. Chatham treasurer Ed Baird always receives a water. His tradeoff with manager Tom Holliday has evolved, now to a tall Coke bottle because a losing streak dispelled the smaller sizes. Next, Burns locates the bat boys names, and follows the umpires to their cars for the same reason.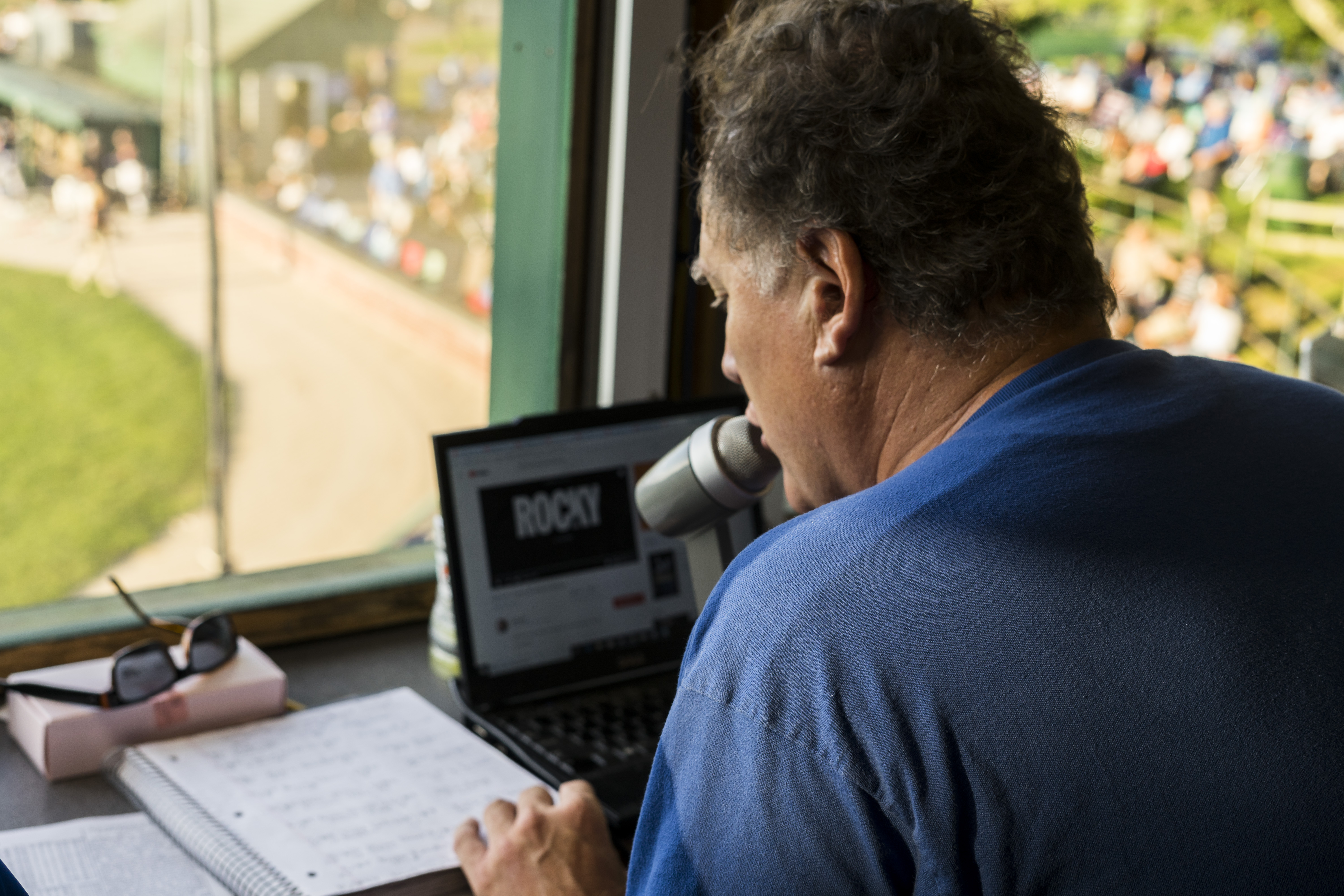 But after double checking the pronunciations of an opposing lineup on July 18, Burns turns his attention to foul territory in front of the Anglers dugout. It's 30 minutes before first pitch, and Jamal O'Guinn is playing hacky sack. Paxton Wallace is joking with Cooper Davis. Burns turns around to the rest of the press box.
"See all of those guys?" he says, "None of them know my name."
• • •
Burns declares his sister, Patty, is the "Cape Cod Chatham expert." When Burns couldn't make it to Anglers games, Patty bought him a shirt every season. For Christmas, she once bought their parents a Cape Cod Chronicle.
In 2015, Burns was at a conference in Miami and received a text from Patty saying: "Here's your summer job." It was a tweet seeking applicants for the A's public address announcer job.
Burns had no public address experience — he was just a lifelong fan. Memories come back slowly nowadays. The tickets he collected, his father's phone calls to the Chatham Police Department about the CCBL standings. He'd been on the Cape for almost every summer of his life. Now he could return.
But he was a professor now, teaching political science, staying at the InterContinental Hotel in Miami. He'd have to rearrange his life around.
"I was really in transition," Burns said.
His best friend, Matt, was in the room with him. Burns looked over the tweet, and eventually called the number to Matt's confusion. It dialed to president Steve West's phone but went to voicemail. Burns' voice got deep and low, and he belted: "Hello, this is Peter Burns. I'm interested in your public address job."
Matt was confused. When Burns hung up, Matt asked why he spoke like that in that kind of voice.
"That's my audition tape," Burns replied.
But that traditional deep, intimidating voice isn't heard over the loudspeakers of Veterans Field. It's relaxed, entertaining and honest. When Burns makes a mistake, he takes fault. When he forgot the seventh inning stretch, he created his own "eighth inning stretch."
Burns is the encompassing voice of a crowd eager to be delighted. Shouting out "Paul the Grill Master," or cracking a joke about children running for a foul ball. Spectators hear that. But when takes his finger off his microphone to mute it, that's when the real fun starts.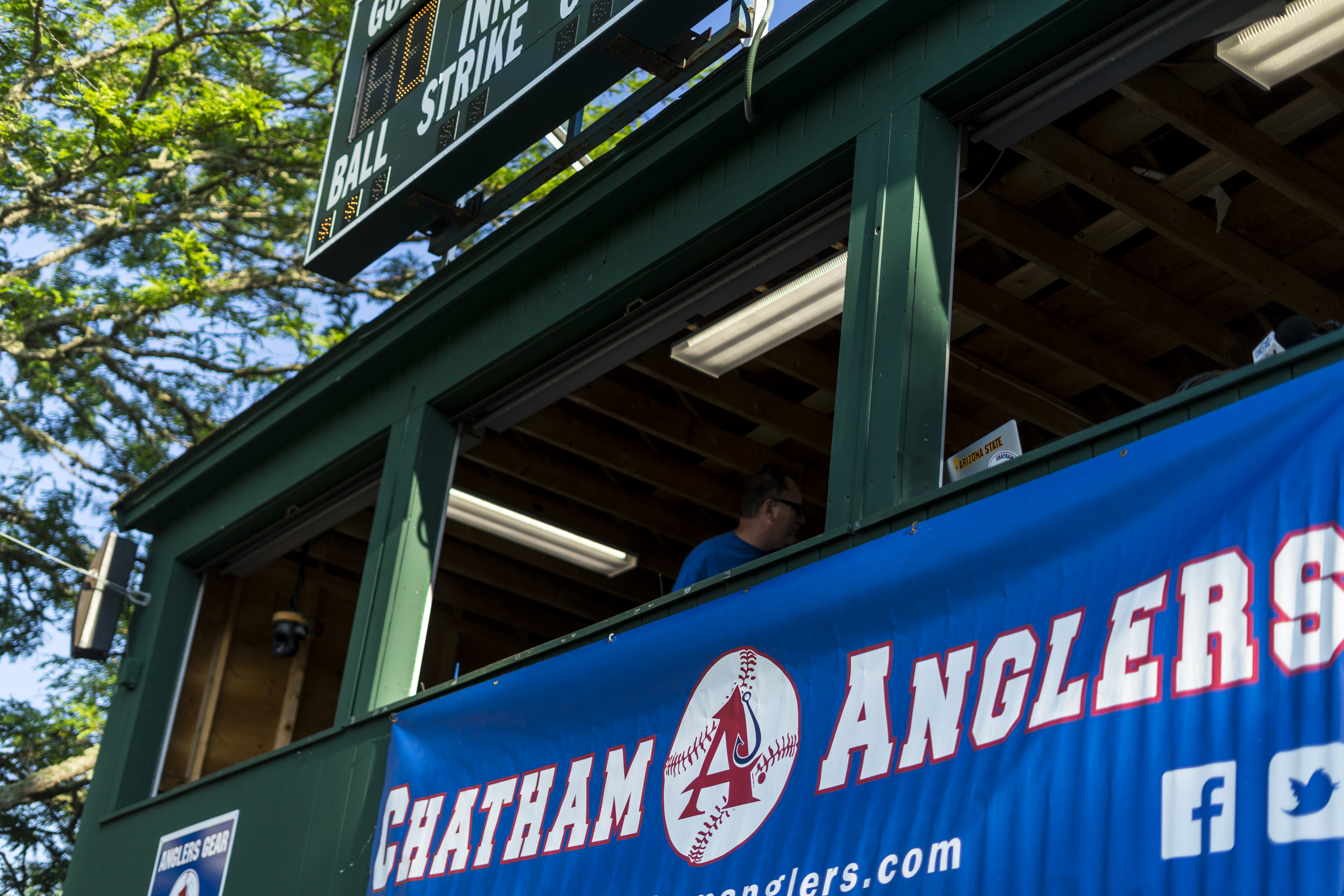 He jokes about his sudden coughing attacks. He'll always reach his hand to catch an imaginary foul ball, even though it's not coming near him. People don't see him accidently writing basketball player Gilbert Arenas instead of infielder Jorge Arenas, they just hear the final product.
"Would anybody stop me if I jump out of my seat and start running the bases," he posed one Saturday.
"Probably not."
The press box laughs along to those comments, even if his real audience is unable to hear them.
• • •
For a job that requires its holder to be honest, Burns likes to make up stories, just when the microphone is off. Burns will pose trivia questions, but when someone is incorrect, he'll admit he made it all up.
One time, he said a petty lie to somebody unknown to his antics. They looked at his cold stare, and asked if he was lying. Burns bursted out laughing. "Don't believe anything I say," Burns admitted. "50% of the things I say are completely made up."
"Pathological liars association. I'm in the Hall of Fame," Burns quipped.
He tries to find the root of this. Why is everything a playful joke? Maybe it's some deep psychological root? His dad, Peter Sr., was a politician. But he settles on wanting people to appreciate him, not forget him.
He pranked his students at Loyola University of New Orleans that he'd quit after every semester. But after two years with the Anglers, splitting PA and official scoring duties with Vic Roberts, Burns wasn't kidding. He was going to quit.
"I honestly have no reason why I wanted to," Burns said. "Maybe it's a collection. Maybe I felt guilty not doing research, or having too much fun here."
So he went on the Anglers "Catch of the Day" in 2016 to say his goodbyes.
In the offseason, two years removed from their initial phone interview, West called Burns. He needed him back. "Whatever you want," Burns recalled West telling him. So he asked to announce every home game.
Now, he's finished with three full years of being the A's sole public address announcer. He grew up wanting to be a sports broadcaster, but his mom said it'd be a "pipe dream." Decades later, he's fully invested in sports for 22-plus days a year, sitting feet from broadcasters trying to live out his former dream.
"I'm not where I thought I'd be," Burns said. "But I'm happy to be here."
As much as he's a colorful voice, Burns relishes the routine — a "big list and check off guy." Mention "no smoking at Veterans Field" at this time. Dollar dogs start in the ninth inning. Don't forget to say Milton CAT. His mind is engulfed in these reminders. If he forgets, or worse, screws up, he says he'll sleep in the fetal position all night.
• • •
The tall man seated in the far right of the press box won't stop looking at his 14-year-old niece, Holly Thorndike. She used to always look up for him, but like most of the crowd, she got used to the voice over the loud speaker. But this night, she locks eyes with her uncle.
It's Dip and Roll night sponsored by the Local Scoop. Pick a flavor and roll it in an assortment of ingredients. He said what he's supposed to, the rehearsed advertisement.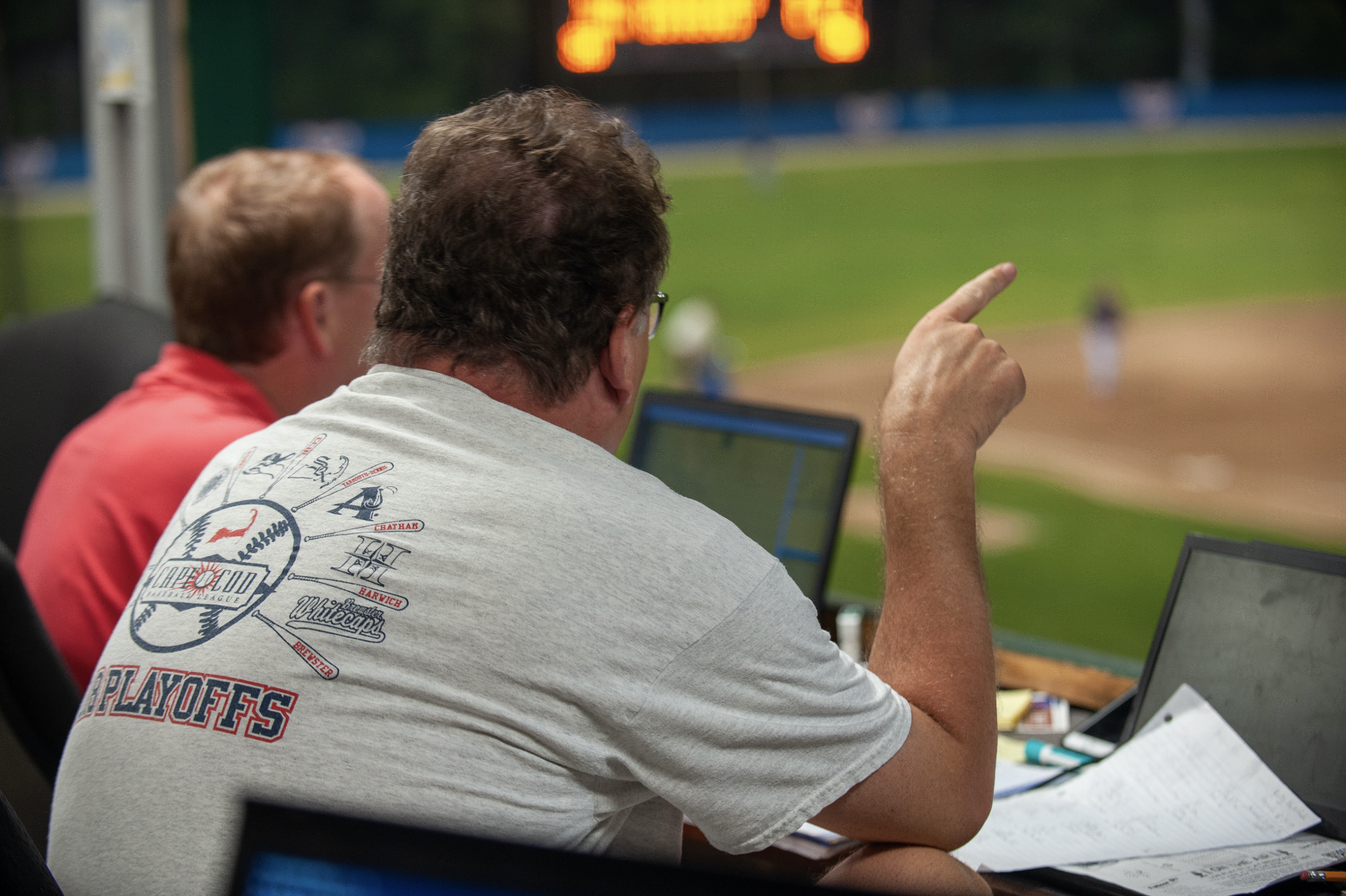 Burns listed the toppings, but when he got to gummy bears, he honed in on Holly. He wanted to make her laugh. An old joke that her grandmother cut off the head of gummy bears for her one time pops into his head.
"You can have sprinkles, gummy bears," Burns said to the crowd of over a thousand. He pauses "Or even gummy bears cut in half with no heads."
Most don't get it, but Holly hysterically laughs.
"My dad and I were the only ones laughing," Holly said. "And I'd see other people laughing and I'd be like 'You don't get this. It's not this funny.'"
One night, it was a relatively quiet make-up game versus the Yarmouth-Dennis Red Sox. Burns went about his routine, like he always does, and asked question-after-question during the game, like he always does. Then, the press box filled.
Peter Sr. came up to the booth, then Holly. Soon, his cousins appeared in the corner. And in the fifth inning, Stanford Steve, a TV personality on SportsCenter with Scott Van Pelt, went up to watch his high school baseball coach perform. The small room started to fill with people associated to Burns.
"Greatest game of the year," Burns said. "Don't remember the game, but all those people. Wow."
Burns didn't look at the crowd to talk. He grabbed his microphone, pulled it close to his mouth and turned around. Each phrase, he stared at a family member, trying to crack another joke they'd only get.
The crowd sometimes laughs at what he said, but it isn't always meant for them. They probably don't even know him anyway.