Pitching duel ends with Chatham getting no-hit, 1-0, in Game 1 of EDS
One Harwich pitcher hadn't allowed an earned run against Chatham all season. The other touched 101 mph, the only pitcher in the Cape League capable of that mark. Against both, the Anglers not only struggled — they failed to record a hit.
For most of the 44-game regular season, Harwich and Chatham flipped between having the top pitching staff in the league the latter part of the season. Both teams lived up to their reputations on Friday, but the Mariners out-did the A's.
The late run that had come so many times in the regular season didn't formulate as Chatham couldn't preserve a dominant start from Daniel Federman (Miami). Connor McCullough and Joe Boyle combined for a no-hitter while the A's allowed just four hits, three of which came off the bat of Harwich's Hal Hughes. Chatham dropped the first game of its East Division Series and will play Game 2 at Whitehouse Field.
"We bumped into a Major Leaguer and somebody we have to pay attention to," manager Tom Holliday said. "It's kind of fun now with your back to the wall. You gotta give it everything you got and leave it on the field. Try to win one."
All season, Chatham has struggled with the fourth place Mariners. The A's league-worst .230 batting average shrunk against the Mariners in its six games — down to .169, which is 30 points lower than any other opponent this season.
More specifically, it was McCullough who Chatham couldn't blemish. In 12.1 innings, he didn't allow an earned run against the A's. And in one matchup on July 9 at Veterans Field, he constrained the Anglers to just four hits in eight innings of work.
"That guy must be really deceptive," Holliday said. "We don't even come close to him."
The A's finished the regular season with 17 runs in their last seven games, eight of which came in their lone victory, a 8-7 win over Orleans, during that stretch. That combination continued Chatham's hitting slump as it couldn't figure out McCullough, again.
Through three innings, the Anglers didn't record a hit or walk and its lone base runner came on a hit-by-pitch in the first inning. In the fourth, McCullough began to unravel, walking the first two batters, including Kaden Polcovich (Oklahoma State) on four pitches.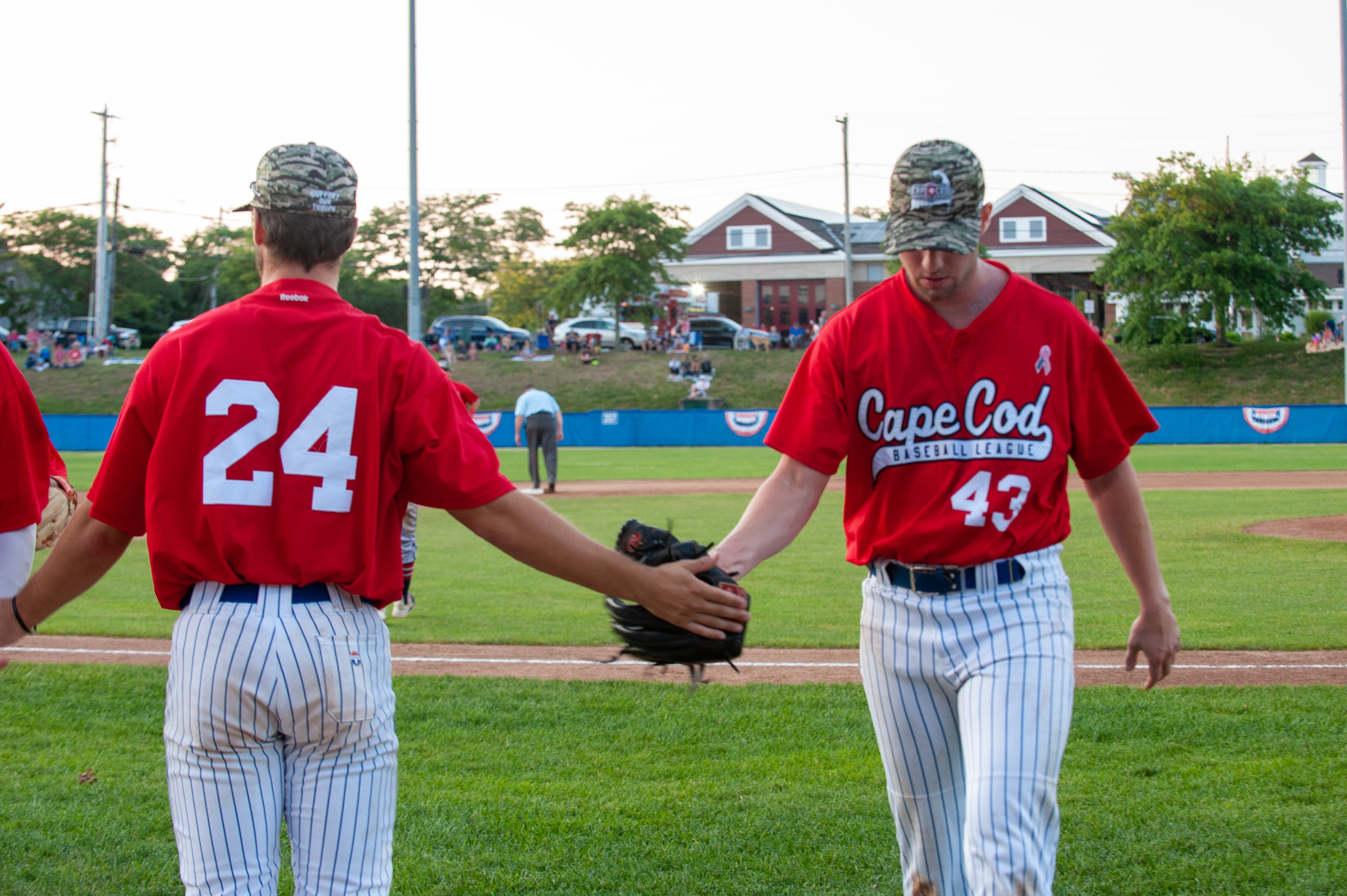 After two outs, Alex Toral (Miami) walked to load the bases — the best scoring opportunity for the A's all night — but Jorge Arenas (Stetson) grounded out to right to end the inning.
"If our left-handers don't do damage against a guy like that, we're in trouble," Holliday said.
But early on, it didn't matter. Federman ran through the Mariners starting nine twice. His curveball, that he learned this summer from pitching coach Dennis Cook, induced fly balls to lefies and forced short-rolling ground balls to righties.
After another 1-2-3 inning in the fifth ended on a swinging strikeout, Federman, a late-inning reliever for the Hurricanes in 2019, hit 80 pitches. That prompted Chatham to put in Austin Vernon (NC Central), who allowed a runner to reach third through one out. A fly ball out to left brought home the first run of the game.
"When Vern was pitching, baseball happened," Luke Bartnicki (Georgia Tech) said. "Nothing you can do about it."
While McCullough struck out two more batters in the sixth as he neared 100 pitches, Chatham turned to Bartnicki as its offense still failed to record a hit. All night, he dominated right-handers with two-seam fastballs. And he'd get up early in the count with his mid-80s slider. "I felt like he did his part," Hueston Morril (Oklahoma State) said.
Eventually, McCullough would have to leave the mound, but the Mariners turned to another All-Star in Boyle.
In the CCBL All-Star game, he was the first pitcher to hit triple digits in its history. In his first frame of work on Friday, three of his pitches reached 100 mph.
Bartnicki, who shared the mound with Boyle in the final innings, pitched some of his best innings of the summer. But he was overshadowed by Boyle.
"It's really cool to see that, a kid throwing really hard," Bartnicki said. "It's just annoying when it's against you."
Coming out for a second frame, Boyle hit 101 mph as Morrill struck out on a 2-2 count. Some members of the Veterans Field crowd, mostly quiet after the fourth inning until at the time, gasped. "It's something I'm used to," Boyle said.
In his first six batters faced, he struck out four of them. The bottom of the ninth was the inning Polcovich broke Chatham out of a five-game losing streak on Wednesday with a fly ball double that plated three runs. To start Friday's final bottom half, he lifted a shot to left center that made the crowd rise to its feet. But it was caught near the warning track.
"I thought we were swinging the bats well tonight," Morrill said. "We had a few good-hit baseballs."
Jamal O'Guinn (USC) hacked at three fastballs, now down to 98 mph, in the game's final at-bat. All three, he didn't muster a hit — like the rest of the A's on Friday.
"Bottom line is, short memory," Holliday said. "We can't sit around and think about getting no hit."
Click here for EDS Game 1 Sidebar: Chatham spoils Daniel Federman shutout start in 1-0 loss to Harwich