Chatham throws 8 position players, loses 10-0 to Orleans in regular season finale
Paxton Wallace roped a line drive to left field — the hardest hit ball of the night — directly to Orleans left fielder Zach Kokoska and he made the catch.
Wallace didn't just trot back to the dugout to wait for the next half inning. He jogged out to the bullpen, where he delivered a handful of warmup pitches to bullpen catcher Jeff Korte under the watchful eye of pitching coach Dennis Cook.
After, he ran back onto the field from the left field bullpen. It was his turn to pitch. The A's infielder touched 95 mph on the radar gun and pitched the seventh inning. He wanted to try his knuckle curve, but threw all fastballs instead.
Chatham lost to Orleans 10-0 on Thursday night in a makeup game. Entering the final regular season game that had zero playoff implications for either team, manager Tom Holliday had a few goals, none of which involved winning. But Thursday's game provided a unique opportunity for many of the Anglers. Eight position players pitched, four pitchers recorded at-bats and Chatham played a "backyard" game as Holliday suggested they might the night before.
"That was probably one of the most exciting games I've been a part of in a while," Hueston Morrill (Oklahoma State) said. "That's stuff you don't see everyday, you get the fans involved, I was hoping one of the pitchers would hit a bomb. I think we all had fun tonight."
Holliday wanted to keep everyone healthy, avoiding injuries ahead of the playoffs, which begin on Friday night when Chatham hosts Harwich at 7 p.m. at Veterans Field. Chatham's walk-off 8-7 win against the Firebirds on Wednesday's game locked in the playoff seeds and clinched Chatham's Regular Season East Division title for the first time since 2013.
But they still had to play on Thursday night after the Cape League denied both teams' request to postpone the game. So they played Holliday opted to start Morrill on the mound, a two-way signee at Oklahoma State who hadn't pitched at all in his collegiate season.
Morrill had made one appearance for the Anglers, of which he laughed off after allowing two home runs in his lone inning.
In his second outing, the Firebirds lineup couldn't touch him. He threw two hitless innings, striking out five batters and walking just one. Holliday doesn't want Morrill to get hurt — he's been a vital member of the Anglers offense of late — so he pulled him after two innings for Jorge Arenas (Stetson).
Like Morrill, Arenas has pitching experience with the A's, including three appearances against Orleans. On July 4, Arenas entered with the bases loaded and two outs to preserve the win and record his first career save with a strikeout. He used a knuckle curveball that actual pitcher Ty Madden (Texas) taught him in the bullpen.
After Arenas' two innings of work, Holliday cycled through his position players. Earlier this morning, he asked for volunteers to see who wanted to pitch. Catcher Keaton Rice (Bradley) said he was the first one to volunteer.
"I wanted to throw it over the plate and hope they hit it," Rice said. "I give our pitchers a lot more credit than I did before."
Kaden Polcovich (Oklahoma State), Kendrick Calilao (Florida) and Wallace all wanted to throw too.
So Holliday let them. Rice walked the leadoff hitter but induced a double play to face the minimum. Polcovich allowed a couple runs, but it didn't matter. He smiled after a strikeout of Zach Daniels to record his first out.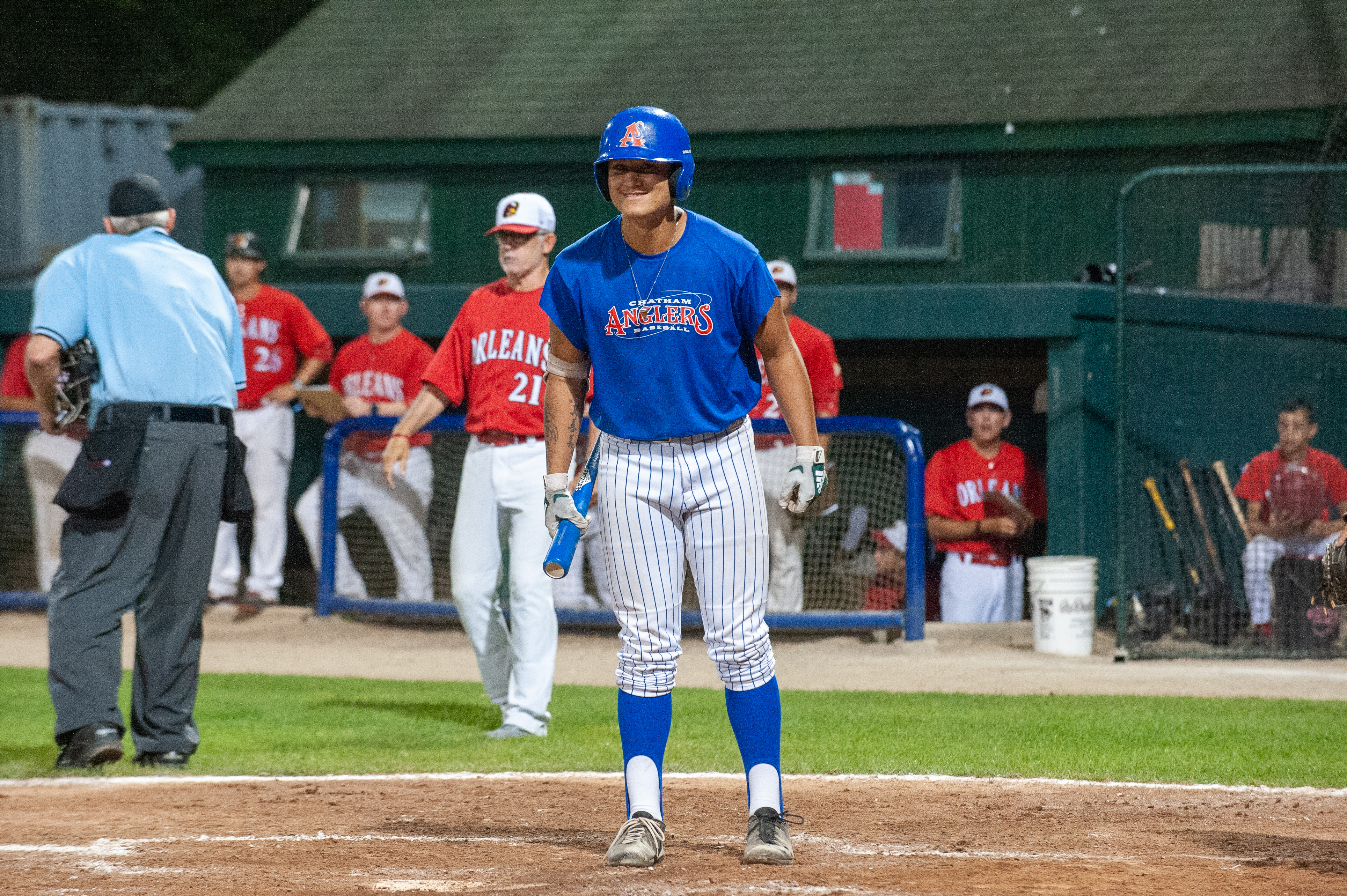 "I wanted to pitch, I wanted to see if I still had it," Polcovich said. "But I don't think I do."
In the Anglers half of the sixth, lefty pitcher Jeremy Wu-Yelland (Hawaii) took his stance in the batter's box. He's been looking to get into a game all season as a pinch-runner, but Holliday green-lighted Wu-Yelland's first at-bat. He took three consecutive balls before flying out to shallow left field.
"That was a predetermined swing," Wu-Yelland said. "No matter where it was I was swinging."
Wallace allowed two more runs with two outs, but he had the unique opportunity he won't get when the serious and important baseball returns on Friday night. Calilao faced three batters in the eighth and walked all three. Yet, as he walked off the field to meet Brady Smith (Florida) to get his glove to go play outfield, he smiled ear-to-ear.
Cooper Davis (Vanderbilt) relieved Calilao, and a few batters later, Colin Hall (Georgia Tech) replaced him. Chatham gave anyone who wanted to a chance to pitch as Holliday counted down the outs until the night was over.
"I think they had some fun," Holliday said. "I would have hit more pitchers if I could have."
In the bottom of the ninth, Holliday turned to his dugout and asked which pitchers wanted to hit. Cole Ayers (State College of Florida), Austin Vernon (NC Central) and Mason Hazelwood (Kentucky) all volunteered. While none reached base, the entire Anglers dugout roared as Ayers and Vernon fouled off pitches and Hazelwood swung at the first pitch.
"I wanted an at-bat, you have fun with that," Vernon said. "I haven't hit since senior year of high school. The catcher told me the heater was coming, and I was still a little late, I was swinging for the fences."
No one really wanted to play on Thursday, but once they started, many of the A's had unique opportunities they haven't had since high school.
"I think this game tonight helped us all get through the grind of the regular season," Hazelwood said. "It let us all come out and have a little bit of fun and get us excited to get to the postseason."