Ben Ramirez brings home game-tying run, Brady Smith scores on walkoff in CBBL All-Star Game
ORLEANS — Ben Ramirez (USC) sat in the stands at Whitehouse Field last year to watch the Cape League All Star game, not play in it. His collegiate teammate, Jamal O'Guinn (USC), was injured earlier in the week and thought he wouldn't start. Jorge Arenas (Stetson) wasn't an everyday starter for the A'sin 2018. Brady Smith (Florida) arrived late after a long postseason run. Kaden Polcovich (Northwest Florida State) and Dawson Merryman (Midland) both came from junior colleges. And Kolby Kubichek (Texas) wasn't even on the initial All-Star roster.
But on Sunday, all seven wore blue and white pinstripes at Eldredge Park. They were East Division All-Stars.
"All of your work pays off when you're here," Ramirez said.
After entering the All-Star break with the best record in the Cape League, five Chatham position players and two pitchers were in uniform for Sunday's annual All-Star game. O'Guinn was the lone starter, but all seven played in the game. Smith reached base in both of his at-bats and Ramirez hit an RBI single, tying the game at five apiece in the bottom of the ninth. Eventually, Smith scored the game-winning run in the bottom of the ninth in a 6-5 East win.
They arrived to field before noon coming off one of the A's most thrilling wins of the season. Following an early 3-0 deficit to Harwich on Saturday, Chatham fought back to a 4-4 tie. In the eighth, Arenas christened the Anglers new scoreboard with his first home run in 173 at-bats in the Cape League.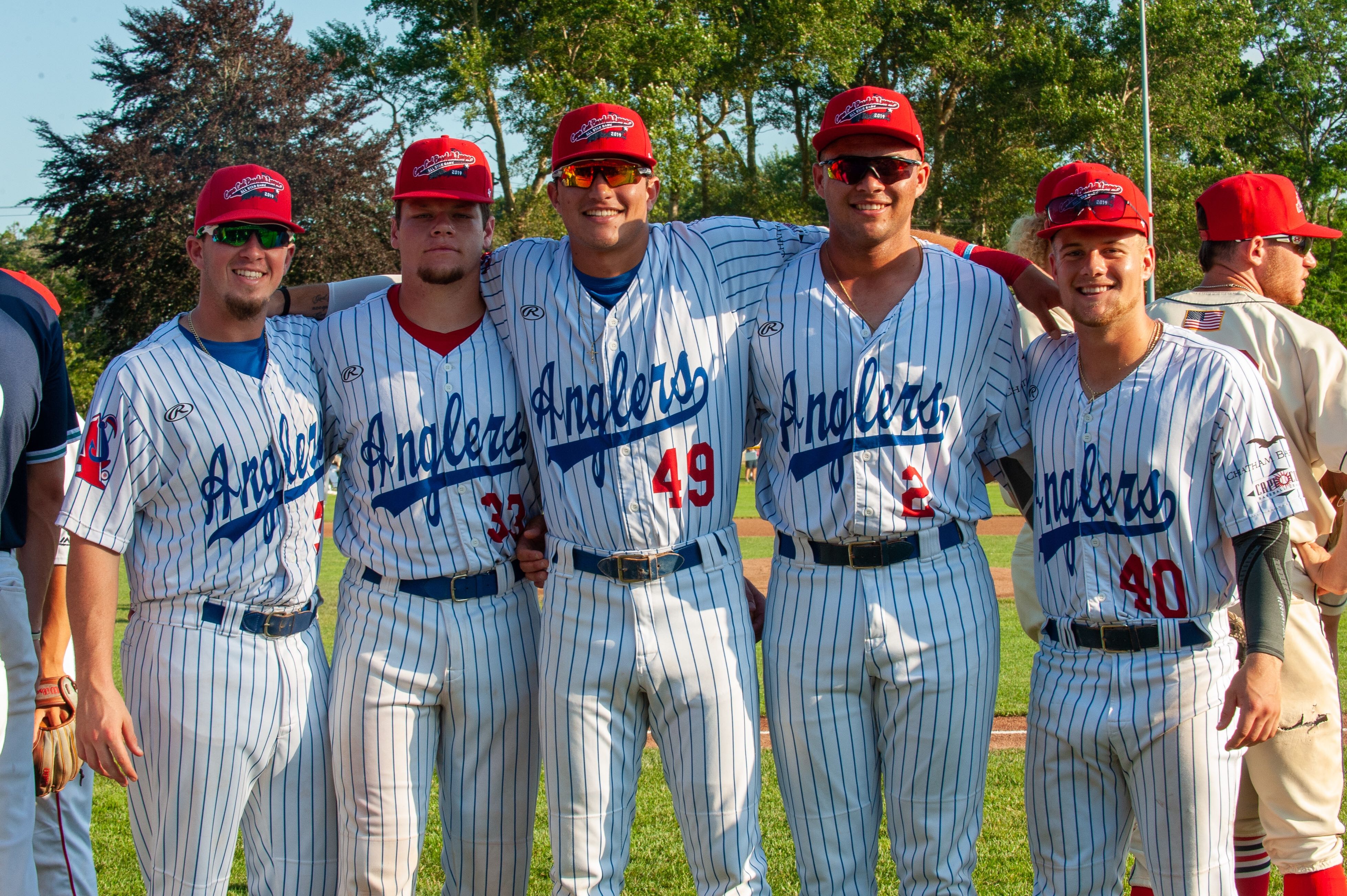 A batting practice was followed by an autograph session, where players signed bats, jerseys and balls, among others. And before the Home Run Derby, players changed into their A's uniforms. Manager Tom Holliday also returned to the game for his second season as the A's skipper, this year in charge because his team led the East Division.
"I think every guy that made it for us deserved it," Holliday said.
O'Guinn started in left field and when he returned to the dugout after the top half, Smith was the closest East All-Star to the infield dirt. He wanted to be the first person to greet him.
"It's a little hot outside, but it's been a great day — could be worse. I'm enjoying it," O'Guinn said.
In his first at-bat, O'Guinn struck out on a full count. Arenas and Ramirez entered the infield in the fifth inning at second base and shortstop, respectively. And Polcovich was expected played center field between the fifth and eighth innings. Pregame, Holliday called Polcovich "our MVP."
But when he came up with a runner on in the fifth, he was hit by a pitch on his knee and was subbed out. Ramirez grounded into a double play after the pinch runner was inserted. In 34 games, Ramirez has raised his average 40 points from last summer as a second-year Angler.
"At some point, the light switch turns on for players. That's happened for Ramirez this season," Holliday said. "He's turned the corner… He's a no-brainer for pro ball."
Arenas came up in the seventh and grounded out to third. Smith came up after an inside the park home run brought Gage Workman home and unloaded bases, and kept the rally going. Smith roped a breaking ball into right field for a single. With the east down 3-4, Smith came around to score the game-tying run.
Kubichek and Merryman were the last two pitchers left, throwing bullpen side-by-side behind the right field fence. Merryman entered with one out left in the eighth, and allowed a run to the first batter he faced.
Arenas came back up with one out in the bottom half but struck out in four pitches. Merryman got the first out of the ninth, and Kubichek ended the inning with two outs even though he walked a batter on a full count and give up a two-out single.
When Smith returned for his second at-bat, he reached on a hit-by-pitch, giving the East runners on the corners with no outs. Ramirez followed him, and knocked a base hit to center field to tie the game. Smith got to second, and advanced to third on a long fly ball to right. After a groundball made it to right field, Smith made it home. He threw up his right arm and pointed to the sky. The East won, and Ramirez and Smith were at the center of it.