2 bunt singles spark come-from-behind 4-2 win over Brewster
Tom Holliday wanted to avoid it. But the Anglers offense has been shaky, one that'll heat up for an inning then go cold for the other eight. Now, 31 games into the season, Holliday is ready to bunt.
"Quite frankly, I like the long ball," Holliday said. "The ball club we have doesn't have that kind of power, though."
On Monday, Hueston Morrill (Oklahoma State) and Cooper Davis (Vanderbilt), bunted in the seventh. And in both, they not only moved runners — they made it on base.
Chatham entered the seventh inning down 2-1, following strong pitching performances from Zarion Sharpe (UNC Wilmington) and Jeremy Wu-Yelland (Hawaii). On Sunday against Hyannis, Chatham was kept off the board until the seventh. The next day, the A's were in the similar spot, trailing. And again, the big inning came — eight batters, four hits, three runs — to pull the Anglers (18-11-2) to a 4-2 win over against Brewster (13-15-1).
"You get around some of these old school coaches like 'TH' and they're going to want you to put it on the carpet," Morrill said.
When Holliday put his team together, he expected more power. But with recent offensive struggles — the A's have scored 27 runs in their last nine games — Holliday was ready to look toward the short game.
"The one we've neglected is the bunt," Holliday said. "I didn't think you'd ever have to turn to that up here."
To start each batting practice this season, hitters bunt at least twice: one to the third base line, another toward first. It's happened before almost every game. Sometimes, players forget to trail back to corral the bunts and coaches regularly remind them to stay on the foul lines. But on Monday, Chatham didn't forget its secret weapon.
That three-run inning began with a Jorge Arenas (Stetson) hit. Morrill then laid down a bunt. As the Whitecaps pitcher gathered, Morrill beat out the throw to first.
"You're down one run late, you have to get runners on," Morrill said. "The idea was to move them over. Got down the line and ended up running it out."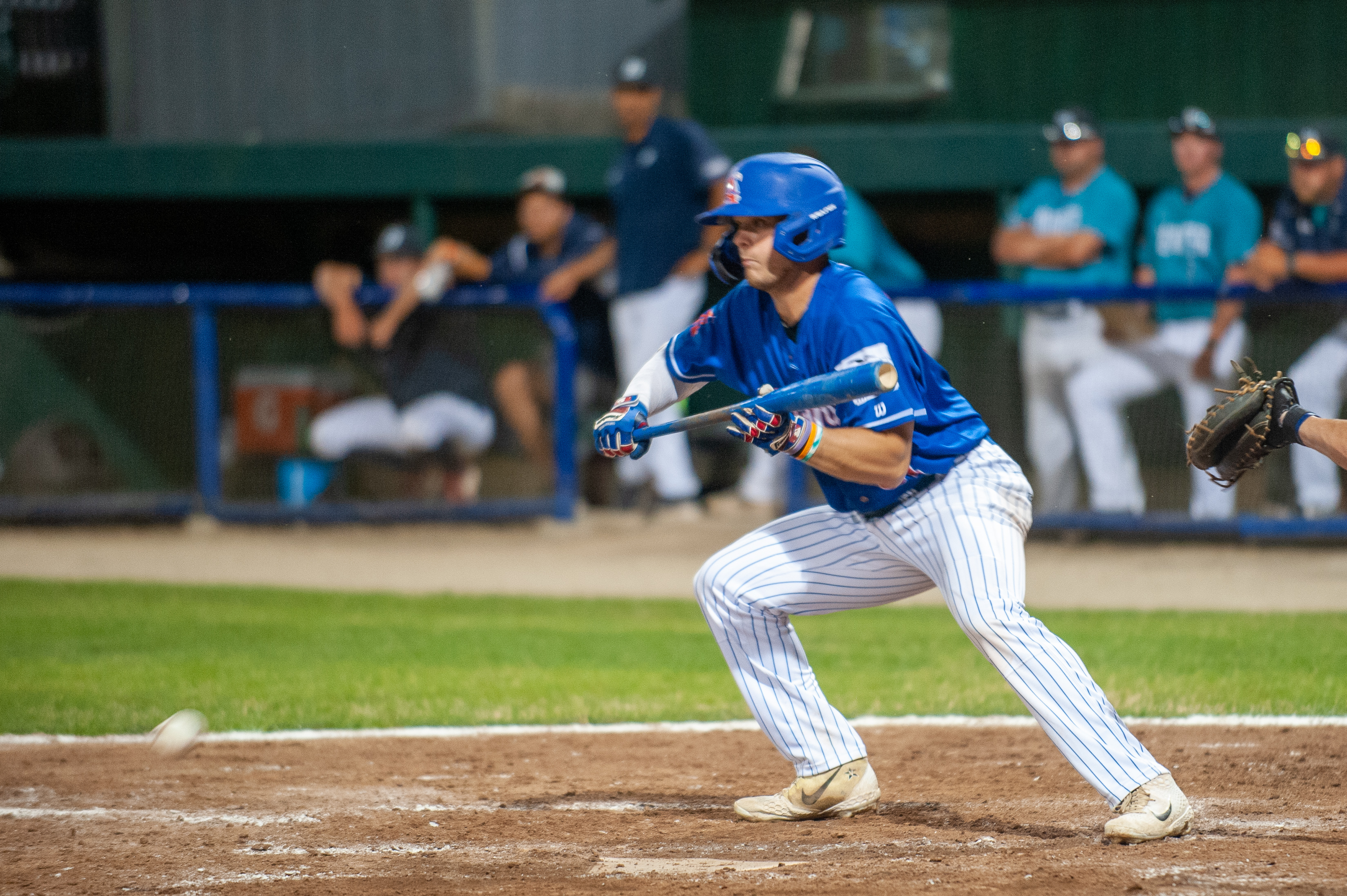 The next batter, Kaden Polcovich (Oklahoma State), tied the game with a third-straight hit. When the same situation arose, two on and no outs, Davis did the same as Morrill. His slow-roller stayed in the third base line and loaded the bases. Jamal O'Guinn (USC) walked in a run, and Toral followed him up with a sacrifice fly to add an insurance run.
"It's always great to have bases loaded and under two outs," Toral said. "The bunts got the job done and put me in a good spot."
Zarion Sharpe (UNC Wilmington) delivered another stellar outing for the Anglers. The southpaw, who coming into Monday with just two earned runs allowed on the season, kept it going. He sniffed out Brewster's own short game on a leadoff bunt and used his slider to right-handed hitters to get outs. He allowed one base runner through three innings.
Toral gave Chatham the opening run in the third inning on an RBI single with two runners on base. While Chatham scored first in only its 10th game this season, it wouldn't last.
Kaden Polcovich (Oklahoma State) leaped high in the fifth but the ball flew over his head. He gathered, then threw a dart to home. It bounced through the infield grass, eventually toward catcher Keaton Rice (Bradley). Too late. Rice threw his own dart to Arenas to get the batter running toward third. The ball trickled into the outfield and another run scored.
The A's had seven baserunners through the first six innings, but Toral was the only batter to push a run in. Holliday felt comfortable asking Morrill, Monday's nine-hole hitter, to bunt because of his experience. Last summer, Morrill said he had 20 bunt singles. On Monday, he had his first in the Cape League.
In his short time with the A's, Davis has shown himself to be one of the fastest players on the roster. But the outfielder didn't have to sprint like Morrill because two defenders expected his bunt to go foul. It set up O'Guinn and Toral to break the score open.
"If it comes to a close game in the sixth game," Holliday said, "We're going to the short game and the best defensive we have and win on the mound."
The A's pitching, marred by just a fifth inning mishap, kept their stellar outing intact as Jeremy Wu-Yelland (Hawaii) threw four scoreless innings to close the game. All because of two bunts, the A's once again won from behind.
Said Holliday: "We got what we needed. Made some bunts. Bingo."