The Full Count: A new pitcher, trouble with the curve and more
The Full Count is five weekly observations and analysis about the Chatham Anglers, published each Monday.
One week ago, Chatham's offense played its best baseball all year. Slugging percentages were up, runs per game increased and wins piled up. The A's had won seven of eight games and pushed themselves to the top of the East Division.
A week later, the Anglers remain atop the division. Chatham pitching, save for a 15-run blip against Falmouth, has remained one of the premier staffs in the Cape League. But the offense has come to a screeching halt.
1. One of Chatham's biggest offensive concerns in the last week has been hitting breaking balls. Yarmouth-Dennis, Falmouth and Hyannis, among others to a lesser extent have implemented the strategy of pitching backward to try and retire Anglers hitters. Breaking balls in early counts, fastballs late. Over the last few weeks, multiple hitters have noticed a difference.
Jamal O'Guinn (USC) said that early in the season, he'd see three fastballs each at-bat. Now, he's lucky if he sees one or two. Brady Smith (Florida) said in one at-bat last week, he was sitting fastball and never got one. Three consecutive breaking balls sent him back to the dugout.
Sunday night against Hyannis was the most distinct example, when nearly every first pitch thrown was a breaking ball. Manager Tom Holliday was unhappy that the A's hitters failed to change their approaches from at-bat-to-at-bat as the outs continued to pile up and the Anglers didn't push across a run against the league's worst pitching staff until the seventh inning.
"I think it goes back to we all need the day off," Ben Ramirez (USC) said. "We're all a little tired. I think it comes together for our team in the latter innings. I don't really have an explanation for that."
The last seven days, Chatham's offense is slashing .202/.296/.272 with just 10 extra-base hits. Chatham has faced some excellent starting pitching of late, but Holliday still can't explain why his offense can't seem to hit for the first five innings of games. Holliday is looking for a more energized team and dugout going forward.
"I have to address that," Holliday said. "It's going to be a little bit of a challenge. We have no life."
2. Holliday has used a handful of different words to describe his offense's play over the last week. He's called his team "flat," "energyless" and said they had "nothing" offensively. He's looking for some bench energy. Holliday didn't hold back when he was asked about his team's lack of early life.
"If we don't find some spiritual energy for the love of the game," Holliday said. "We aren't going to win anything. We're useless on the bench. We don't have any of the college joe guys to rally the guys in the dugout. We just don't play with any fun or positive energy."
Despite the offensive struggles through the last eight games, Chatham still finished its roughest stretch of the season 3-4-1. For a first place team that hasn't been near its fullest potential, there's plenty of room for hitters to find their form before the postseason.
While they aren't playing their best baseball, Chatham has kept finding ways to win games, which has been perhaps its most remarkable statistic. Without late rallies, the A's 3-4-1 week easily could have been 1-7. Chatham may not be stringing together rallies often, but its best moments have been timely. The A's have more comeback wins than any team in the Cape League — they've fallen behind 21 times, and they have rescued 13 wins after conceding first.
"That's what it takes to win championships," Alex Toral (Miami) said. "To be able to come from behind and win."
3. The addition of Hugh Fisher (Vanderbilt) to the back end of the Anglers bullpen now gives them three consistent options to turn to late in games. Its closer Dawson Merryman (Texas) has continued his consistent shut down performances that close the door on any opponents' late rally. Merryman was named an All-Star, and has still allowed just one earned run while being 4-for-4 on save opportunities.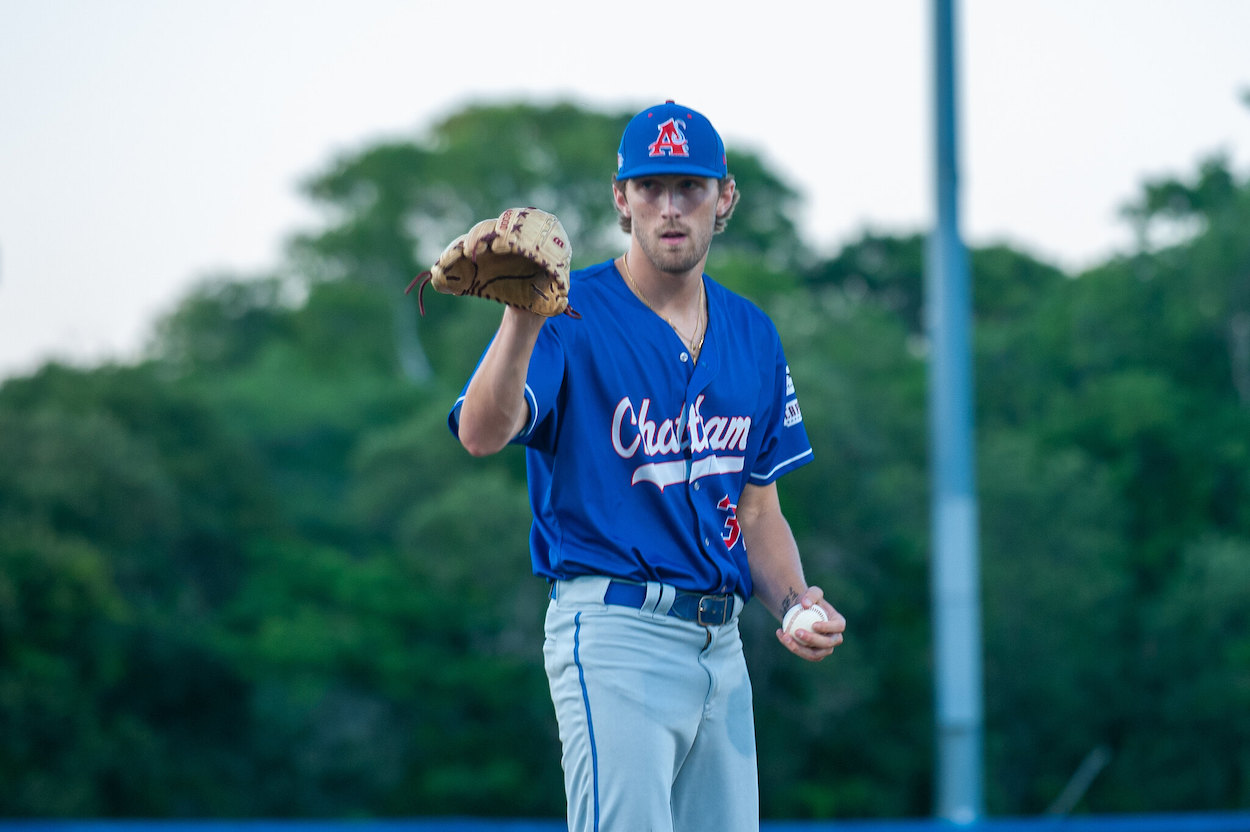 He's a valuable option, and the Anglers have solidified two more out of the bullpen. Zach Cable (Oklahoma State) had one blown save against Orleans, but rebounded to shut down Cotuit in a four-inning outing days later. Cable is Holliday's other right-handed option, and Fisher is the lefty. When Merryman was unavailable at Hyannis on Saturday after he threw two innings, Holliday brought in Fisher, who delivered the final 2.1 shutout frames.
Having a left-hander in the bullpen allows Holliday to play the matchups in tight games and help give depth at the back end of the bullpen.
4. Chatham left-hander Zarion Sharpe (UNC Wilmington) had a strong case to be a deserving All-Star, and Holliday agrees. Sharpe has been a consistently commanding pitcher. He's deserving based both on traditional and advanced metrics. His 15 innings pitched and just two earned runs allowed puts him at a 1.20 ERA, better than multiple other pitchers chosen for the Cape League's East Division.
"He's gotten better every time he's pitched," Holliday said. "I hope this is the start of a Major League career."
The left-hander has shut down both lefties and righties at the plate, holding lefties to a .160 average and right-handed hitters to .182. His lone two runs allowed came on one home run swing. Otherwise, Sharpe has been nearly flawless each time he's taken the ball.Every inning he throws, he allows an average of .87 baserunners.
"I think Sharpe should have been on there, I missed the meeting. Sharpe is as good as any left-hander in the league, and we'll sing that song even if he doesn't get to play in the Cape Cod All-Star game."
5. Chatham has added a fresh pitcher to its staff with the departure of Parker Scott (Oklahoma State). Scott was named a Cape League All-Star after he pitched 13.2 scoreless innings on the mound. He dominated in each of his three outings and a Major League team took notice. Scott agreed to sign with the Los Angeles Angels. He was eligible for the draft, but Scott hadn't pitched much after he underwent three different surgeries, including Tommy John.
Scott's departure opened up a spot on the Anglers roster for a new pitcher to slide into his role. Holliday picked up Jake Hamilton (Wichita State), who just completed a JUCO season at Rose State College. Hamilton was a national standout in his second year, leading the nation in strikeouts and K/9 with 137 and 16.81, respectively. The right-hander had a 2.71 ERA and made 16 appearances.
Hamilton was working with his dad at a high school in Oklahoma when Holliday called him and said he needed an arm. The right-hander said he wasn't even planning to play summer ball.
"But when you get an opportunity to play in the Cape League, you can't so no," Hamilton said. "I have no idea how he found me."