Austin Vernon's clutch outing leads to 3-2 win over Harwich
HARWICH — Austin Vernon had to get out of two jams — one he inherited, the other his own making. It was the bottom of the seventh, and Harwich had runners on the corners with no outs. So Vernon, a right-hander from North Carolina Central, had to come in and fix the mess.
"If they only score one there, I'm satisfied," manager Tom Holliday said.
The Mariners tried a safety squeeze. Vernon responded with a second strike breaking ball, so Hal Hughes had to keep his bat back. Five pitches in, Hughes ripped a line drive toward shortstop Jorge Arenas (Stetson). Arenas caught it and directly flipped a pass to third, picking off the runner 90 feet from home.
Vernon was an out away from keeping the game tied at two, but he loaded the bases. Up 0-2 turned into three straight balls. With a full count and runners moving, Vernon threw a strike down the middle, and Daniel Cabera whiffed. He'd escaped. And on his way to the dugout, Vernon flexed his muscles.
"I'm fired up at that point," Vernon said. "I like the ball in those situations."
After falling behind in the first two innings, Vernon's clutch seventh inning pitching saved what seemed like a certain scoring opportunity for the Mariners. Vernon, paired with Parker Scott (Oklahoma State), shut out Harwich (7-10) in the final seven frames of Tuesday's game. The Anglers (10-6-1) offense slowly fought back — off defensive miscues to start, later from manufactured offense — and came back to win, 3-2.
The day prior, Chatham's offense, which has been up-and-down all season, exploded for 13 hits, three home runs and 15 runs, the second highest under Holliday. What started the onslaught was a Kaden Polcovich (Northwest Florida State) leadoff home run.
Against Harwich, Polcovich led off with a single to right. Two batters later, he was in scoring position after an Anthony Vilar (Miami) walk. But three straight outs from the heart of the lineup never moved a runner past second. That'd be their only base runners through four innings.
"It was one of those days," Jamal O'Guinn (USC) said. "15-run day last time, you expect to come out hot, but its baseball."
On the mound, RJ Dabovich (Arizona State) threw two consecutive looking strikeouts to start his night. Then with two outs, he allowed three singles and a wild pitch on a steal attempt that moved Cabrera from first to third.
After one run crossed in the first, a slow dribbler rolled near Brady Smith (Florida) the next inning, and while his throw to first was on-target, first baseman Alex Toral misplayed it in the sun. After a stolen base and another wild pitch, a sacrifice fly brought home the Mariners second run.
"I don't know how many mistakes on defense we made to force clutch pitches," Holliday said.
But it wasn't just Chatham who struggled to play clean in the field. Similar to the A's second inning error, Connor McCullough, the Mariners starting pitcher, slung a ball to first basemen Niko Kavadas that he dropped. It reached the outfield and another error — the third of five errors in the game — brought Hueston Morrill (Oklahoma State) home and Colin Hall (Georgia Tech) to third.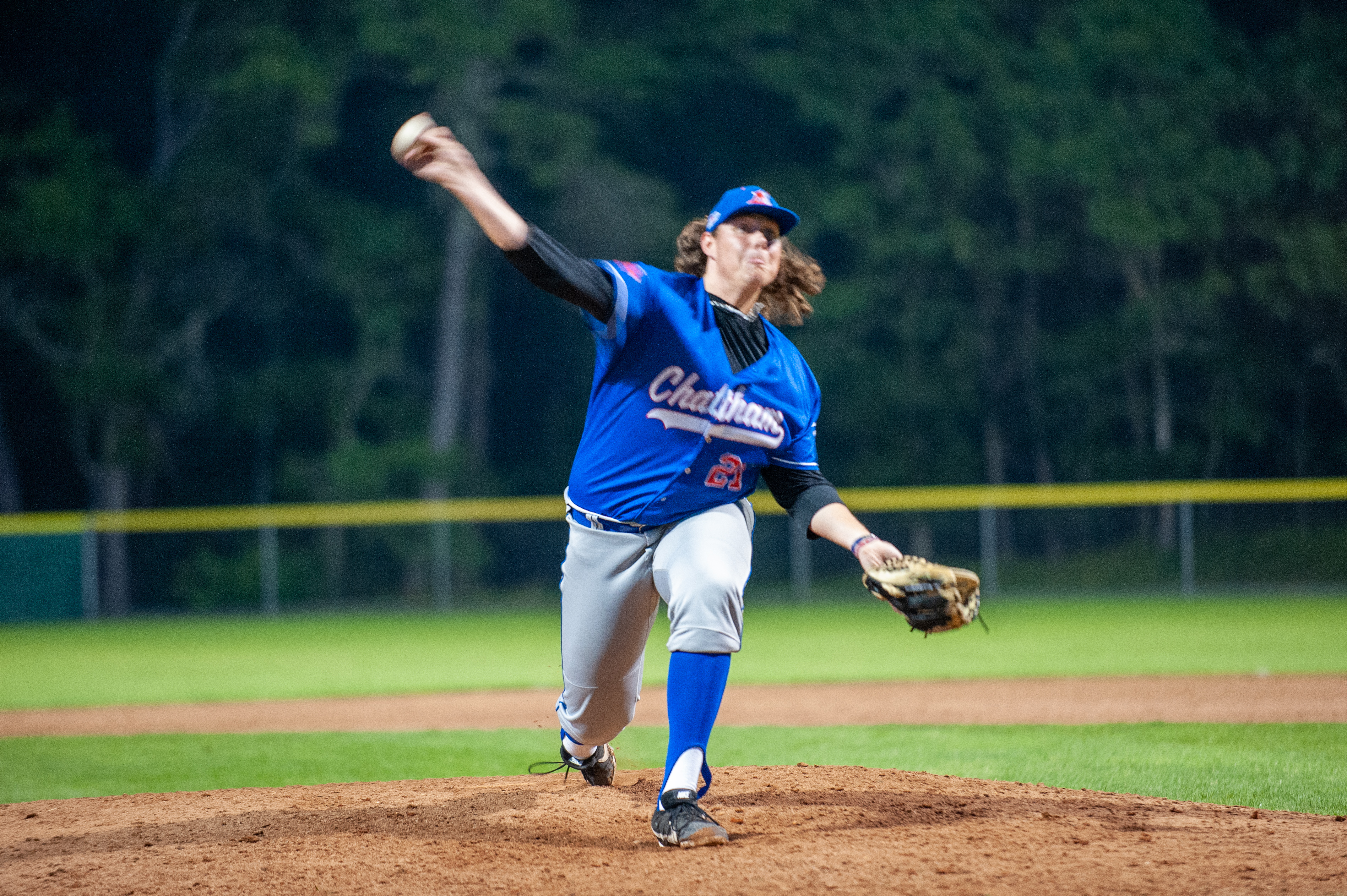 And like Harwich's first inning, the Anglers paired together three straight hits topped off by a Charlie Welch (St. John's River State College) RBI single, his second hit in 26 at-bats this season, to tie the game at 2-2.
Parker Scott (Oklahoma State) matched McCullough's dominance in relief, allowing just one hit through the sixth. When Holliday put Scott out for a fourth inning, a strikeout on a breaking ball got under Smith and advanced a runner. And a single put runners on first and third. That's when Vernon came in.
While Holliday said he'd be satisfied with allowing just one run, Vernon went in thinking he'd keep everyone away from home base. After the 6-5 double play and a two-out single and walk, Vernon wanted to "pound the zone" against Cabrera. At 1-2, the umpire stood up and jolted his arm.
"I thought I had struck him out," Vernon said.
Welch behind the plate stood up, too. But the umpire just squatted back down. Vernon went offspeed after. And at 3-2, he got Cabrera swinging down the middle.
O'Guinn opened the tied eighth inning with a walk. He moved to second off a wild pitch, then to third off a sacrifice fly. With still just one out, a groundout sent O'Guinn home to give Chatham its first lead of the night.
Vernon came back, this time getting through the eighth inning with less drama. With one out in the ninth, Dawson Merryman (Texas) replaced Vernon. Hunched in the crammed dugout, Vernon awaited Merryman's final out. When it came, Vernon ran onto the field, trying to be the first one out there. He bumped chests with Merryman, the one who saved his victory. Then, he did the same with Welch, the one that directed his decisive outing.
"To win tonight, I don't know if I'm going to say it's an accident," Holliday said. "But that was a gutsy effort."
"That's where ball clubs can turn into good teams."