Chatham capitalizes on Alex Toral's 1st home run in 6-1 win over Hyannis
Tom Holliday went to summon his cleanup hitter, Alex Toral, before Saturday's game against Hyannis. He had something to tell him.
"Quit trying so hard to get it out of the park. Just let it happen."
20 at-bats into his first season in the Cape League, Toral was waiting. 24 home runs as a sophomore at Miami pegged him as one of the most powerful hitters in collegiate baseball. And while his reputation followed him north to Cape Cod, the results weren't showing.
He needed just one swing. Two pitches into his second at-bat against the Harbor Hawks, it came. Toral lifted a fastball over the right field wall for a two-run home run. When he reached the dugout, the first person he went up to was Holliday.
"Wow, that actually worked," Toral said to his manager.
Before Toral's blast, the Anglers, who've scored just five runs in their last two games, needed any sort of offensive production it could get. Bourne and Wareham racked up multiple run innings to take leads on Wednesday and Friday, respectively. Chatham, though, could never do the same.
"We have to create a middle of our batting lineup that scares people," Holliday said postgame.
Saturday changed that. Even without Spencer Torkelson (Arizona State) in the top of Holliday's lineup, the Anglers posted a four-run bottom of the third, topped off by Toral's two-run shot, that pushed Chatham (8-6-1) to a 6-1 win over Hyannis (2-11-1).
Following a 7-4 loss to Wareham on Friday, Holliday gathered his team near third base like he always does. But after that game, his talk went longer than usual. Holliday touched on defensive miscues, smart hitting and swinging with a flow. He said it was an accumulation of "two or three day of notes."
"I don't like doing that," Holliday said. "But little things have to be addressed. If you don't, you're skipping it."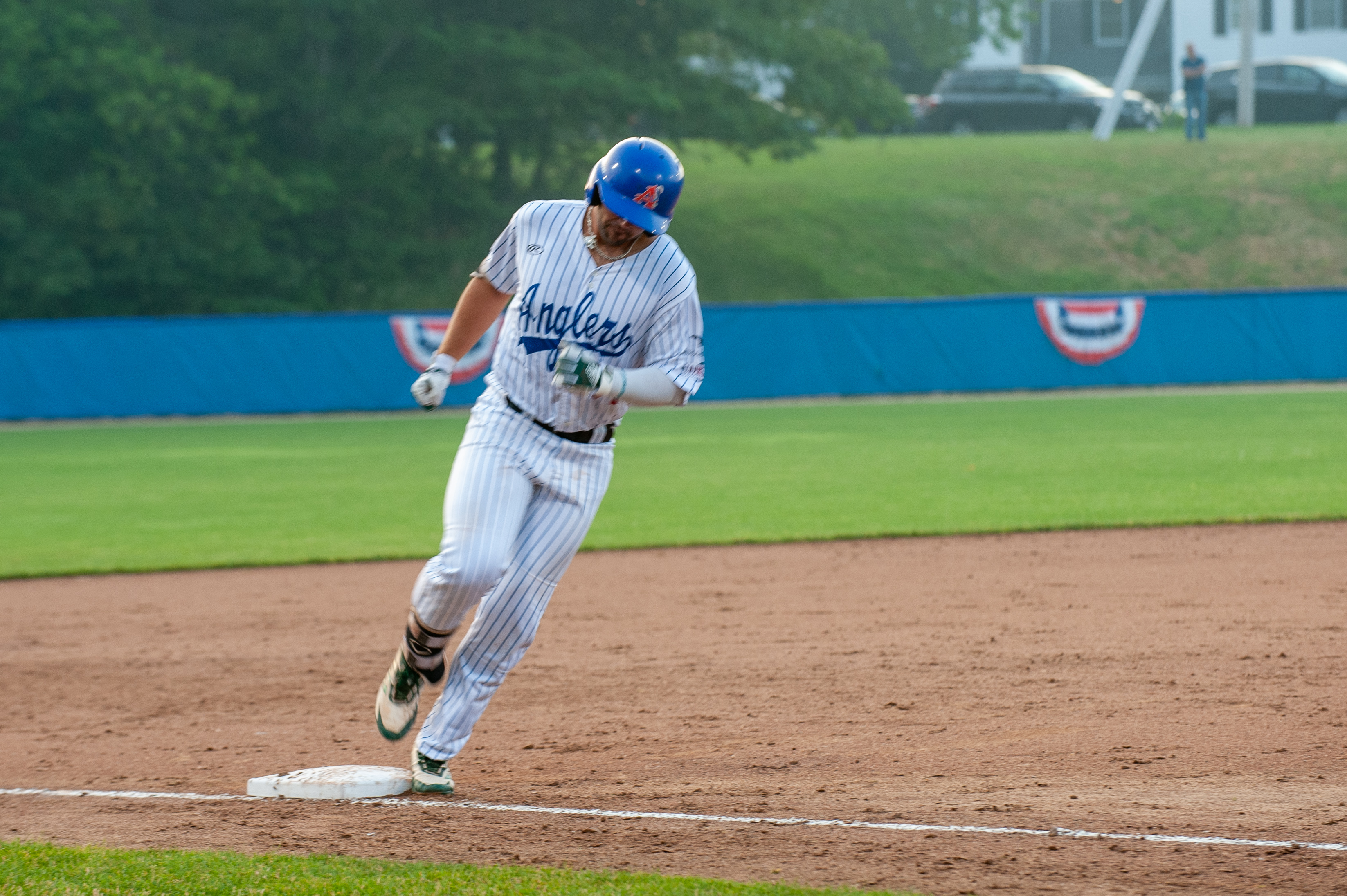 The start of Saturday's matchup with Hyannis could've been a continuation of the A's offensive woes that began on Wednesday. Three hits versus the Braves. Stagnant bats for the first seven innings against the Gatemen skewed by a ninth-inning rally.
Chatham couldn't find a hit through its first seven batters. But after Brady Smith (Florida) worked a six-pitch walk to lead off the inning, Colin Hall (Georgia Tech) slapped a ground ball through a gap between first and second.
Polcovich came up following a two RBI night against Wareham with no outs. He made contact on a slow-dribbler that headed toward second. The ball hopped twice and it grazed Brooks Carlson's glove, but landed in the outfield grass. Smith walked home, and Polcovich rounded third to bring home two.
"I'd love to score early," Holliday said. "It seems like we never do that."
Anthony Vilar (Miami) and Jamal O'Guinn (USC) both couldn't reach base. So with two outs, Toral, following a swinging strikeout in the first frame, looked to break his spell. Against Wareham, Toral grimaced after a slow swing sent him to the dugout. He came to Chatham with a lengthy absence facing live pitching, but a hitting slump (three hits in his first eight games) stuck in his mind.
Facing Hyannis' Sam Thoreson, he smacked a fastball to double the A' s lead. After touching helmets with Polcovich and Ben Ramirez (USC), Toral was greeted to a silent dugout before his teammates pounced on him.
"Thankfully, 3-for-20 doesn't sound as bad when you get a couple hits to boost your average," Toral said.
Chatham's lead never came close to inflating because its pitching staff, one of the top in the Cape League, shut down a team that came in with a .216 batting average. Ty Madden (Texas) pounded five strikeouts in the first four innings of the game, allowing just one hit and two walks.
When Luke Bartnicki (Georgia Tech) came in relief, he quickly loaded the bases with just one out to start the fifth. A swinging strikeout meant he'd avoid any sacrifice runs, but Bartnicki threw a wild pitch toward the brick wall behind home plate at Veterans Field. He sprinted home as Smith jumped on the ball, and a flip from the catcher lead to a tag out at the plate and a scoreless frame.
"You know why that looked like an easy win?" Holliday said. "Because we pitched good."
The A's defensive problems, like the two errors that set up a four-run first inning against Wareham, didn't plague Saturday's game, either. But a plethora miscues from the Harbor Hawks — highlighted by a misplayed ground ball at third, a dropped infield fly and run-scoring passed ball, all in the bottom of the seventh — ballooned Chatham's lead.
Dawson Merryman (Texas) shut down the Harbor Hawks for the final four outs, and continued the rout of Hyannis hitters. There was never a replication of the high-volume third inning by the A's offense on Saturday, but it wasn't essential. All they needed was their one inning of big swings.
Postgame, Holliday rallied his players after they had broken their two-game losing streak. Unlike Friday, he was brief. His team didn't need to hear much — they had delivered after Friday's remarks.
"What's the definition of a moron? When you do the same thing and expect a different result," Holliday said. "...The more we harp on these things, the better we're going to get at it."