Mickey Tettleton returns to Fenway Park for 1st time since playing days
BOSTON — Mickey Tettleton had never been in the Fenway Park bleachers. "It's a different view sitting out here," he said, situated near Pesky Pole.
Tettleton was familiar with the batter's box, facing Wade Boggs, Bill Buckner, Roger Clemons and the legendary Red Sox teams in the 1980s and 1990s. But he'd never been on the other side of the game.
He pointed to the bullpen to his right.
"I got robbed of a grand slam right there," Tettleton said with a wide grin.
Tettleton, a 14-year American League catcher for Oakland, Baltimore, Detroit and Texas, hadn't returned to Fenway Park since his last at-bat there on June 16, 1996. In that series 23 years ago, Tettleton smacked his 10th home run at one of his favorite opposing ballparks.
But Chatham's annual workout at the field on Thursday was all about the young players that came with him, he said. For some, it was their first experience playing at a major league ballpark. Their first time at Fenway. Others, it was an opportunity to take a couple of swings in front of a herd of scouts behind home plate. For Tettleton, he just wanted to help in anyway.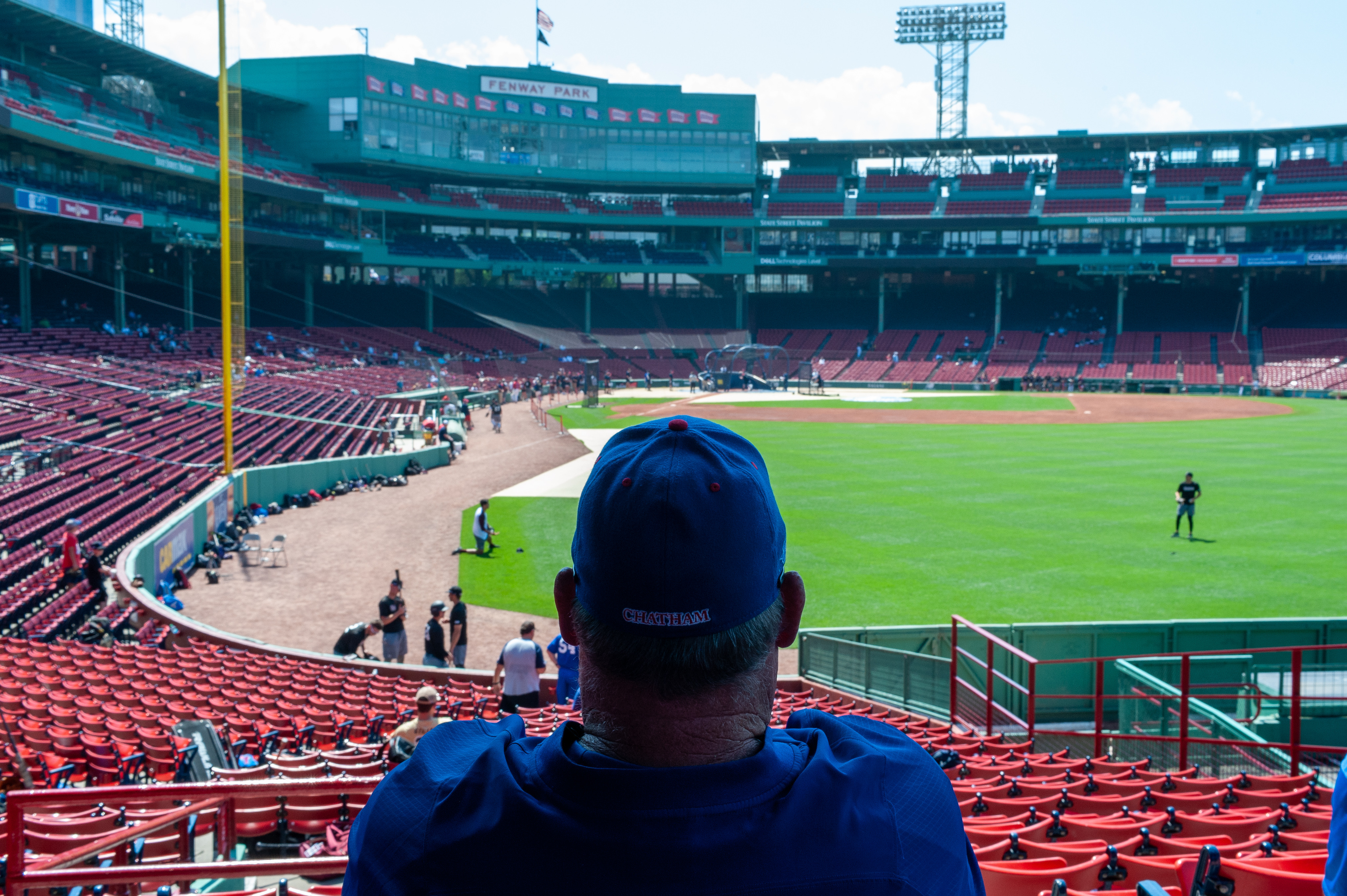 "For me, it's the whole nostalgia of Fenway park," Tettleton said. "But it's a great opportunity for them to experience this and be in a big league ballpark and see what experience this is."
He laughed at the team on the field, the Falmouth Commodores, an hour before batting and how their "shaggers" flocked to the Green Monster to catch bouncing fly balls off the wall. Not much has changed to the stadium in 22 years, he admits. Looking around, just a new scoreboard, advertisements on the monster and maybe some new luxury boxes up top.
The monster became the landing spot for some of his 245 home runs. The power hitter even remembers hitting it over the 37 foot structure a couple of times during his 53 games at the park.
Tettleton loved playing at Fenway not for its history, but because "if you played the game right, they'd applaud you." Behind the plate, Tettleton tried to avoid the shadows and work with the unique dimensions of the ballpark (295 to the right field foul pole, 420 feet to right-center).
"Don't look left," Tettleton said, recalling advice he got about the stadium. "You try not to focus on the monster, but you can't help it."
In 1985, Tettleton hit his fourth career home run off Bruce Hurst when he was with the Athletics. Four years later, he jump started a six-run comeback as a member of the Orioles, an East Division rival of the Red Sox. His two-run shot in the sixth inning off Joe Price made it a 6-2 game, and Baltimore won 9-8.
But Tettleton most remembers a home run that never was. Tettleton hit a hanging breaking ball to right center, near the Red Sox's bullpen, and the initial broadcast had trouble finding the ball. When the camera panned left, Bob Zupcic jumped and reached over the wall to rob the shot.
More than two decades after his achievements as a hitter at the park, Tettleton quietly stood behind the batting cages. He watched each of his hitters get 13 swings to impress scouts, and maybe hit a ball over the monster.
Just like he did.