Chatham clinches East Division title, stunning Orleans with 4-run 9th inning in 8-7 win
With the bases loaded and Chatham down three runs, manager Tom Holliday thought Kaden Polcovich would be intentionally walked. The guy who'd hit back-to-back game-clinching hits in mid-July. The junior college star turned best position player on the Anglers. And the one who'd already crushed the first two runs of the game out of the park.
"We're talking about the hottest guy in the batting order. So why not?" Holliday said.
Orleans didn't agree.
Nick Garcia worked the switch hitter to three balls, but threw a fastball down the middle for the fourth. Polcovich took a hack and his bat flew in the air, dropping after hitting the home base netting. He swung again, and missed. Changeup-after-changeup came. He fought it off. "That at-bat was a grind...I was laser-locked," he said.
Garcia went back to fastball, and Polcovich didn't hesitate. He ripped a ball to right, hoping for it to drop. The runners were in motion because that could've been the final pitch of the game. But it wasn't.
"I knew he was going to do something," Ben Ramirez (USC) said. "Something special."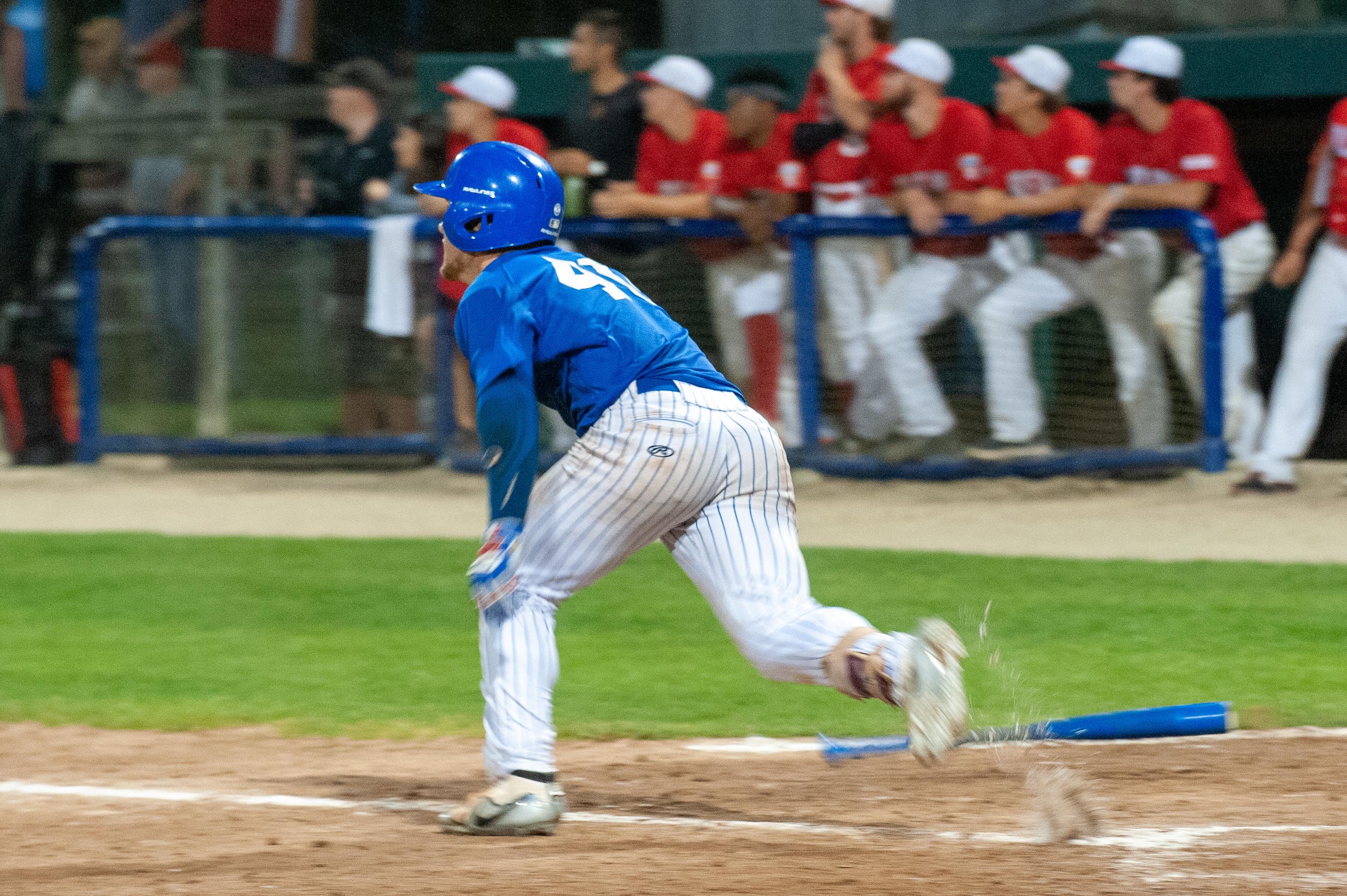 All three scored, Polcovich made it to second, and Chatham, with two strikes and two outs, came back from a three-run hole — all off one swing. After Alex Toral (Miami) was, unlike Polcovich, intentionally walked, Jamal O'Guinn (USC) walked off the Firebirds (22-17-4) on a bloop single to win, 8-7.
Wednesday's game, filled with playoff seeding implications and a swing of momentum heading into this weekend's postseason, swung back-and-forth. Five lead changes and four ties ended in the Anglers favor. And Chatham, now at 24-17-2, clinched first place in the East Division heading into its final game of the season.
"This was a playoff game for us," Tyler Doanes (West Virginia) said.
A slump came after clinching a postseason spot on Saturday. A pair of defeats snowballed to five, and Chatham, who'd had the best record in the East Division for most of the season, faced its worst losing stretch of the season.
Holliday called it a "monstrous struggle" on Tuesday. The A's were up five points in the race to clinch home field advantage, and lost their top spot Tuesday night. Pitcher Austin Vernon (NC Central) said the Anglers can't "just chill and wait for the playoffs." But through the struggles, Holliday didn't lose faith.
"The biggest mindset is are we ever going to win a game? The talk is 'Are we tanking it?,'" Holliday said pregame. "I don't think our guys are going to tank."
On Wednesday, Chatham broke out of its skid. The ninth inning heroics of Polcovich saved the game, and maybe the A's season.
Three of Polcovich's five RBIs came on that swing. The other two came in the first inning. Polcovich swung on a 2-0 count and crushed a ball toward the top of Veterans Field's right-field hill. The last time Polcovich had a first inning homer, Holliday said his leadoff hit felt like a "heart attack." On Wednesday, his team-leading fourth long ball remedied a Chatham offense that hadn't scored in its last 11 innings.
"Dude's hot," O'Guinn said. "In my mind, he's getting hot."
Orleans' next top half featured back-to-back hits with no outs. A passed ball advanced both runners into scoring position, helping the Firebirds knocked two consecutive sacrifice flies. Off newly-activated A's starter Nick Krauth (Connecticut), Zach Britton gave the Firebirds at 3-2 lead.
Chatham used two-out rallies in the fourth and fifth. In both opportunities, it delivered. Jorge Arenas (Stetson) sent Polcovich home from first on a double after dumping a ball in the left field gap. In the fifth, Morrill doubled near the same spot with two down. Right behind him, Colin Hall (Georgia Tech) knocked a single to center to score the A's leadoff hitter.
Krauth buckled down and dominated his final three innings of work. Despite arriving in Chatham two days ago, the right-hander threw 97 pitches in seven innings, allowing just three runs.
But when his reliever, Dane Kapande (Louisiana Tech) ,came in the eighth, a passed ball tied the game at four. Holliday turned to his closer for most of the season, All-Star Dawson Merryman (Texas), to escape the inning. The side-arm pitcher allowed a double in the right field gap, plating two. Then, he loaded the bases with two outs and allowed one more run to come in.
"Your great closer all year comes in and gets a few hits off him," Holliday said. "It was like the air left the ballpark."
The Anglers were down 7-4. Ramirez would be the first one to the plate, and he'd had just two at-bats in the last six days. Injuries stunted the All-Star from trying to end Chatham's losing streak until he was a pinch hitter on Wednesday. Down 1-2, Ramirez just wanted to put the ball in play, he said. He got a changeup, and slung it to right.
Once a strikeout left the A's with two outs to go, Doanes was next. He wasn't thinking a walk, he said, just making solid contact. Postgame, he iced his knee and hobbled through the dugout. But in the ninth, he mustered a base hit on the first pitch he saw.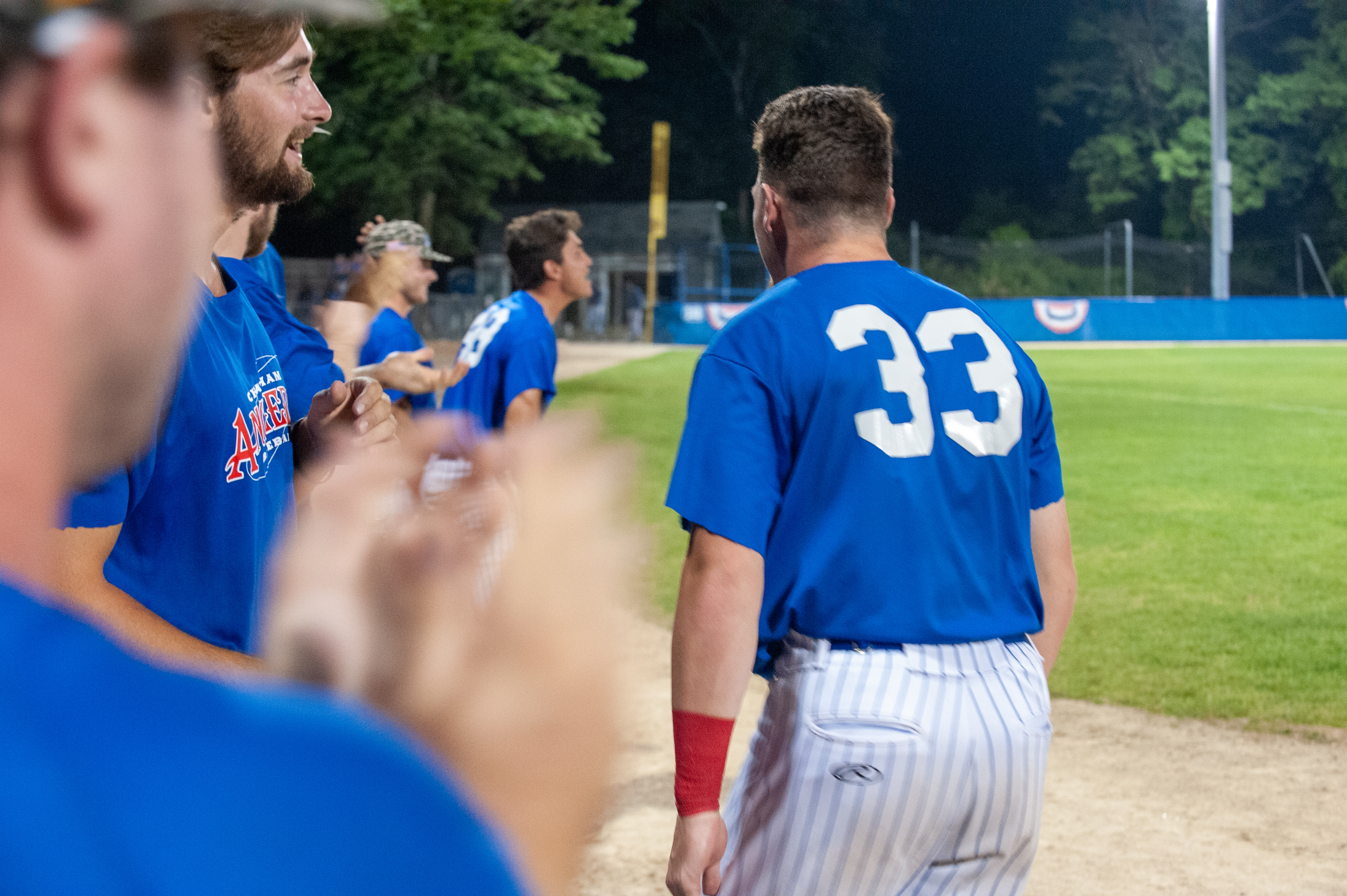 "You gotta dig deep and give it all you got," Doanes said.
Hueston Morrill (Oklahoma State) bounced a ball to shortstop — potentially a game-ending double play — but the defender bobbled it and loaded the bases with one out.
Then it was Polcovich's turn. The A's best hitter, who's batting .343 with runners in scoring position, fired back with his bases clearing double.
Toral's second straight walk set up O'Guinn, who like his collegiate teammate Ramirez, has dealt with nagging injuries at the tail-end of Chatham's season. O'Guinn started Wednesday's game, but didn't reach base. Until the ninth.
He lifted a ball high to right.
"Honestly, when I saw it in the air I was pissed off," O'Guinn said. "I was like 'Jeez Louise.'"
The right fielder and second basemen converged. Britton slid, close to the ball. But it hit the grass.
Polcovich raced home and the dugout spilled out. There wasn't a throw. The A's dugout mobbed O'Guinn near the outfield grass. In the midst of the excitement — and subsequent end of Chatham's losing streak — O'Guinn and Polcovich were a bit scared in the moment.
"You got 30 dudes running at you, you don't know what's going to happen," O'Guinn said.
"They're bigger me, they're trying to go after me, tackle me," 5-foot-10 Polcovich said.
Brady Smith (Florida) hopped onto the field too quick after Polcovich's blast to right, thinking it was a game-winning grand slam. But this time, he jumped up-and-down, and kept doing it until he reached the crowd of his teammates. They knew the weight of Wednesday's win.
"To get that win before the playoffs, before we start a run for a championship," Doanes said. "That's special."