Cole Ayers transfers to State College of Florida to focus on development
The allure of an SEC program grabbed Cole Ayers. He could face some of the best hitters in the country. And his entire family could make the drive to Lexington, Kentucky — a 90 minute drive from Cincinnati.
Ayers thought Kentucky would be his home for four years, but after a year in blue and white, his development was stagnant and his velocity decreased .
Two years after committing, Ayers, 19, decided his time at Kentucky would end after one season. He was used exclusively as a high-leverage reliever, which, he said, stunted his development and lead him to transfer to the State College of Florida ahead of his second year of collegiate baseball.
Two official appearances into the Cape League season for the Anglers, and Ayers has proven himself as one of the A's top arms. He's extended beyond his one-inning role at UK, helping him prepare to be a starter this fall in Bradenton, Florida.
"I know I'm going to get a lot of innings at a junior college," Ayers said. "And I know I'm going to get a lot of innings in the fall to find another D-1 and help me to develop to get to the next level."
Ayers made 26 relief appearances at Kentucky with a 4.05 ERA, walking16 batters and allowing 26 hits in 20 innings. But his lack of control and velocity increased both his walk and hit rate. Ayers said he overextended himself, often sacrificing his mechanics to try to strike batters out and get his team out of jams.
"My mechanics were all out of whack this year," Ayers said. "I don't know if it was lack of bullpens but my fastball was missing. I've found my fastball back here. I thought that my velocity should have been a little but higher than it was."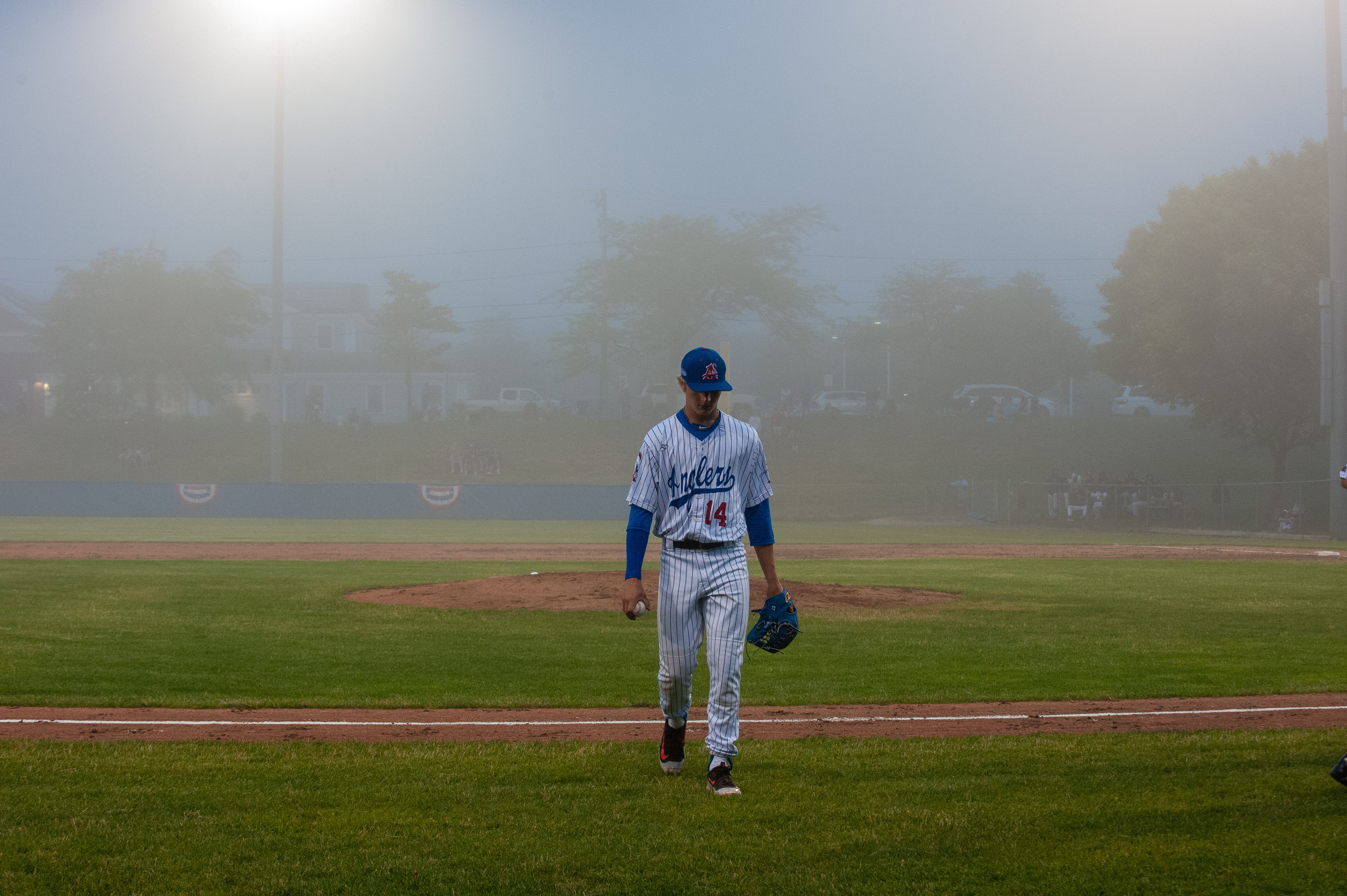 While Ayers topped out around 90 mph at Kentucky, his velocity was down from high school. His dad, Mike, was concerned that his son had actually lost weight, not gained any, by the end of the season. Because Ayers needed to be available to pitch as much as possible, he threw just two bullpen sessions in the spring. When he felt something was off, Ayers said he never had the chance to correct mechanical errors.
He was jumping off his backfoot and opening up his body, leading to balls nowhere near the strike zone — inside to righties and outside to lefties. Because of that, Ayers became mostly a curveball pitcher in the spring.
By the end of the season, Mike said Ayers was having doubts about Kentucky. After he returned to Cincinnati, he consulted his parents, including Mike, who had been to almost every Wildcats' game that spring. After driving up the east coast to Chatham, he called UK head coach Nick Mingione to inform him he was entering his name in the transfer portal.
"Once I got out of there I took a step back on the season, and I made the call to the coaches when he got to the Cape," Ayers said. I talked to my family. They understand where I was coming from. It's not the right fit for me."
State College of Florida's manager Tim Hill reached out to the right-handed pitcher days later. Ayers was comfortable with junior colleges because Mike pitched at a junior college (now Northwest Florida State) before throwing professionally in the Pirates' minor league system from 1996-2001.
After spending his summer with former Major League pitcher Dennis Cook in Chatham, Ayers will go to SCF to work with Don Robinson, a 15-year MLB pitcher from 1978-1992. He'll have a chance to log more innings and improve his draft stock, he said. But that's not his main goal.
Ayers wants to find a Division I program he can excel at with his final years of eligibility.
"I honestly would like to see him get as much education as possible," Mike said. "I know that from my experience. I kinda regret that."
For now, Ayers can focus solely on baseball with the A's. He's made two appearances, 5.1 innings in total, allowing one earned run while striking out six and walking out only two.
In his first appearance for Chatham, Ayers reached back and fired a 3-2 fastball high for ball four to the first batter he faced in the Cape League. Unlike his relief appearances this spring at Kentucky, though, Ayers wasn't under the stress of high-impact relief situations. Instead of pitching from behind in counts, he's been ahead.
"He's got a good idea of what he's doing and what he wants to do," Cook said. "He can command his secondary pitches, his curveball and changeup."
He settled in and baffled the next eight Falmouth hitters, Ayers popped up two hitters and struck out five more. Changing his speeds kept hitters off balance and his fastball command kept him ahead in counts. When he can throw the spike curve for a strike, like he did to strike out the Commodores' Blake Dunn, Ayers doesn't have to push for strikeouts.
"I feel more complete as a starter," Ayers said. "I'm trying to pitch to contact, live low in the zone. My curveball is still my out pitch."
"And if I get strikeouts, that's even better."