Chatham rides six-run eighth inning to clinch consecutive wins, defeats Wareham 7–2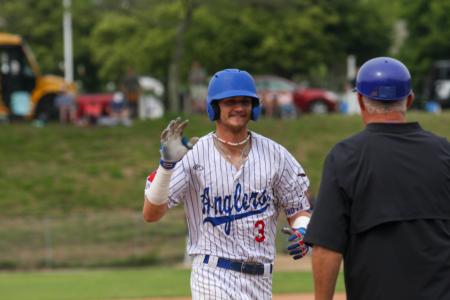 Xavier Casserilla stepped out of the batter's box, both hands by his side. He stared out at Wareham reliever Jake Faherty.

Confronted with a 3–2 count and the bases loaded, Casserilla angled his bat outward to deposit a hit. One wrong swing could retire Chatham's turn at the plate with the score knotted at two apiece. A Faherty walk, however, would be his fifth of the eighth inning and give the Anglers a one-score lead.

Faherty revved up and threw. His delivery skipped off the clay surface and bounced off the padding behind the catcher. Casserilla saw it the entire way.

"You just want to be real selective," Casserilla said. "You don't have to think edges, especially when they're struggling with commands. You just wait for that perfect one and if it doesn't come, you take the walk and let the next guy do it."

Casserilla trotted to first and brought Aidan Meola home. Faherty, who had started a few steps ahead, trotted dejectedly back to the mound as the Anglers took a 3–2 advantage.

In Chatham's second contest with Wareham within 18 hours, it strung together consecutive wins for the first time all season. On Monday, the A's defeated the Gatemen 6–3 at Spillane Field and did so again Tuesday in similar comeback fashion at Veterans Field. In their first doubleheader of the season, the Anglers (9–18–1 East) took game one with a 7–2 victory over Wareham (14–16–2 West).

"I think when your pitching staff can keep it close, there's a chance for you to bust it out any time," Chatham acting manager Marty Lees said. "Today they did again. We'll work on doing the exact same thing every game. Get good, strong outings, play good defense and let the offense decide how many runs we're going to score."

In a resumed matchup between Chatham and Wareham, initially suspended on July 10 due to fog, two Gatemen runners started on second and third base with no outs. Chatham's original starter, Gabe Davis, had placed the visitors in scoring position mere minutes into the matchup on July 10. Wareham's Grant Hussey quickly capitalized on the early edge.

Hussey produced a sacrifice groundout to score Nick McLain for a swift 1–0 lead before Chatham's Jack Sokol eliminated one. Sokol then induced a fly-out to left field, ending the top of the first inning. Davis was charged with the run.

In his first turn at the plate, Casserilla took Wareham starter Yoel Tejeda's opening pitch to the middle of his back but three strikeouts ensued, returning Sokol to the bump.

"He's as good as any pitcher in the country," Lees said of Tejeda. "But our pitchers gave us a chance to keep us right where we needed to be when somebody else came in."

Sokol continued his hopeful start by executing a quick 1-2-3 second inning. Though the righty had struggled in his last two starts, relinquishing a combined 10 earned runs on 11 hits, he breezed through Wareham's side during the second frame. Ahead in the count with two outs on the board, Sokol escaped a jam in the top of the third by charting his fourth strikeout.

"You can't get any better than how we started," Lees said. "Sokol did a very nice job."

Amid overcast skies, Chatham right fielder Tyler Wulfert camped under a ball seemingly destined for his open palm. Then, without warning, Wulfert broke out in full sprint. His diving pursuit came up empty but Sokol fanned Wareham's Dorian Gonzalez to escape the top of the fourth inning unscathed.

Sokol gave way to Zander Sechrist after garnering an out in the top of the fifth frame. Though Sechrist pelted the first batter he faced, he fanned two straight and celebrated with a slight hop, simultaneously pointing an index finger skyward. Sechrist went on to end his fourth Anglers' appearance with three strikeouts in 3.1 innings.

"Zander came in and did what he had to do," Lees said.

The only blemish on the performance was a Bobby Bowser solo home run in the sixth inning which gave Wareham a 2–0 lead.

Kaeden Kent came in to pinch-hit for the Anglers in the bottom of the inning. The owner of a team-best .291 qualifying batting average, Kent was tasked with tacking on Chatham's first run after five shutout frames. He stared at his beige barrel, let out a sharp exhale, but chopped out to the pitcher.

Faherty uncharacteristically gave up a one-run single to Chatham's JJ Wetherholt in the bottom of the seventh inning. In 10 innings pitched this season, Faherty, a 2023 Cape Cod Baseball League All-Star, totaled 10 strikeouts and allowed just four runs. He entered Veterans Field with eight walks and left with 13.

"Stay zone disciplined," Lees said. "If you can get it off, you have to get it off, but what they didn't do is they didn't move out of the zone. And that was really key."

The Anglers offense opened the floodgates when Wareham skipper Ryan Smyth inserted Bryson Shaffer for Faherty in the bottom of the eighth inning after the carousel of walks. Immediately, Chatham pounced at the opportunity. Bryce Martin-Grudzielanek laced a floater that one-hopped the center-field fence to make it 5–2. Nolan Schubart followed with a grounder that escaped the infield for two more scores to generate a five-run cushion.

"This is probably our best game put altogether," Lees said.