Chatham spoils Daniel Federman's shutout start in 1-0 loss to Harwich
Daniel Federman (Miami) walked into Veterans Field hours before first pitch sporting a red jersey. All of the Anglers would be wearing their Friday home red uniforms in a few hours.
But Federman had his own special shirt. He arrived in a Tom Brady, No. 12 New England Patriots jersey.
"I usually wear a jersey at school before I pitch," Federman said. "Brady is a role model athlete, he's the best there is. I think, 'If I'm anything like Tom Brady tonight, it's going to be a good night.'"
His dad was from Boston, and he's idolized Brady since his childhood. Federman said he wears his Brady jersey to show up to games at Miami every Friday night, where he spent most of his first two seasons as a reliever. This Friday night, though, Federman proved he can be much more than a late-inning reliever. He overmatched a Harwich lineup on the mound for five innings, putting up zeros in the score column. Federman kept Chatham in the game, a contest it eventually lost, 1-0, to Harwich in the opening game of the East Divisional Series.
Two days before Friday's playoff opener, Federman was asked if he wanted to pitch Game 1 in the playoffs. He doesn't have the best ERA on Chatham, and he was roughed up in his last start against Cotuit.
But A's manager Tom Holliday had seen Federman improve every start this summer as he learned to extend beyond a couple innings, developed a curveball and showcased his starting abilities.
"This is what I dreamed of," Federman said. "My dad is from Massachusetts, growing up he used to talk about the Cape Cod League. We have a lot of great guys on staff, everyone's had their outings."
When Federman is on the mound, he brings all of his emotions with him. He fist-pumped after completing a perfect first inning. As a reliever, he'd try to strike every batter out and go all-in for one or two innings. But he couldn't do that on Friday.
He needed to settle in to a rhythm, establish pitch combinations and mix it up for hitters. All things starters do. Things Federman wasn't expected to do at Miami. One at-bat, he said he'd use his fastball inside to right-hander. The next at-bat, he'd run his curveball away from the righty.
"It's been an adjustment, not going out there and using all your effort in your first or second inning," Federman said. "It's all about making quality pitches early in the count. Instead of trying to gas someone up, let them hit it. It keeps pitch counts down."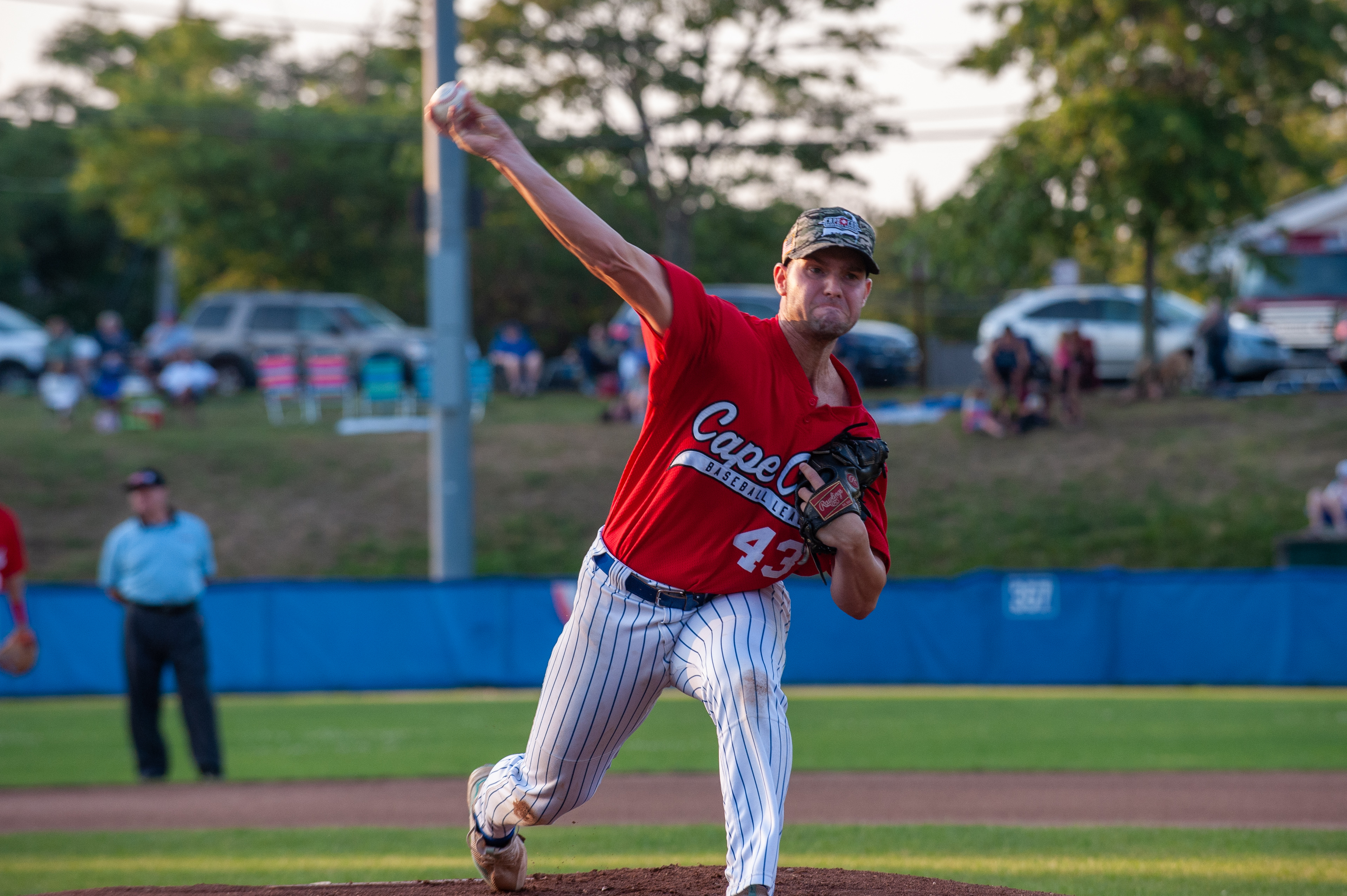 He broke in his newly-implemented curveball, taught and developed by Chatham pitching coach Dennis Cook. Federman used it for a first-pitch strike to Chris Lanzilli in the first, then came back to it to induce a fly out.
Federman faced his first baserunner in the second after Dylan Neuse ripped a single up the middle over second base. Once Neuse stole second with two outs, the Mariners were a base hit from leading. But the right-hander delivered a 2-2 fastball to Christian Fedko, inducing a swing and miss to end the inning.
When he allowed another single in third — the only other base runner he'd allow in five innings — Federman pitched around him with ease by striking out the next hitter. Once Chris Galland popped out to catcher Brady Smith, Federman had navigated his first time through the order with three zeros on the scoreboard.
"He's gotten better every time he's pitched this summer," Holliday said. "He's gone out and become a really good starting pitcher. He's laid the track for pro scouts to be able to say he's a starter. That's what Cape Cod is about. Federman is a Major Leaguer what you saw there, this is how you finish up here."
The second time through the order, Federman was even better. He retired every Mariners' hitter he faced a second time — a combined 0-for-8 with three strikeouts — culminating in a punchout of Pat Winkel to end the fifth inning.
It was Federman's 80th and final pitch of the night. Five scoreless innings with four strikeouts and just two hits, but he couldn't get the win. He had no run support. The A's were no-hit by the Mariners two pitchers and Federman's individual achievements are just that — individual.
As Saturday's projected starter Kolby Kubichek (Texas) walked by Federman post game, the Miami right-hander shot Kubichek a quick message.
He said: "You got us tomorrow."
Click here for EDS Game 1 Game Story: Pitching duel ends with Chatham getting no-hit, 1-0, in Game 1 of EDS