Relive the top 5 games of Chatham's 2019 regular season
Chatham's 44-game regular season slate was filled with plenty of comebacks, late-inning drama and blowouts. The A's rode their dominant pitching staff most of the season, compiled with timely hitting to secure their first East Division Regular Season Championship since 2013.
From comeback wins, to a position player save and two walk-off wins, here are the top five games of Chatham's regular season.
Kaden Polcovich (Oklahoma State) was one strike away from Chatham's sixth-straight loss. Manager Tom Holliday called it a "monstrous struggle," and with a 48-hours until the start of the playoffs, the A's needed a win to not only swing momentum, but clinch the East Division.
A 4-4 tie heading into the ninth turned into a three-run deficit with three outs left. For a team that had just nine runs in its last five games, a comeback seemed bleak. But it happened.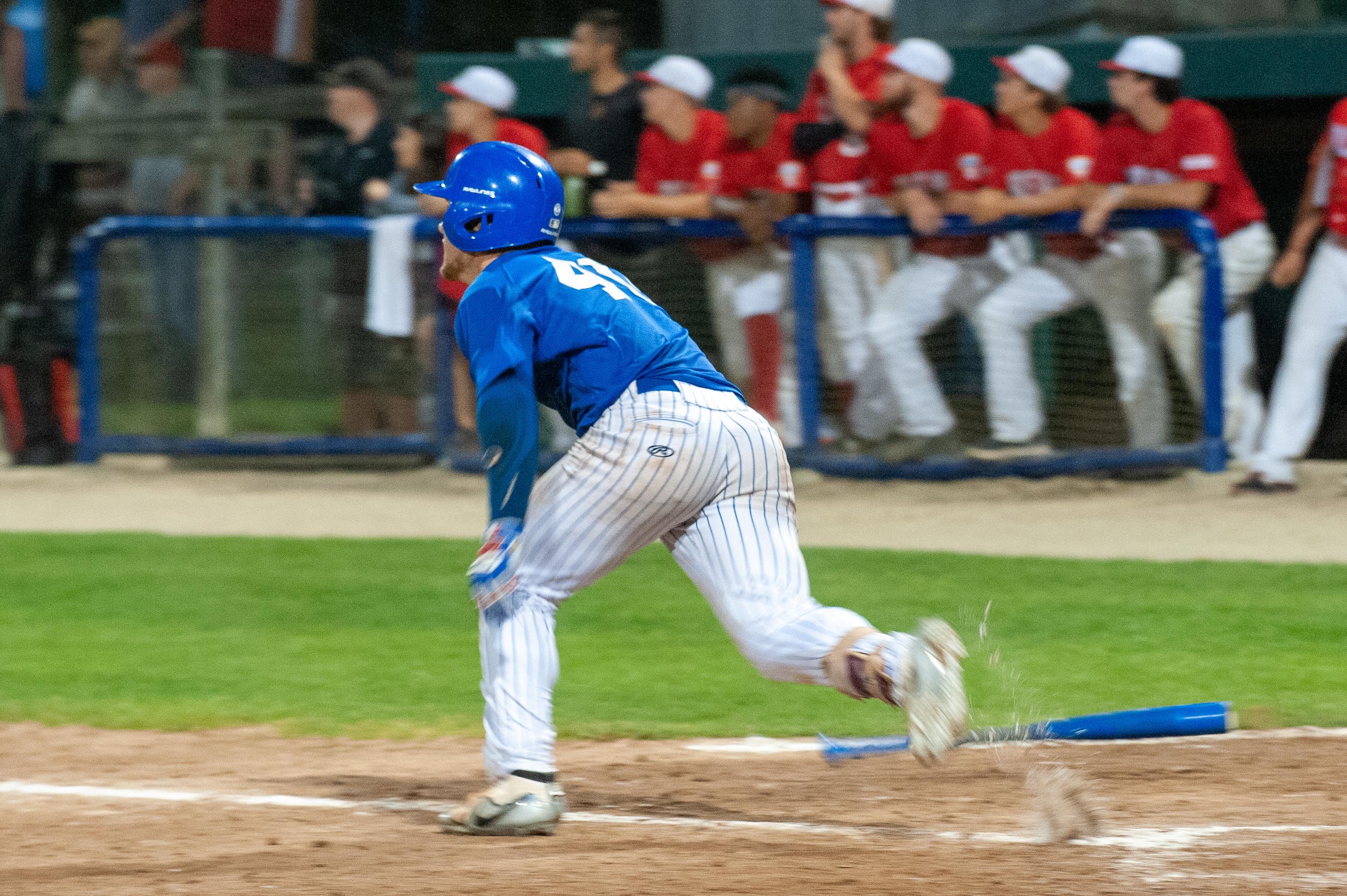 Ben Ramirez (USC) led off as a pinch hitter in his second plate appearance in the last six games. He knocked a base hit and was pinch hit. After one out, Tyler Doanes (West Virginia), who'd been banged up all week, mustered a shot to right center.
Hueston Morrill (Oklahoma State) was the A's hottest hitter at the time, and he hit a ground ball straight at the Firebirds shortstop. But he dropped it.
With the bases loaded and two outs, that's when Polcovich came up — a guy with multiple game-clinching hits and the A's best hitter all season. He started up 3-0, and Holliday was convinced they would intentionally walk him.
"We're talking about the hottest guy in the batting order. So why not?" Holliday said.
But they didn't. Four straight swings amounted to just a full count, until Polcovich finally saw a fastball. He drove a shot to deep right center, off the Veterans Field wall, unloading the bases. One swing tied the game.
After an intentional walk of Alex Toral (Miami), Jamal O'Guinn (USC) hit a high shot to right in between the second baseman and right fielder. At first, O'Guinn was "pretty pissed off" at the swing. The ball dropped, and Polcovich came around to score in a four-run ninth inning that ended on a walkoff.
"To get that win before the playoffs, before we start a run for a championship," Doanes said. "That's special."
The A's played all three of their best games this season against the Firebirds, and No. 2 on that list was the first meeting between the two clubs on July 3. In front of one of the largest crowds at Veterans Field all season, Orleans jumped out to an early 4-0 lead entering the fifth.
Chatham desperately needed a spark, and it came from Charlie Welch (St. John's River State College) with his first home run of the summer, a two-run shot to left field. He cut into the A's deficit, and they got after the Orleans bullpen with two runs in the sixth on a Kaden Polcovich (Oklahoma State) double.
The A's took their first lead in the eighth with three runs, all unearned after Orleans misplayed a fly ball in left field. But the Firebirds weren't done. They scored three runs in the top of the ninth to tie the game.
In the bottom of the ninth, Hueston Morrill (Oklahoma State) drew a walk. When Ben Ramirez (USC) tried to bunt him over, Firebirds pitcher Jeffrey Praml fired the ball into right field, allowing Morrill to come around and score the walk-off run on a sacrifice bunt.
"I call it a spectator's delight, and a coaches' nightmare," Anglers manager Tom Holliday said. "But a win is a win. As hard as we had to play after spotting them four, it was like pulling the teeth out of a lion."
Infielder Jorge Arenas (Stetson) had been on the mound before. Just not in this big of a situation.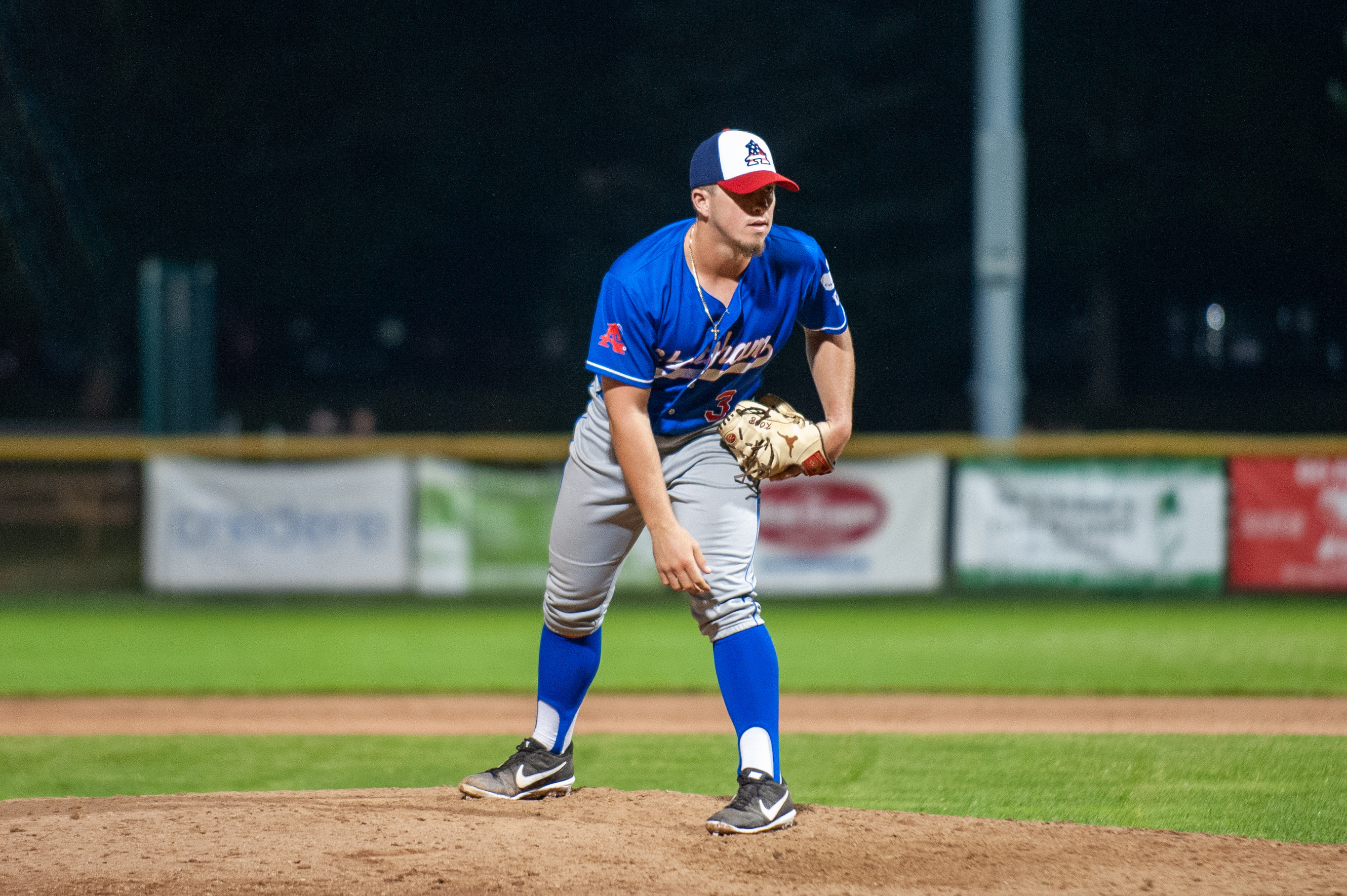 Arenas has minimal pitching experience, most of it dating back to high school. But twice before, he'd been asked by Holliday to throw in a Cape League game. His fastball touched 90 mph, and he knew how to throw strikes.
The idea of Arenas pitching was floated all week, mostly to preserve its pitching staff only if the outcome wasn't in doubt. But on July 4, it was.
Chatham jumped out to a fast, 8-1 start a night after walking Orleans off on a throwing error. Cole Ayers (State College of Florida) ran through the Firebirds lineup, but reliever Luke Bartnicki (Georgia Tech) didn't have the same success. Arenas came in with the A's up 8-5 and needing one more out.
"It was kind of scary because the first pitch I threw was middle-middle and (the umpire) called it a ball," Arenas said. "So, I stood back and told myself I had to get in the zone and throw strikes."
Before he came up, pitcher Ty Madden (Texas) taught Arenas how to throw a knuckle curve. He tried it, but gave up a bases loaded walk. After a fielding error, the lead was cut to 8-7 with a runner in scoring position.
Arenas started with a knuckle curve that he finally got in the strike zone and struck out the game-ending final batter on two more fastballs, saving a potential collapse on the mound.
Ben Ramirez (USC) made a prediction to his teammate Jamal O'Guinn (USC) on the top of the A's dugout.
Ramirez said Jorge Arenas (Stetson) would hit his first home run as an Angler in his current at-bat. Three pitches later, Arenas delivered a big fly off the new Chatham scoreboard in left field. He won the A's the game on July 20, another comeback victory in a game the A's once trailed both 3-0 and 4-2 at different points.
The A's bullpen continued its shutdown pitching to keep the team in the game, and as they have consistently done all summer, Chatham found the timely hitting to pull off the win. The A's used multiple two-out rallies, including a Paxton Wallace (Wichita State) single, to get on the board in the third inning.
Trailing 4-2 with two outs in the sixth, first baseman Alex Toral (Miami) belted a low pitch onto Depot Road in right field to tie the game, the longest home run hit at Veterans Field this summer.
But the A's needed one more run. Instead, they got two. Arenas homer added one, and Hueston Morrill (Oklahoma State) came around to score on a stolen base and throwing error. But closer Austin Vernon (NC Central) didn't need any insurance run. He threw two shutout innings to end the game, striking out four with "electric" stuff, Holliday said.
As Arenas rounded third and came home, he pointed to his father and sister sitting in the stands.
"I think anytime family comes and you have a guy that is the ultimate team player, and he gets a chance to win the game, and he does, I think that's a moment that he'll never forget," Holliday said.
Tom Holliday isn't sure why Chatham hasn't been able to find early offense at Veterans Field. Or anywhere for that matter. The A's have struggled all season with early production at the plate.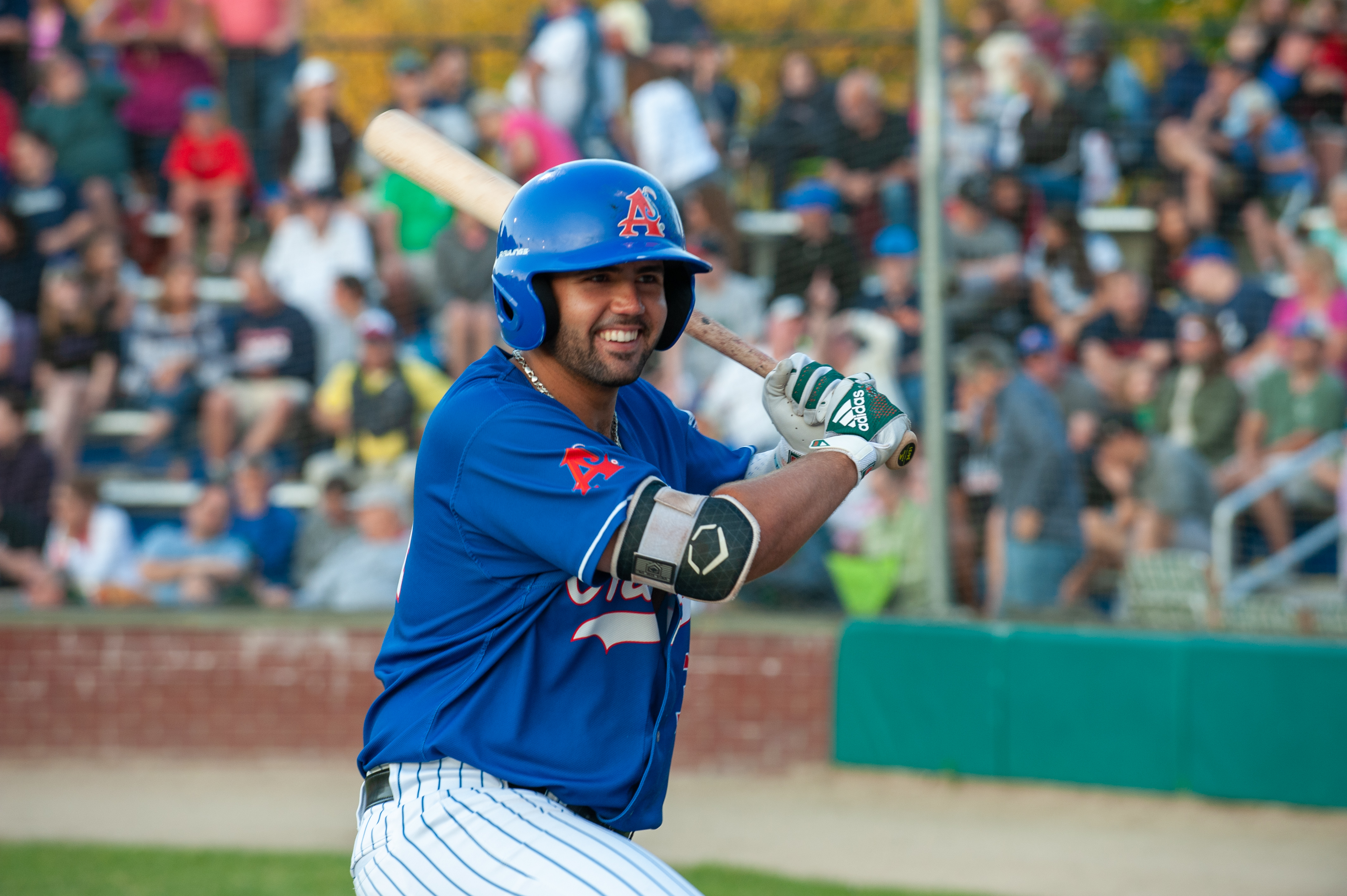 On July 1 against Yarmouth-Dennis, the A's scored early and exploded for 15 runs, the second most in the Holliday era. While Kolby Kubichek (Texas) dealt five shutout innings on the mound and the Anglers nearly threw a shutout, Chatham's offense pushed across 13 runs in the first five innings.
Kaden Polcovich (Oklahoma State) took his first swing of the game in the bottom of the first and put Chatham up 1-0 with a solo home run.
"It's a chain reaction," Jamal O'Guinn (USC) said. "Tonight shows how contagious it is. If you know the pitcher doesn't have his best stuff, it's a lot easier to sit and take a strike. Not too many bad swings."
"And 15 runs, woah."
The A's added three more runs in the second inning after a wild pitch plated one and O'Guinn smashed an RBI double to drive in two more. In his next at-bat in the fourth, O'Guinn hit another double and scored two more.
Chatham kept piling on as Brady Smith (Florida) singled in two more scores with a base knock to left. In the fifth, the game was long decided, but the A's kept swinging. And connecting.
Anthony Vilar (MiamI) singled in one run, and Ben Ramirez (USC) drove Vilar and two more runners with his three-run home run to right field. Paxton Wallace (Wichita State) hit a homer to right field in the seventh as Red Sox manager turned to position player Drew Swift to finish out the game.
The Anglers only scored double-digit runs once in 2019, but they set single-game highs for runs, hits and home runs on July 1.