Dawson Merryman's sidearm motion helped him stand out
When Dawson Merryman decided to overhaul his pitching delivery before college, his father, Eddie, was confused why. He asked if his son's arm was hurt.
Merryman never had a pitching coach, but the right-hander had his own idea to stand out. He wanted to generate more spin. He had no other choice.
When Merryman began high school, he was like most other pitchers, throwing from an over the top angle. But by graduation, Merryman had completely transformed his throwing motion to throw sidearm. For a pitcher who said he "didn't really put himself out there" in high school, his desire to be different and change to a sidearm delivery helped facilitate his transfer to Texas and earned him a spot in Sunday's Cape League All-Star game.
People asked why I would change," Merryman said. "I wanted to be different from everyone else. You see a lot of people that throw over the top. I just decided I needed to change something to get a little more movement."
Chatham manager Tom Holliday has called Merryman "lights-out" in 2019. In 11 innings pitched with the A's, Merryman has allowed just one earned run and saved four games.
In Merryman's first days on the Cape, Holliday had each of his pitchers toss a simulated game and face three batters. His unusual delivery even shocked his own teammates, including Jorge Arenas (Stetson).
In his sophomore year of high school, Merryman dropped his arm angle the first time, down to a three-quarters motion. Two seasons after the first change, he was ready for another. The sidearm motioned was developed the entire spring of his senior year in practice.
"He thought he was putting the stats up," Eddie said. "But he just wasn't getting the acknowledgement and the looks from the scouts that he felt was due."
He's always been a strike thrower, Eddie said, but in the initial transition, Merryman needed to figure out he could maintain his high strike rate while also managing the bicep, upper back and shoulder pain that came with the new delivery. He also waited for the right moment to break out the new motion to surprise hitters, scouts and locals.
Merryman had already committed to Midland College, a JUCO in his hometown, when he arrived at the South Plains Regional in Oklahoma. The Dallas Mustangs had invited Merryman to pitch, a big chance for a right-hander who had few looks coming out of a small high school. Merryman bent low and delivered sidearm for the first time.
"All the local guys were amazed, I was even amazed myself at the movement he could put on the ball," Eddie said. "He moved it well in high school but nothing like he did once he dropped down."
After pitching with the Mustangs and throwing in another Connie Mack tournament in New Mexico, Merryman finally had multiple Division I coaches showing interest. He toured Wichita State and Abilene Christian just weeks before moving into the dorms at Midland.
"We've always believed, he's always searched for that organization that will help him develop," Eddie said. "That visit to Abilene Christian University was the biggest eye opener for Dawson and myself."
Merryman had already committed to staying in Texas and spending his freshman year with the Chaparrals, though. He didn't jump on either option. While the facilities and coaching staff isn't quite as good at the JUCO level, Merryman said, he hoped the increased visibility would land him a spot at one of his three favorite schools: Texas, TCU, or Texas Tech.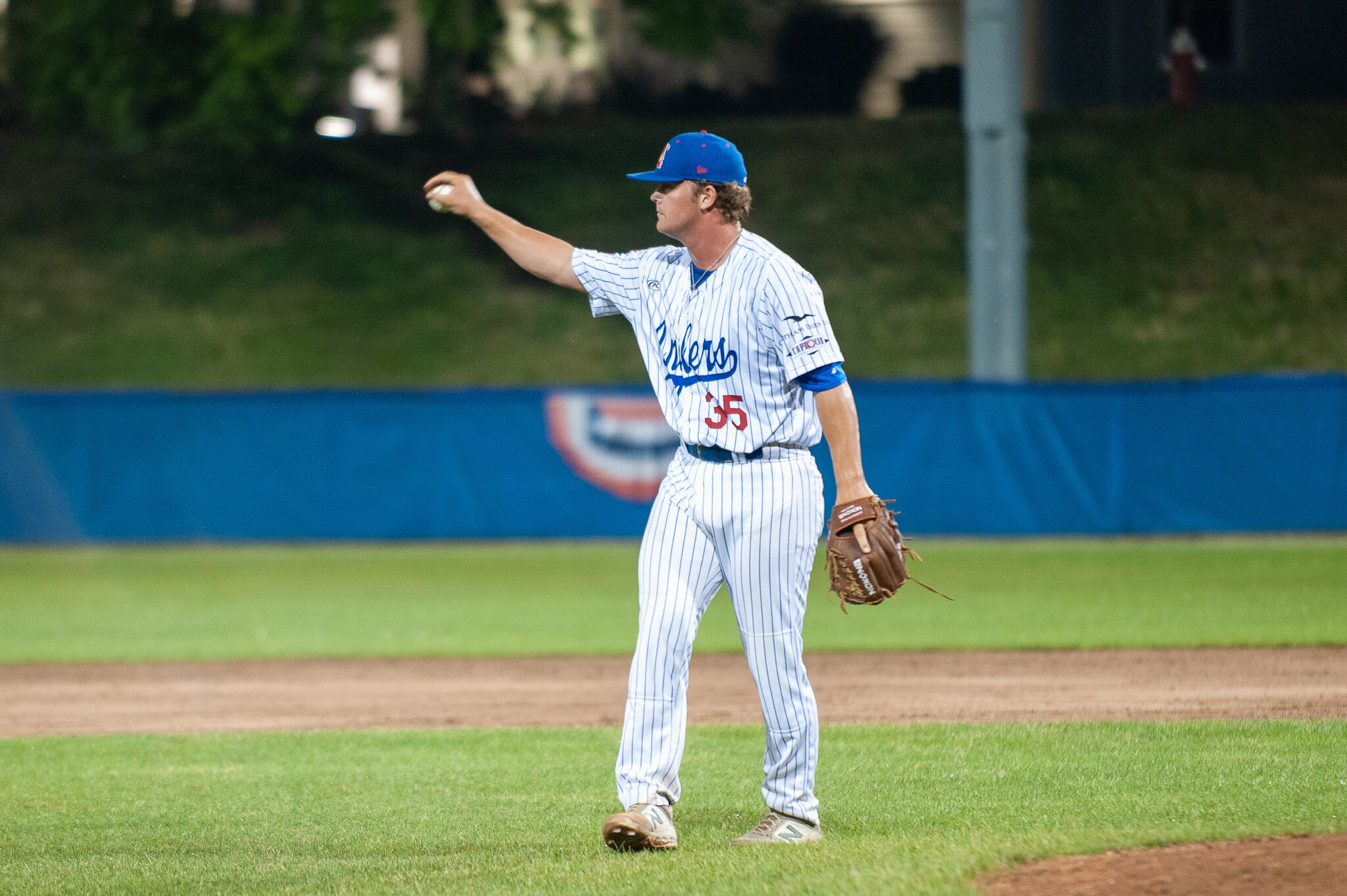 "I was trying to go somewhere bigger, didn't have any offers," Merryman said. "I wasn't being seen enough. I went to Midland to try to get seen, and it worked.'
Most sidearm throwers aren't starting pitchers. They are specialists, Chatham pitching coach Dennis Cook said. When right-handed sidearm pitchers start, the opposing manager can load up the lineup with lefties to counter and limit the effectiveness of the spin generated by the starter.
Even though Merryman knows he doesn't project as a starter long term, he was needed as a starter for Midland, throwing 80 innings and posting a 3.02 ERA. His dominance earned him the Western Junior College Athletic Conference's Most Valuable Pitcher award.
"I like the intensity of the late innings," Merryman said. "I want the ball in the ninth inning, 100%."
That's when Eddie starting noticing that the Texas and TCU scouts, who always attended games, were now specifically watching the right-hander. When Merryman stopped pitching, the scouts left.
He came to the Cape League and won the closer's role a week upon his arrival. Despite the A's getting crushed at Wareham in consecutive games, Merryman said that Holliday told the Anglers they would just have to lean on their one closer from then on. That's when Texas assistant coach Sean Allen called.
The two had been in talks during the season at Midland, but Allen was coming up to Chatham to watch Merryman again in person. After he delivered one shutout inning against Harwich, Allen offered Merryman a spot at Texas.
Before, Merryman didn't have anyone's attention. He made himself stand out in the only way he knew how: a sidearm delivery.