Chatham constrained to 4 hits in 2-0 shutout against Harwich
HARWICH — Entering Tuesday, the Anglers had collected an extra base in all but one of their 24 games. Their lone lapse had come against Harwich last Tuesday, but Chatham still pulled off a 3-2 victory.
One week later, at the same park and against the same starting pitcher, the Anglers couldn't find an extra base hit again. This time, it showed up on the scoreboard.
A night after Parker Scott (Oklahoma State) shut down Orleans in the Anglers longest outing of the season, Harwich's starting pitcher, Connor McCullough, did the same. McCullough shut down the A's offense, allowing just four hits in eight innings. In one stretch between the second and eighth inning, the right-hander retired 19 straight batters. Chatham (15-9-1) never moved a runner off second and didn't score for the second time in three games, this one a 2-0 loss to Harwich (12-13).
"All (McCullough) did was throw strikes, and we didn't hit anything," manager Tom Holliday said. "We were emotionless with no energy. He pitched a great game. Ball game over."
Before Tuesday's game, Holliday considered making his lineup all lefties against the right-hander, he said pregame. He'd done the maneuver before, all righties against Orleans' lefty Adam Seminaris on July 3. But he opted away, keeping two-thirds of his lineup intact from the day before.
In McCullough's last start, he allowed just two hits and two walks through 4.1 innings without an earned run. A week later, his next outing would be against the same team. And he'd have much of the same success.
Cooper Davis (Vanderbilt) led off the game with a first-pitch single, his fourth in two games of action, but he was thrown out trying to steal second on a Anthony Vilar (Miami) strikeout. And when Ben Ramirez (USC) reached on an infield single to start the next frame, McCullough caught Kaden Polcovich (Oklahoma State) looking and induced a flyball and groundout to end the inning.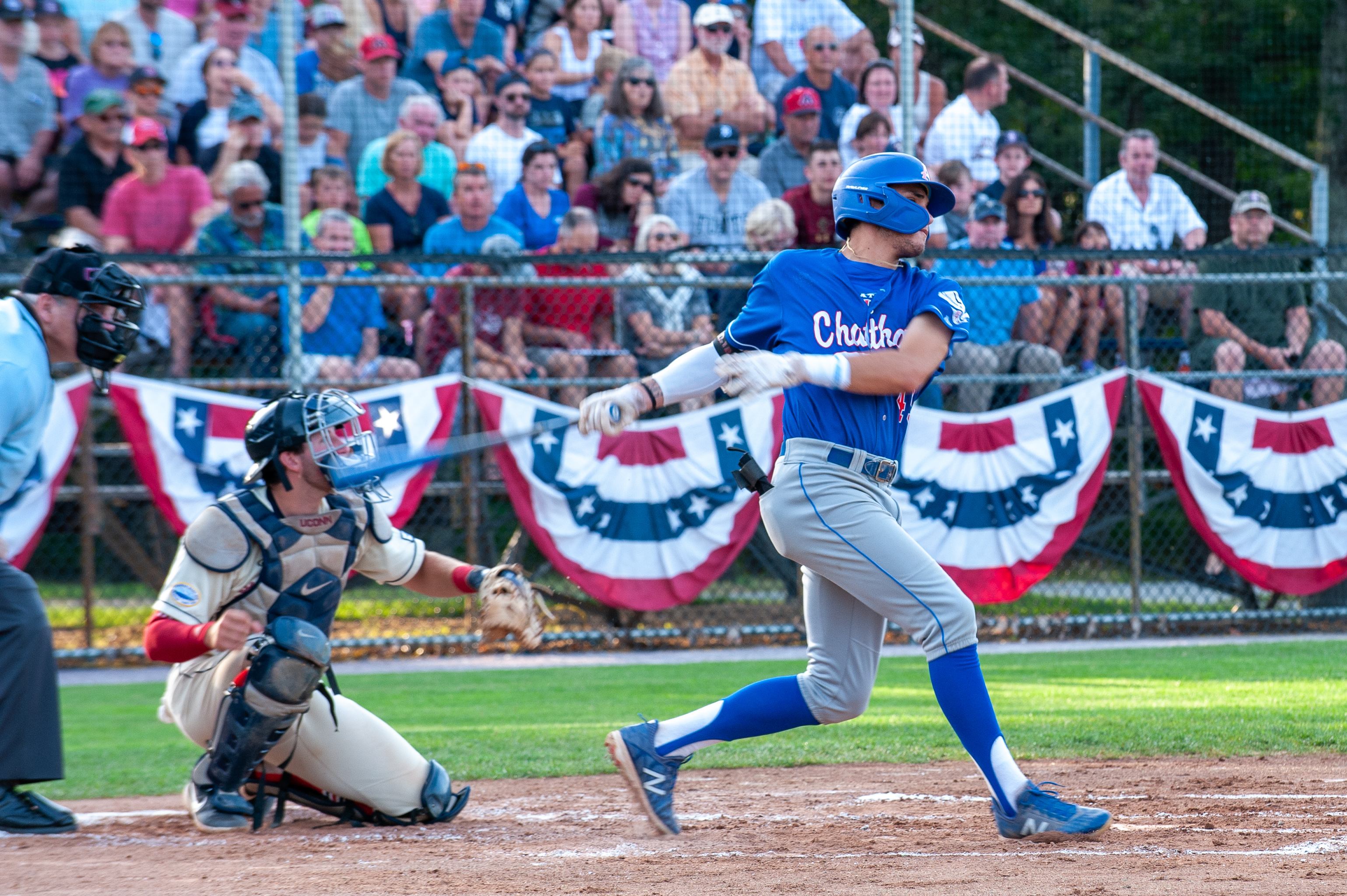 "He had arm side run," catcher Brady Smith said of McCullough's tailing two-seam fastball. "We couldn't stay inside of it."
In the bottom of each inning, Zarion Sharpe (UNC Wilmington) was dealing in the same fashion. Both used their fastballs early in counts and sliders as an out pitch.
What started with a 1-2-3 first inning for Sharpe, all off contact, turned to swings and misses in the second. Against three straight left-handed hitters, Sharpe fanned all of them on 11 pitches — two off his sweeping slider down and away, the last coming via a fastball.
Through 3.2 innings, Sharpe had faced the minimum. A base hit to right broke the streak. And similar to a two-batter sequence on Sunday against a then-hitless starting pitcher Kolby Kubichek (Texas), Sharpe allowed a first-pitch bullet over the right field wall.
"Left a fastball over the plate, it happens," Sharpe said. "One mistake on the day, you learn from it."
His near-perfect outing was undone off a two-run shot, but McCullough didn't relent. He didn't allow another baserunner until the top of the eighth inning.
"The guy was so efficient all night," Jorge Arenas (Stetson) said. "It's hard to get that energy."
The bulk of the Anglers remembered McCullough's last outing against them, so they tried to tweak their approach. Arenas was told to take a first pitch strike until a runner was in scoring position, he said. Smith sat on fastballs the second time through the order, knowing McCullough would pound the zone. And the nine-hole hitter looked at three straight offspeed pitches before going back to the dugout.
Three groundouts in the third coincided with a five-pitch fourth. Polcovich chased McCullough's low curveball, and when batters like Kendrick Calilao (Florida) mustered contact toward the holes in the infield, the Harwich defense aided McCullough. Trying to generate offense, Holliday tried a pair of pinch hitters and a pinch runner.
"I was trying to find the spark at any time," Holliday said. "I've never seen so many hitters head go down so often."
McCullough's ninth inning reliever, Jared Wetherbee, allowed a two-out walk and an infield hit — the first time all night Chatham had multiple baserunners on. But like most of the game facing McCullough, they didn't move.
Said Holliday: "You take your hat off, tip it to him, and go home."