The Full Count: The bats are heating up, a new pitching strategy and more
The Full Count is five weekly observations and analysis about the Chatham Anglers, published each Monday.
1. Like the July temperatures on the Cape, Chatham's bats are heating up. The A's completed their first full week of the season without a single rain delay or cancellation. Everyday baseball is now a reality for the rest of the season, as the Anglers have just two scheduled off days prior to the playoffs.
Instead of rain cancelling batting practice and infield work, the A's have settled into a regular routine for the first time this season. In eight games in July, the A's are walking at the same rate as June, but reaching base through hits significantly more. The team batting average in July (.269) is 34 points higher than it was in June (.235), too.
The difference is most noticeable in power, though. Chatham has improved its slugging percentage from .364 in June to .420 in July. The A's hit 10 home runs in 15 June games, but already have seven in eight July games. While the pitching staff has remained consistently good since Opening Day, the Anglers emergence at the plate has paced their best stretch of the season.
"I think it's settling in," Hueston Morrill (Oklahoma State) said. "Guys knowing what their roles are. Leadoff guys are just trying to get base, we've got a lot of pop in this lineup. This is one of the best lineups I've been in, top to bottom."
Hitting coach Mickey Tettleton said it takes regular batting practice and game time to regain timing after the layoff between collegiate and summer ball. He's only worried about three stats: runs per game, on-base percentage and average with runners in scoring position. The A's have improved in all three since July started.
"We're scoring almost six runs per game, in this league, that's pretty good," Tettleton said.
After being league-worst with a .164 batting average with runners in scoring position, Chatham is now at .212.
2. Thursday evening against Orleans, manager Tom Holliday had run out of pitching in his bullpen. The A's entered with just two available pitchers, Cole Ayers (State College of Florida) and Luke Bartnicki (Georgia Tech). Once Ayers threw five innings and Bartnicki ran into trouble in the ninth, Holliday called upon third baseman Jorge Arenas (Stetson). Arenas has now made three appearances for the A's in his two seasons with Chatham.
But he's not the only position player pitching option. In fact, he's not even the best.
Anglers shortstop Hueston Morrill (Oklahoma State) was brought to the Cowboys as a two-way player. Morrill posted a 1.03 ERA during his senior year of high school, and was even invited to a private pitching workout by Clemson. The Tigers wanted Morrill to be a sidearm throwing, two-way player. But he committed to Oklahoma State before he had the chance to attend the session.
In his freshman year, Morrill played exclusively second base, a decision made by OSU manager Josh Holliday to preserve Morrill's arm, Morrill said. When asked, Morrill didn't rule out the potential he could pitch at some point in the future for the Cowboys.
"I haven't really pitched in quite a while," Morrill said. "But that's something that I always have with me. I'm actually excited to get that call. I get to do something I haven't done in a while."
While A's pitcher Ty Madden (Texas) was teaching Arenas a curveball in the bullpen before he entered, Morrill already knows multiple breaking balls. He features a low 90s fastball with a changeup, slider and curveball.
Because of the number of games with few Anglers off days, it's possible Morrill could throw multiple innings, even though he hasn't pitched in a competitive game since high school.
"You're going to see games where position players are pitching," Holliday said. "Be ready for that. He's next."
3. Chatham has seen a remarkable run of left-handed pitching recently.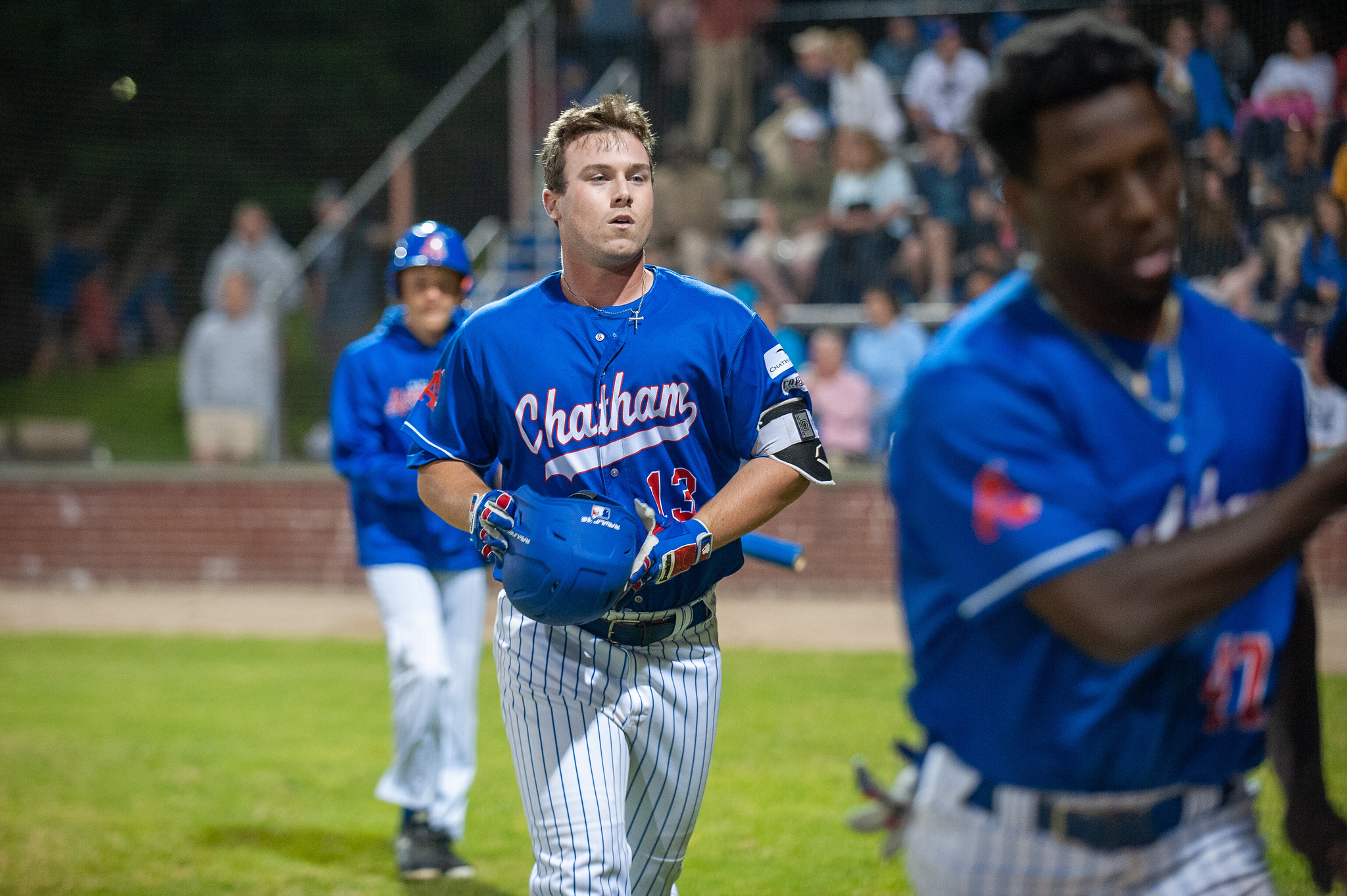 The Anglers have seen nine left-handed starters in their last 15 games, dating back to June 22.
"I'm starting to think it's not a coincidence," Tettleton said.
The abundance of southpaws has benefitted some hitters, like Paxton Wallace (WIchita State), who has feasted off lefties. As a team, the numbers aren't much different. Chatham has a slightly higher average against righties, but slugging and OBP numbers are only marginally different.
After Wallace's three-hit showing on Saturday at Cotuit, two against lefty starter Jackson Wolf, Holliday praised his lineup of his mostly righty hitters that pushed across five runs in seven innings to secure the win.
"Paxton did what he has to do," Holliday said. "We need someone to surface as a left-handed pitcher killer. Because we struggle from that side. Paxton made a statement tonight."
While Wallace is hitting lefties with success, no one has been better than Jamal O'Guinn (USC). O'Guinn is 11-for-22 with two home runs and five RBIs, while he's hitting .260 against righties.
It shouldn't come as a surprise that Chatham's seven best hitters against left-handers are all right-handed bats. Meanwhile, the increased left-handed pitching has left the A's two lefty power hitters, Cade Cabbiness (Oklahoma State) and Alex Toral (Miami), without a hit in a combined 0-for-21 stretch.
The result is that Cabbiness and Toral have been platooned, only playing against righties, while Wallace and Kendrick Calilao (Florida) play on southpaw days.
"We've been pretty good at hitting lefties, until tonight," Holliday said after Sunday's 3-0 loss to Brewster. "I think everybody that can find a left-hander when they're building their rosters, they go get them. Same with left-handed bats."
4. Daniel Federman's (Miami) grandfather drove all the way from Boston to Falmouth on Friday afternoon to watch his grandson start game two of a doubleheader against the Commodores. Within minutes of his start, Federman used his brand-new curveball to earn a strikeout.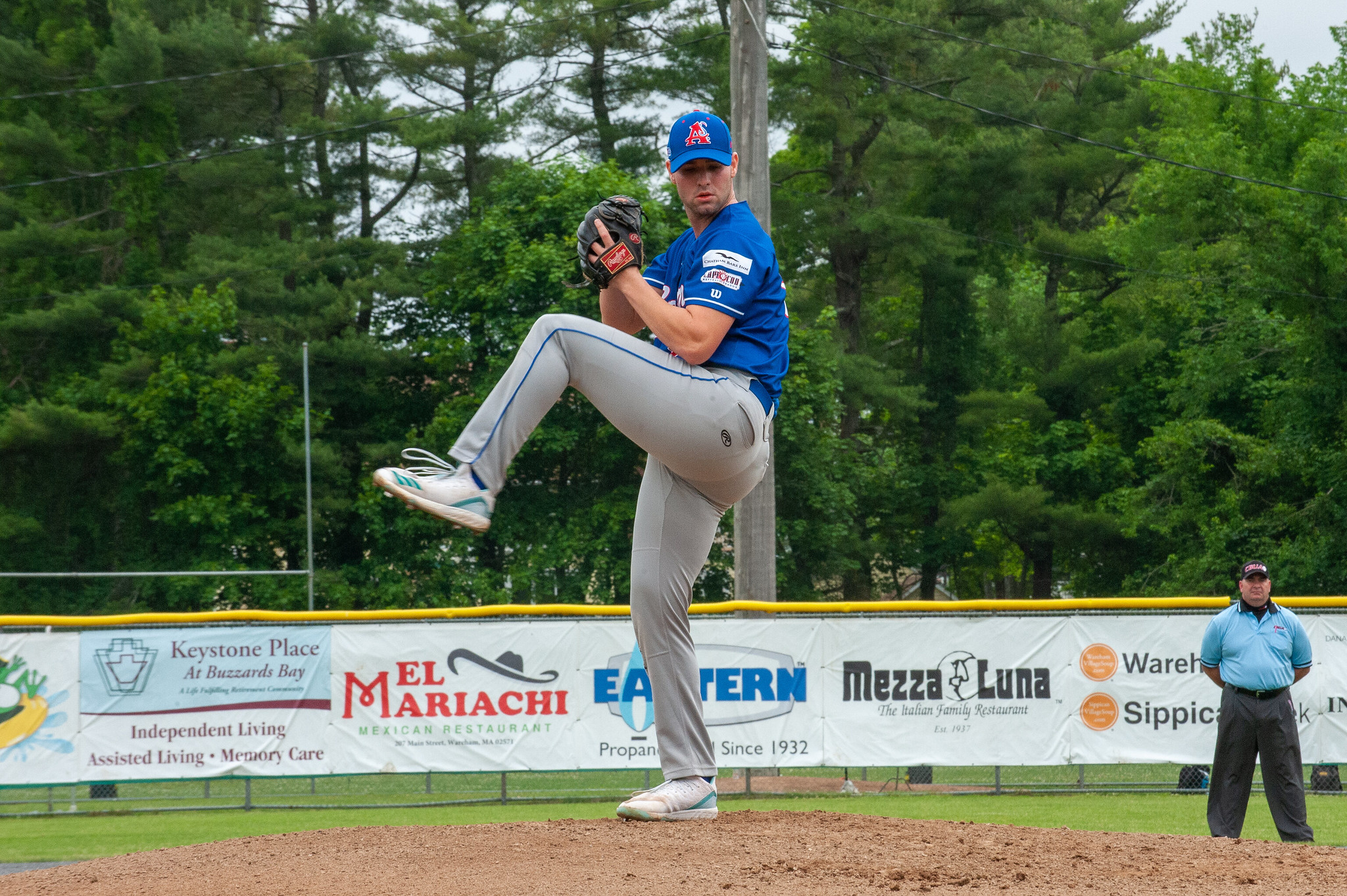 Federman began throwing the curveball this summer after his first start in Chatham. Its encouraged and taught by pitching coach Dennis Cook. In Federman's first start, he struggled to get hitters out with two strikes against Wareham.
He was a freshman All-American as a middle-inning reliever at Miami, and then pitched as a closer as a sophomore. He rarely threw more than two innings this spring, and didn't need more than his three pitches. Federman currently rolls with a low 90s fastball, a high 80s cutter, and a low 80s changeup. Adding a curveball improves his ability to go deeper in games and add another pitch speed for hitters to worry about.
"I never had a good one, it was always loopy," Federman said. "My pitching coach always said, 'You have four pitches, and your curveball is your 4th pitch, when you're only throwing one or two innings, why would you throw your 4th pitch?'"
After his one-inning performance against Y-D on July 1, Holliday said he thought Federman's curveball was "OK." Cook said he's seen improvement but wants Federman to learn to control it more and be more willing to throw it.
"It was alright, it was nothing special, but that's not bad for the first time throwing it," Federman said.
Federman camre to the Cape to learn to be a pitcher, not just a thrower. Cook is teaching him, like many other A's pitchers, how to develop more secondary pitches to enable them to go deeper into games. For Federman, adding a curve will enable him to get through the opponents' batting order more than once.
5. Holliday is adjusting the pitching system that he used for the first half of the 2019 season. The weather and tight scheduling has left him with no choice. Holliday began the season by planning to use three pitchers each day, three innings each. The 3x3 system was successful, especially early in the season because of planned off days and rainouts. Now, Holliday has no other choice but to extend his pitchers.
"We feel like kids have built themselves up to that," Holliday said of extending beyond three innings. "We don't have enough arms to do that when we're playing everyday. This is all due to the schedule. This is the craziest schedule I've been a part of."
Instead of three scheduled arms, the Anglers will have two. Ideally, the starter will pitch four or five innings, with the reliever coming in behind for four more. If those two can't throw the full nine, Holliday said the A's will use closer Dawson Merryman (Texas) or potentially a position player. Each night will have a designated closer or third pitcher.
His pitchers have built their arms into the new system. But it's also a product of the Anglers playing 21 games in 20 days.