Jorge Arenas' 8th inning home run lifts Chatham 6-4 past Harwich
During Jorge Arenas' at-bat in the bottom of the eighth, with the Anglers tied at four, shortstop Ben Ramirez (USC) had something to say to Jamal O'Guinn (USC).
"Jorge goes big fly and we get out of here," O'Guinn remembers Ramirez saying.
Three pitches later, Ramirez was right. In 173rd at-bat as an Angler in two summers, Arenas delivered the biggest swing of his Chatham career.
Arenas, who was named an All-Star last Saturday morning, lived up to his billing. A comeback that began with an Alex Toral (Miami) double in the seventh ended with Arenas belting a fastball off the scoreboard to give Chatham the 5-4 lead and win.
Not only did Arenas hit his first home run in two seasons, but the A's third baseman became the first player to hit a ball off the new scoreboard in left center at Veterans Field. As Arenas smiled rounding third, he pointed to his dad, Jorge, and his older sister, Lexis, sitting in the stands. Multiple Anglers spilled out into the A's dugout to greet him. And as Arenas entered it, manager Tom Holliday shook his hand.
"I think anytime family comes and you have a guy that is the ultimate team player, and he gets a chance to win the game, and he does, I think that's a moment that he'll never forget," Holliday said.
Before Saturday's game against Harwich, Holliday said that the A's had a clear winning strategy. Rely on pitching and defense, and find timely hits to score runs. Saturday night, Chatham did all three. The A's pitched well and played some of their best defense of the season. Two crucial two-out knocks, and the long drive by Arenas pushed Chatham (20-12-2) to a 6-4 victory over Harwich (16-18).
"It couldn't have been better with my family here to watch, happy my sister and my dad were front row to see it all," Arenas said. "Give me 100 or something at-bats, and I'm going to get one eventually."
Headed into their longest break of the season — two days without a game — Chatham hoped to clean up its four defensive errors from Friday's loss to Brewster, half of which were credited to Saturday's hero. A day after his mishaps, Arenas made two excellent plays to gun out runners at first after charging into the infield grass.
Hueston Morrill (Oklahoma State) continued to show his leather at second, making a leaping grab in the sixth. And in the eighth, pitcher Austin Vernon (NC Central) fielded two weak grounders off the mound perfectly to pitch a stress-free inning.
The Mariners pushed across the game's first run in the second frame, after Dylan Neuse beat out an infield single. Neuse stole second, advanced to third on a wild pitch and came around to score on a bloop single to right field.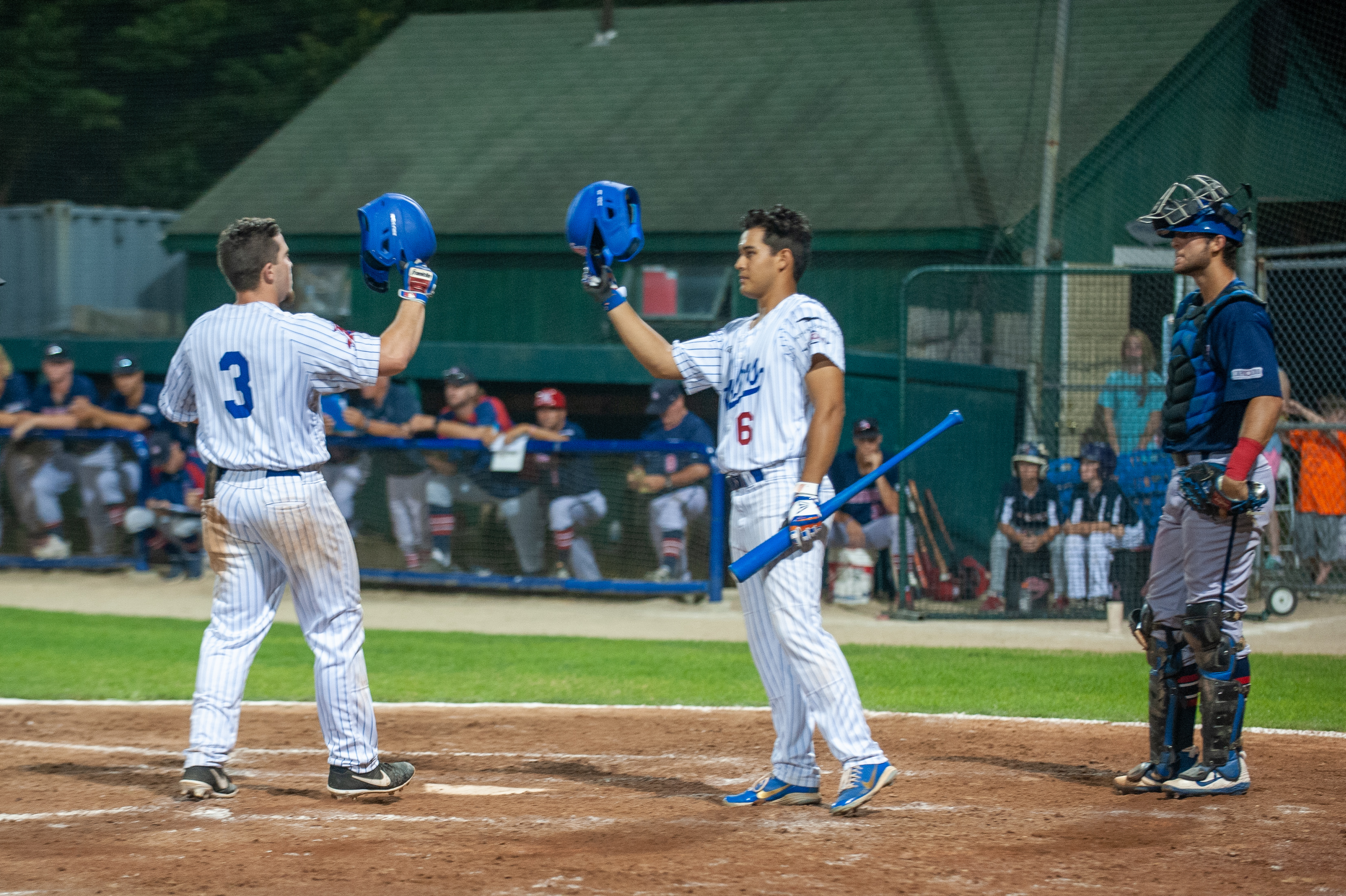 Harwich didn't hit the ball hard and fair the entire inning, but still manufactured the game's opening run. In the third, the Mariners managed two more on just two base knocks, aided by two walks and another wild pitch. A's starter RJ Dabovich (Arizona State) didn't allow much hard contact, but ran into soft base hits.
Paxton Wallace (Wichita State) delivered the first important two-out hit of the night in the third frame, driving in the Anglers second run. Chatham had cut the deficit to 3-2, but after an insurance run for the Mariners in the fifth, the A's found themselves in a similar position entering the seventh.
"I don't like waiting until the seventh," Holliday said. "Our bullpen tonight, that's how we won that game. I thought those middle inning guys gave us a chance to win."
After Dabovich, Jeremy Wu-Yelland (Hawaii), Luke Bartnicki (Georgia Tech) and Vernon delivered six innings of work and allowed just one run. They kept the A's within reach for their seventh inning charge.
Holliday doesn't usually like to start Toral against left-handed pitching — the first baseman entered Saturday just 1-for-16 in 2019 against southpaws — but the Anglers manager anticipated pregame that Mariners lefty starter Jared Wetherbee wouldn't last more than a few innings.
With the All-Star game and an off day looming, both managers were going deep into the bench and bullpen. After three, with a right-hander now throwing for Harwich, Toral replaced the righty first baseman Wallace. Wallace already had a single and an RBI in the third, but Holliday went to Toral.
"Toral hits lefties pretty good, his batting average against lefties at Miami was actually higher than it was against righties," Holliday said. "This is the end of the energy saving period, and I tried to play the whole team tonight."
Toral is hitting much better against righties in Chatham, but this swing came off a southpaw. In the seventh inning, his two RBI, two-out double off a hanging breaking ball hopped off the warning track and into the wall. It provided a crucial two-out hit that propelled the Anglers into a 4-4 tie.
"Everyone knows 'TH' plays matchups," Toral said of Holliday. "You have to be ready at all times. I was talking to TH before the game and he seemed frustrated we couldn't hit left handers. I told him, 'If I get my chance, I'll do what I can.'"
One inning later, Arenas sent Chatham back into the win column. His long drive, combined with smart baserunning by Morrill, pushed two across in the eighth. Vernon struck out the side in the ninth and the A's maintained their spot alone in first place in the East Division.
"It's not often you get a chance to untie the game," Holliday said. "I thought if there is a guy that deserves a star moment, it's Jorge."