'It was kind of scary:' Infielder Jorge Arenas saves potential collapse on mound in 8-7 win over Orleans
ORLEANS — Ty Madden clenched a ball and crunched his pointer finger. He had to teach Jorge Arenas, an infielder, how to throw a knuckle curve in the bullpen because Madden, one of the Anglers top starting pitchers, would not close Thursday's game on the mound. It would be Arenas.
With only two pitchers available pitchers Chatham's disposal against Orleans entering the game and Luke Bartnicki (Georgia Tech) struggling on the mound after cutting a seven run lead to three, a position player would be manager Tom Holliday's only option in relief.
"It was kind of scary because the first pitch I threw was middle-middle and (the umpire) called it a ball," Arenas said. "So, I stood back and told myself I had to get in the zone and throw strikes."
Arenas, a second-year Angler, had two appearances on the mound the season prior. But his one-out save on Thursday was his most significant pitching performance in the Cape League. Chatham's lead, which once stretched to 8-1, was shredded by Orleans (11-6-2) from three hits and six walks off Bartnicki in his final 1.2 innings of work. With one out left, Holliday decided to turn elsewhere. And it was Arenas.
"Jorge came out and got it done," Holliday said. "It wasn't pretty but he got it done."
Holliday's hinted at the possibility of Arenas pitching multiple times this week. With four pitchers used in the A's last game, a come-from-behind 8-7 win also against Orleans, and a looming double header at Falmouth up next, Thursday would make the possibility become more of a reality.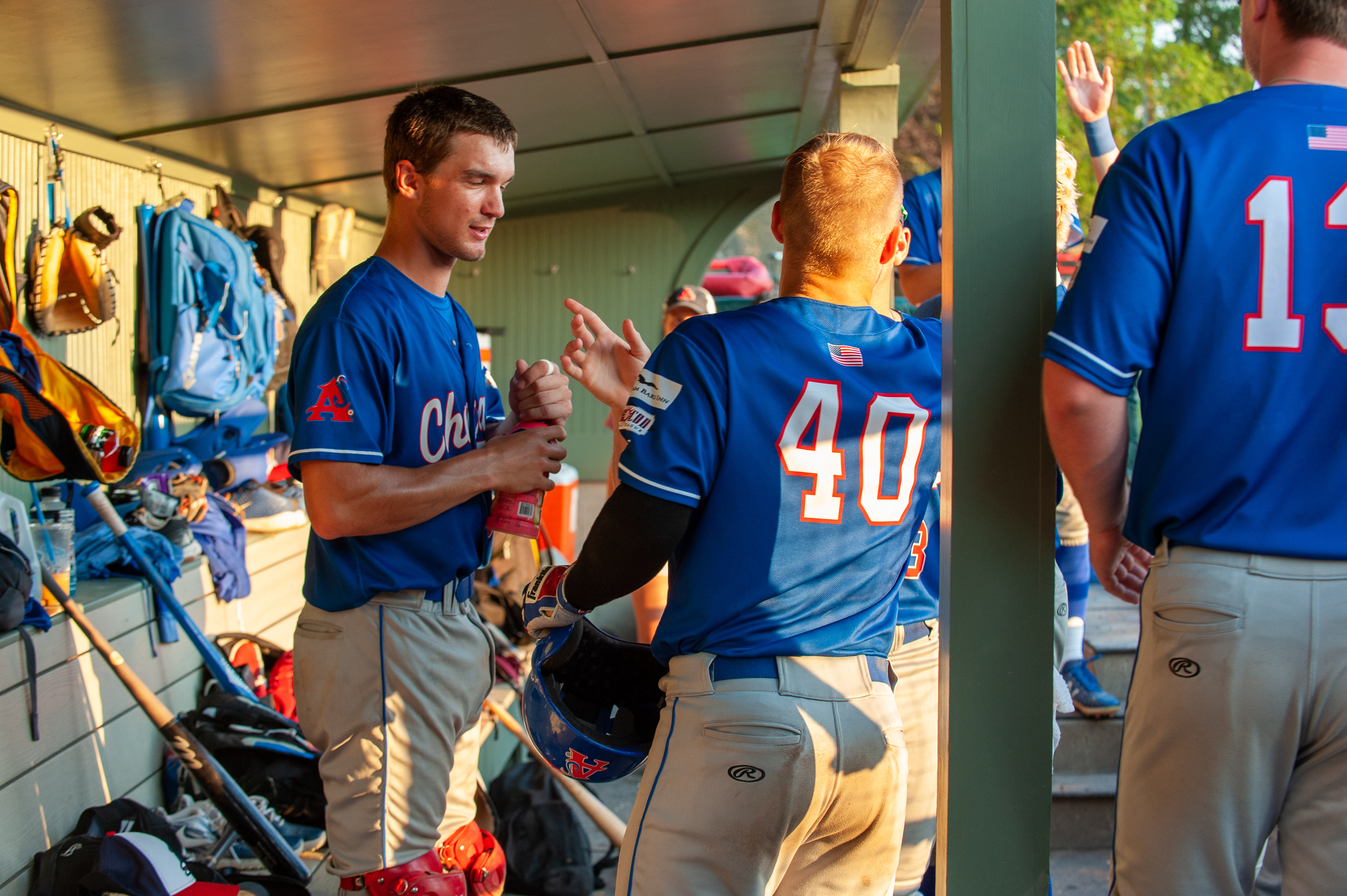 Pregame, Arenas has joked about the possibility all week. "Have the radar guns ready," he said an hour before the game. The plan was for Cole Ayers (State College of Florida) and Bartnicki to go all nine innings against the Firebirds. And the plan held in check to start.
After allowing a first inning run, Ayers clobbered the Firebirds with his spike curveball, putting down the first batter of the third with the pitch, and bringing it back to fan his final batter in the fifth.
"I was asked about my pitch count," Ayers said. "And I said 'Put me in under 70 and I can finish it.'"
Two frames without a hit or walk for the Anglers offense started with a Tyler Doanes (West Virginia) free pass. Two batters later, Polcovich undid the early damage with a shot to right center off a 1-1 high fastball, giving the A's a 2-1 lead. Later in the inning, Ben Ramirez (USC) brought two more home on a slow-dribbler to second that got through the infield.
A walk to start the next inning soon moved Doanes to third after a Keaton Rice (Bradley) single and a passed ball. Then, Polcovich's fourth ball dribbled to the backstop, scoring Doanes. Anthony Vilar (Miami) got a second run in on a fielder's choice. By the end of it, the Anglers turned a one-run deficit to a five-run lead.
Bartnicki entered with that cushion, one that would soon balloon to seven runs. The left-hander cruised through the first two frames, even striking out the side in the seventh. But his trouble began in the next bottom half, starting with two straight walks.
"The walk is the greatest offensive weapon in baseball," Holliday said. "You can't defend it."
A conference with pitching coach Dennis Cook was followed by a third consecutive free pass, this time on five pitches. Eddie McCabe came up to the plate, and roped a single to right to give the Firebirds offense its first sign of life since the first.
"You get in a battle with the strike zone and all of a sudden he knew we had no one behind him," Holliday said. "So the pressure just kept building on him."
After a fourth walk, the bases were loaded for Zach Daniels, who lifted a ball on the warning track but missed by a couple of feet. Bartnicki got out of the inning allowing just two runs, but he was up to 78 pitches. That's when Arenas got word through a walkie talkie to start warming up.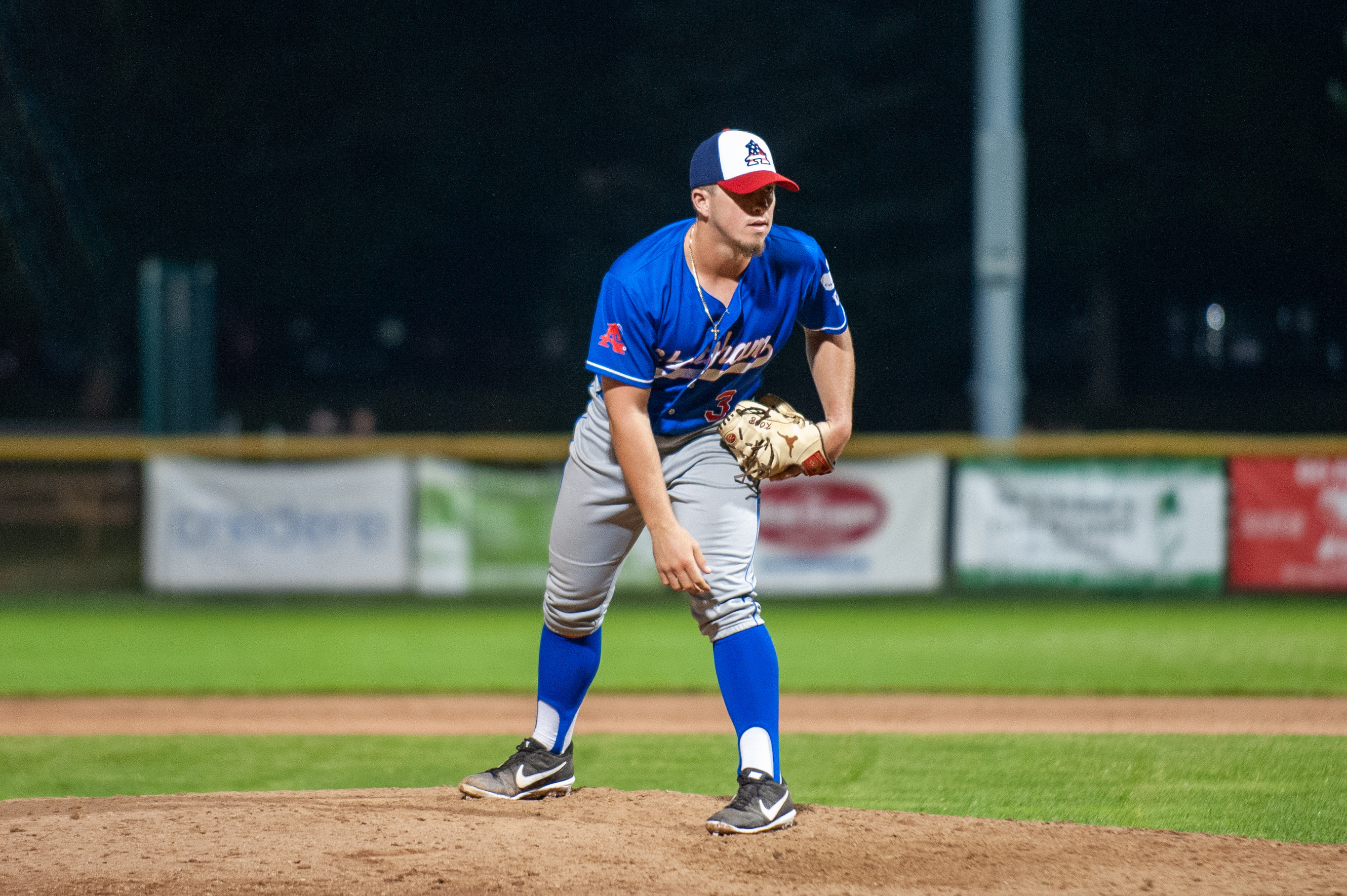 Arenas knew he could throw fastball strikes, but Madden was the first one to approach him about trying a breaking ball. He tried it once last year, but said it didn't work out too well. The infielder at Stetson hasn't pitched consistently since high school when he was a two-way player. Because he can reach up to 90 mph, Holliday trusts him the most of his non-pitcher options.
"I know I'm going to throw strikes," Arenas said. "I felt confident I could throw strikes."
Bartnicki returned for the ninth, but two more runs off the left-hander put Arenas in the ballgame. His warm up pitches reached 87 mph and when he threw his first pitch, it clipped 88 mph. After five fastballs, Arenas tried Madden's pitch, the knuckle curve, at 2-2. It just missed the top of the zone.
"It had a good break," Arenas said. "I was kind of shocked. I thought, 'We could use that.'"
A single on the next pitch drove in a run to make it 8-6, though. Arenas opened Josh Zamora with a 2-1 count and got a ground ball to bounce toward third. But Polcovich mishandled the ball, and the lead was cut to one.
With the tying runner on third, Daniels needed a base hit to tie the game. Arenas went back to the breaking ball, this time for a strike. And on his fourth pitch of the at-bat, a fastball down the middle caught Daniels looking.
Postgame, Arenas was all smiles after recording the unlikely save. As for Holliday, he was just relieved.
Said Holliday: "All I can tell you is it was ugly and it's over but it's a win."